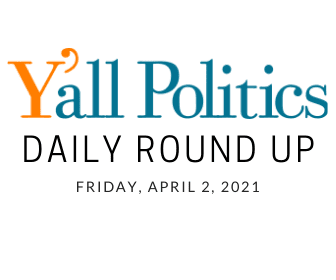 Mississippi is set to join a half dozen other states in enacting legislation to allow college athletes the right to earn income from their name, image and likeness while attending and playing for a college or university in the Magnolia State.
The other six states that have enacted similar laws are California, Colorado, Florida, Michigan, Nebraska, and New Jersey. Nearly a dozen more states are also considering such action…
…State Sen. Nicole Boyd spoke with Y'all Politics Thursday to give her take on the bill and how it is being received. Watch Boyd's interview below.
MSDH daily COVID-19 reporting
Today MSDH is reporting 271 more cases of COVID-19 in Mississippi, 16 deaths, and 15 ongoing outbreaks in long-term care facilities. The state's total of #covid19 cases is now 305,417, with 7,048 deaths. More on case details, vaccinations and prevention: https://t.co/YCv9xPyJDk pic.twitter.com/Eb5JWoIgrF

— MS Dept of Health (@msdh) April 1, 2021
Lt. Governor Delbert Hosemann named 10 members of the Mississippi Senate to the Standing Joint Legislative Committee on Reapportionment and Standing Joint Congressional Redistricting Committee today. Members include:
Senator David Parker, 1st Congressional District
Senator Angela Turner-Ford, 1st Congressional District
Senator Briggs Hopson, 2nd Congressional District
Senator Derrick Simmons, 2nd Congressional District
Senator Josh Harkins, 3rd Congressional District
Senator Dean Kirby, 3rd Congressional District (Chairman)
Senator Dennis DeBar, Jr., 4th Congressional District
Senator Brice Wiggins, 4th Congressional District
Senator Jeff Tate, Chairman of the Elections Committee
Senator Hob Bryan, Vice Chairman of the Elections Committee
On Wednesday, Mississippi Senator Roger Wicker blasted the Delta Air Lines CEO for comments he made mischaracterizing Georgia's recent election reforms in a staff memo. Now, Wicker is also taking the Coca Cola CEO to task for similar comments.
Senator Wicker tweeted about these "Woke Corporate Hypocrites" on Thursday, saying:
"Coca Cola CEO FALSELY claims Georgia's new voting law doesn't guarantee broad access or ensure election integrity, caving to the 'woke' left. The TRUTH is the law expands early voting & makes voting more secure. He's sharing a false narrative. Shame!"
U.S. Senator Roger Wicker, R-Miss., today toured the Huntington Ingalls shipyard in Pascagoula, Miss. Wicker was joined by the Acting Secretary of the Navy Thomas W. Harker, U.S. Representatives Steven Palazzo, R-Miss., Trent Kelly, R-Miss., and Jerry Carl, R-Ala., and Rear Admiral Tom Anderson, the U.S. Navy's Program Executive Officer for ships.
"Ingalls is one of the greatest shipbuilding yards in the world and one that we are so proud of in Mississippi," Wicker said. "In my judgement, we are acknowledged to be the finest provider of ships that our Navy has. We have an increasing need for shipbuilding in the world today."
On March 31st, the State Workforce Investment Board approved Ryan Miller as Mississippi's first Executive Director of the Office of Workforce Development. The Office will lead workforce development strategy and implementation for the state…
…Ryan Miller has spent 13 years building the Center for Manufacturing Excellence (CME) and preparing students for successful careers in Mississippi's advanced industries. In his years of service at the University of Mississippi, Ryan worked with the state community college system, state and federal legislative delegations, and economic development agencies as he positioned the CME to increase its services to industry and students.
Mississippi Veterans Affairs (MSVA) has started Operation "Family Reunion," a celebration throughout its State Veterans Home System that allows residents to reunite with their family members via full visitation for the first since the COVID-19 pandemic began.
MSVA provided scheduled visits for families during a three-day window. With certain COVID-19 restrictions still in place, due to the Centers for Disease Control (CDC) and Mississippi Department of Health (MSDH) guidance, only two family members per resident were allowed to visit each resident. MSVA Executive Director Stacey Pickering offered the perspective of what this moment meant for everyone involved.
Sen. Wicker, FCC Commissioner speak with JSU journalism students
Honor to speak with journalism and media studies students tonight at @JacksonStateU in Mississippi with @SenatorWicker

Timely chance to discuss today's U.S. Supreme Court decision on the FCC's media regulations. #CarrTrip pic.twitter.com/qYv6D9jNeg

— Brendan Carr (@BrendanCarrFCC) April 1, 2021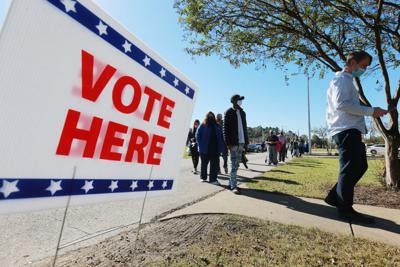 A Democratic lawmaker and several advocates filed a proposed ballot initiative Thursday that would allow for 10 days of early, in-person voting in Mississippi…
…Rep. Hester Jackson McCray, a freshman Democrat from DeSoto County, said numerous voters told her they wanted no-excuse early voting when she was running for office in 2019.
When lawmakers refused to pass early voting during the pandemic, leading to long Election Day lines — and again refused to pass early voting legislation during this year's legislative session — McCray said she decided to take action by sponsoring a ballot initiative.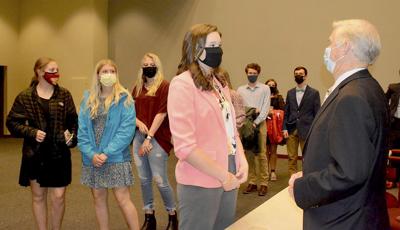 Today's issues are similar but different, retired U.S. Federal Judge Charles Pickering said…
…Pickering declared in his presentation, "Racism is not systemic. Since the 1960s, secularists used free speech to be successful in changing the culture of our nation. Now, these secularists use free speech to change culture and silence Christians. The First Amendment is not to prohibit Christians, churches, from one thing. It prohibits the government from interfering with religion."
After citing several examples of how the "cancel culture" can lead to the demise of the United States by stifling innovation and advances in society, Pickering challenged students. He encouraged the audience to be the best they can be and take on bigger projects than themselves. The judge then quoted Winston Churchill, Britain's leader during World War II: "In all things big and in all things small, never, never, never give up! Do your best to be an ambassador for freedom in our society and get involved."
More From This Author