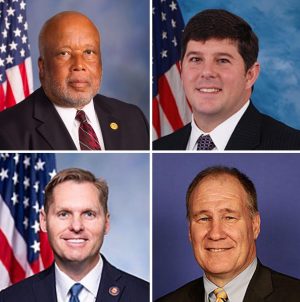 On Tuesday, the U.S. House of Representatives voted on H.R. 842, The Protecting the Right to Organize (PRO) Act – a bill conservatives say seeks to undermine right-to-work laws in 27 states, including Mississippi, and grant more bargaining power to unions.  Those on the left are saying the bill is the most significant expansion of labor rights since the New Deal.
A similar measure was enacted by the House last Congress but was stalled by the Republican majority in the U.S. Senate. Democrats now hold the gavel in the upper chamber and could move this legislation forward this go around.
All three Mississippi Republican Congressman – Trent Kelly, Michael Guest and Steven Palazzo – voted no on the bill.  Bennie Thompson, the state's lone Democrat Congressman, voted yes with his House majority colleagues.  H.R. 842 passed by a vote of 225-206 with 1 Democrat voting no and 5 Republicans voting yes.
Congressman Guest said in a release after the vote that the PRO Act is aimed at undoing right-to-work laws across America.
"As a right-to-work state, Mississippi ensures that union bosses cannot force workers to pay unnecessary fees," Guest said.  "We must protect middle-class workers from these predatory contracts as Democrats look to undo right-to-work laws across America."
Right-to-work laws ensure that employees who do not wish to join a union can do so without fear of retaliation. The PRO Act would allow unions to essentially coerce private-sector workers to pay fees to those labor unions.
Unions are still allowed to operate in right-to-work states. Mississippi adopted a right-to-work constitutional amendment in 1960.
In a statement following the vote, Congressman Palazzo said the PRO Act forces workers into one-size-fits-all union contracts.
"The PRO Act is a bill written to cater to union bosses and stifle workers' rights while forcing hard-working Americans into paying for union dues, even if they don't want to be part of the union," Palazzo said.  "The bill will also hurt the thousands of small businesses still working to recover from devastating impacts from the pandemic. I believe in and support right-to-work laws and cannot support the PRO Act."
Palazzo said believes in the right to work without being forced to become a union-dues-paying member.
According to the American Action Forum, employers could be hit with more than $47 billion in new costs annually if H.R. 842 became law.
President Joe Biden's Office of Management and Budget released a statement in the lead up to the House vote supporting its passage and signaling that Biden would consider signing the measure if it passed both chambers.
"The Administration strongly supports House passage of H.R. 842, the Protecting the Right to Organize (PRO) Act of 2021, which would strengthen the Federal laws that protect workers' right to organize a union and collectively bargain for better wages, benefits, and working conditions," OMB wrote.
About the Author(s)
Frank Corder
Frank Corder is a native of Pascagoula. For nearly two decades, he has reported and offered analysis on government, public policy, business and matters of faith. Frank's interviews, articles, and columns have been shared throughout Mississippi as well as in national publications such as the Daily Caller. He is a frequent guest on radio and television, providing insight and commentary on the inner workings of the Magnolia State. Frank has served his community in both elected and appointed public office, hosted his own local radio and television programs, and managed private businesses all while being an engaged husband and father. Email Frank: frank@magnoliatribune.com
More From This Author