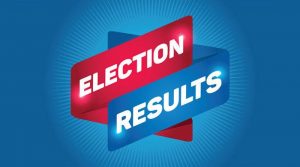 Election night 2020 was a big one for the state of Mississippi. Record or near record amounts of voters are expected to be reported from the Secretary of State's office, and the passage of multiple ballot initiatives made for a unique year.
In 2021, Mississippi will see a medical marijuana program administered by the Department of Health, an official new state flag, a new way to elect statewide officials and Congressional incumbents returning to office across the board.
Mississippi voted Republican in the Presidential race, with their electoral votes going to President Donald Trump. In 2016, Trump took 57 percent of the vote over Hilary Clinton.  Though the count for 2020 is not quite complete, this year Trump will likely wind up with at or near 60 percent of the vote leaving Biden at or near 40 percent.
Jo Jorgenson pulled in just over 6,000 votes and even Kanye West got a little over 3,000 Mississippian's support.
The winner in the presidential race is expected to be called later this week, as states tally up record numbers of absentee votes.
"In God We Trust" Flag
Following the action by the Legislature to retire the old Mississippi State flag, a commission was tasked with bringing forward a new flag design that the people of the state would vote on in November. Thus emerged the "In God We Trust" flag.
The flag depicts a magnolia in the center with red, blue and gold stripes of different sizes. There are 21 stars, 20 to represent Mississippi's place in the union and 1 to represent the Native American tribes who have called the state home for much longer.
The vote to ratify this design passed overwhelmingly with 71 percent of Mississippians voting for the new design.
Medical Marijuana
It looks like the state of Mississippi will be getting a medical marijuana program within the next year. Mississippians first had to decide whether or not they wanted a medical marijuana program and then which program they preferred to have.
When it came to the vote, Mississippians voted 68 percent in favor for either and 32 percent against both. When specifying which initiative, they preferred Initiative 65 with over 75 percent of the vote with 65A only pulling in only 25 percent.
The medical marijuana program will now become part of the Mississippi Constitution. Under its guidelines, a program is required to be implemented during 2021 by the Mississippi State Department of Health. Legal challenges could be forthcoming.  A petition with the Mississippi Supreme Court is expected to be decided in the coming days, as Secretary of State Michael Watson is required to respond to the petition filed by the City of Madison by the end of this week.
Resolution 47
This resolution, voted to be placed on the ballot by the Legislature, would change the way in which statewide officials are elected.
Currently, in the event one of those positions is not won by a majority vote and does not win a majority of the House districts, the decision is left up to the House of Representatives. The passage of HR 47 means that the vote would instead be taken to a runoff election.
The voters passed this measure with over 78 percent voting in favor of the change..
U.S. Senate Election
Senator Cindy Hyde-Smith (R) easily maintained her seat in the U.S. Senate by defeating opponent Mike Espy (D) for the second time in a row. She also beat out Independent candidate Jimmy Edwards.
She currently leads the race at 55 percent over Espy's 43 percent of the vote with vote tallies near completion. Edwards is pulling in roughly 1 percent of the vote, just under 20,000 votes.
Hyde-Smith and Espy first faced off in 2018 where the Republican took 54 percent of the vote and the Democrat won 46%. This time around Espy raised over $9 million, far above Hyde-Smith's roughly $3 million. Espy did take large counties like Hinds, but could not surpass Hyde-Smith's lead across the state.
U.S. Congressional District 1
GOP candidate and incumbent Trent Kelly will return to Washington to represent District 1 again. He ran against Democratic candidate Antonia Eliason. Kelly's race was called when he had secured roughly 69 percent of the vote over Eliason's 30 percent.
Kelly has been representing District 1 since 2015.
U.S. Congressional District 2
Incumbent Congressman Bennie Thompson (D) secured his seat for another term against Republican Brian Flowers. By the time the race was called, Thompson secured over 58 percent of the vote.
Thompson has been representing the Second District since 1993.
U.S. Congressional District 3
Congressman Michael Guest (R) has won his second term as a U.S. Congressman for Mississippi. He first ran in 2018 after the retirement of Congressman Gregg Harper. Guest beat Democratic candidate Dorothy Benford by a vote of 181,763 to 96,543.
Supreme Court District 1, Position 1
The race between Justice Kenny Griffis and Judge Latrice Westbrooks still does not have a defined winner for Supreme Court District 1, Position 1. Currently, Griffis is in the lead at 52 percent of the vote, but Westbrooks is close behind at 47 percent.
This race will likely not be called until all absentee ballots are counted.
Supreme Court District 3, Position 3
Justice Josiah Coleman will remain the Supreme Court justice for District 3, position 3. He was challenged this year by Percy Lynchard who was unsuccessful in unseating the incumbent.
Coleman took 62 percent of the vote with Lynchard at just over 37 percent.
House District 87
A runoff will be required in the special election that featured Joseph Tubb, Matthew Conoly and David Morgan for HD 87. Tubb and Conoly will be in the runoff on November 24th. Tubb took the lead over all three candidates.
About the Author(s)
Sarah Ulmer
Sarah is a Mississippi native, born and raised in Madison. She is a graduate of Mississippi State University, where she studied Communications, with an emphasis in Broadcasting and Journalism. Sarah's experience spans multiple mediums, including extensive videography with both at home and overseas, broadcasting daily news, and hosting a live radio show. In 2017, Sarah became a member of the Capitol Press Corp in Mississippi and has faithfully covered the decisions being made by leaders on some of the most important issues facing our state. Email Sarah: sarah@magnoliatribune.com
More From This Author