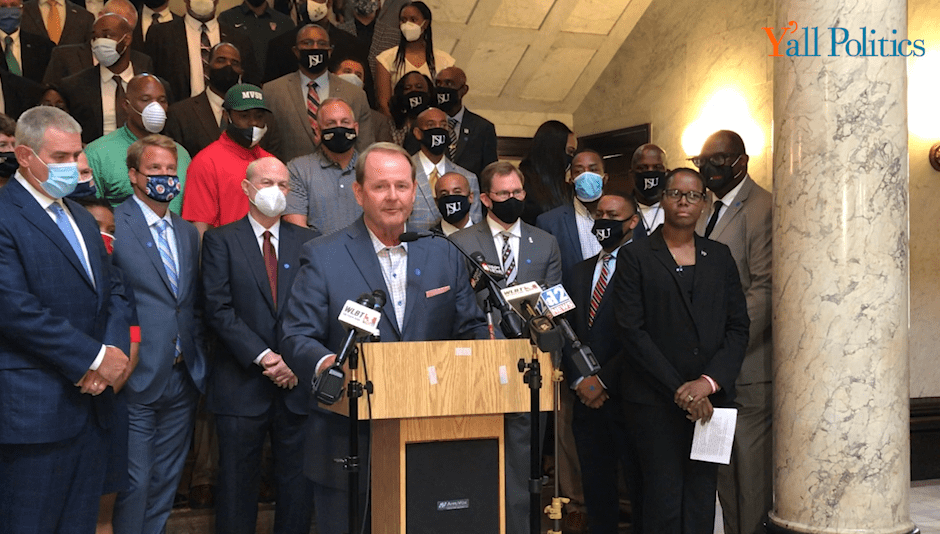 Coaches from all eight of Mississippi's public universities rallied at the state Capitol on Thursday calling for Legislators to take action and change the state flag.
"I had a meeting with our team the other day and I could tell a hurtfulness in our locker room, a confusion in our locker room, because they want change," said Kermit Davis, head basketball coach at Ole Miss. "It's the right thing to do. Mississippi needs to have a flag that is great for all the citizens in our state."
Davis said everyone agrees that they want to have a state with great pride that is flourishing economically and in education. Davis said to him that means the flag needs to change. He added that keeping the flag as it is will prevent the ability to recruit good athletes for each of these teams. He said often times elements within a university's athletic department can impact towns and communities economically.
"I know first-hand what it feels like to see a Confederate flag and pretend it does not have a racist, violent, or oppressive overtone. It screams hate and it hurts me to my core," said head coach of the women's basketball team at Mississippi State University, Nikki McCray-Penson, who is also an African American woman.
McCray-Penson said when her athletes are competing at MSU they are not only representing the university, but the entire state of Mississippi. She added that the ruling by the SEC and NCAA impacts these athletes greatly and McCray-Penson says there is no way for them to be an elite program without hosting post-season events.
She said the Confederate symbols have more than just a negative impact on athletics.
"Our entire student body could potentially be adversely effected by this symbol of hatred," said McCray-Penson. "Mississippi State University's mission of diversity, inclusion and equal opportunity is hampered by this symbol of hatred. We strive in all ways daily to bring the bulldog family in our state together."
When asked how the flag should be changed, by the Legislature or the people, Davis said "if speaking for his players, they want the quickest change possible."
Head Football Coach for Mississippi State Mike Leach said he doesn't personally know what the design should be, but it needs to be a flag that everyone is proud of.
Universities began speaking out about a change in the flag after SEC Commissioner Greg Sankey called for a change to be made to the Confederate battle symbols on the flag or there would be consideration to prevent any Southeastern Conference championship games within the state.
The NCAA expanded their Confederate flag policy to prevent any NCAA championships from being played in states where Confederate battle symbols are flown.
Athletic Director of Mississippi State University John Cohen said they support Sankey's stance on the flag and believe that it should be changed.
Ole Miss Chancellor Glenn Boyce and President of MSU echoed similar sentiments and reminded people that they have been in support of a change of the flag since 2015.
Speaker of the House Philip Gunn also made remarks at the press conference. He said that the presence of these individuals alone at the Capitol today continues to speak to the importance of this issue.
"This entire state is screaming for change," said Gunn. "This is an issue that needs to be resolved, and resolved quickly. The longer it goes, the more it festers and the harder it will be to change later on."
Gunn said that the image of Mississippi is at stake in this situation. He said he believes most of the Legislature has the same motivation to change the flag, because it is the right thing to do.
He said he is hopeful they will be able to accomplish a move to change this week.
About the Author(s)
Sarah Ulmer
Sarah is a Mississippi native, born and raised in Madison. She is a graduate of Mississippi State University, where she studied Communications, with an emphasis in Broadcasting and Journalism. Sarah's experience spans multiple mediums, including extensive videography with both at home and overseas, broadcasting daily news, and hosting a live radio show. In 2017, Sarah became a member of the Capitol Press Corp in Mississippi and has faithfully covered the decisions being made by leaders on some of the most important issues facing our state. Email Sarah: sarah@magnoliatribune.com
More From This Author