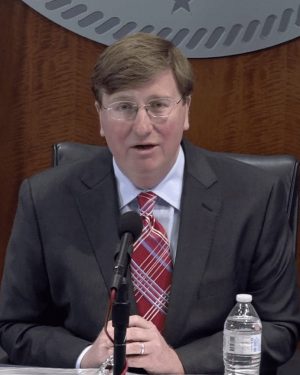 Governor Tate Reeves was joined on Wednesday by Senator Roger Wicker and Senator Cindy Hyde-Smith to discuss what measures are being taken in Washington to curb the devastating impact COVID-19 has had on health and the economy.
Gov. Reeves started off the press conference commending how the President and Congress have addressed the COVID-19 pandemic from the beginning. He said because of quick response, no individual has died from this virus because they could not be helped or given proper care in hospitals.
He mentioned that last week the U.S. Senate passed another phase of the CARES Act. He complimented Wicker and Hyde-Smith for fighting for what is important to Mississippians and when it comes to dividing up the funds that will be distributed.
"Our senators have been champions for our small town way of life," said Reeves.
Senators will return to session on May 4. It is not clear at this time when the House will return. Senator Roger Wicker said moving forward with more CARES Act appropriation there needs to be appropriate oversight to ensure the funds are going where they need to be going.
Wicker said he is leading an effort to prevent cuts in defense spending and manufacturing. This could have a direct impact on Mississippi businesses like Ingalls shipbuilding.
Wicker added that making moves to reopen the economy does not mean they are ignoring the virus. He said billions of dollars are being lost to the economy monthly with the shut downs. This kind of economic collapse could have long lasting and devastating effects on the American people.
"As we reopen we need to have large scale testing. Mississippi has done a good job in testing but we need to ramp up across the country," said Wicker.
Hyde-Smith said one of the major focuses for the Senate and funding in the CARES Act has been rural hospitals. She said one thing they are working toward is to set aside $10 billion specifically for rural healthcare providers, also many hospitals were not covered under protection programs and they are now working to make sure they are eligible for federal aid.
"Our job is to get money to Mississippi but we can't rely on government forever" said Hyde-Smith. While Hyde-Smith said the CARES Act is not perfect, or a fix all, it has helped many people move forward during this time.
Hyde-Smith said individuals need to continue safe practices, washing hands, staying healthy etc so that there is not a resurgence in the fall. She said continuing these practical safe things will allow for the economy to start working and people to stay healthy.
Dr. Dobbs with the MSDH said that as of today 227 more individuals were diagnosed with the virus and 11 more deaths have been reported. He said they also will be releasing information on those who have recovered. Currently 3,413 people have recovered from COVID-19 in Mississippi.
As businesses begin to open some concern is shown about potential lawsuits that could arise from people who could claim they contract the virus within a place of business. Gov. Reeves said he would be in support of mandates that would protect businesses from these type of lawsuits. He added that he believed it could go as far as congress for a widespread mandate across the country to protect businesses.
For those who are concerned about returning to work, Reeves did suggest not to forego that job. While many are able to draw on unemployment now, those dollars are largely coming from the CARES Act and federal government. Reeves said at some point that money will run out.
About the Author(s)
Sarah Ulmer
Sarah is a Mississippi native, born and raised in Madison. She is a graduate of Mississippi State University, where she studied Communications, with an emphasis in Broadcasting and Journalism. Sarah's experience spans multiple mediums, including extensive videography with both at home and overseas, broadcasting daily news, and hosting a live radio show. In 2017, Sarah became a member of the Capitol Press Corp in Mississippi and has faithfully covered the decisions being made by leaders on some of the most important issues facing our state.
More From This Author