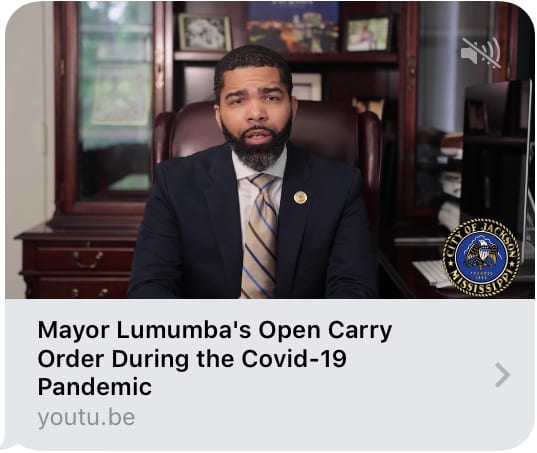 Jackson, Mississippi Mayor Chokwe Antar Lumumba has issued an executive order suspending open carry laws in his city using the coronavirus pandemic as justification, or has he?
Lumumba appeared in a video uploaded to the City of Jackson's YouTube channel on Friday, April 24th announcing the order, saying that he was issuing the action as a result of high gun crime in the city and the hardship the open carry law had on law enforcement in getting illegal guns off of the street.  The order will reportedly last only 6 days.
The title of the video was "Mayor Lumumba's Open Carry Order During the COVID-19 Pandemic."
The capital city's Democrat Mayor advocated in the video for legislative action to permanently curtail open carry laws in the state.
The video was taken down as of mid-afternoon Saturday after the initial YP story was run. And then hours later was reloaded.
There was also a change.org petition that is still active that had the text of his video.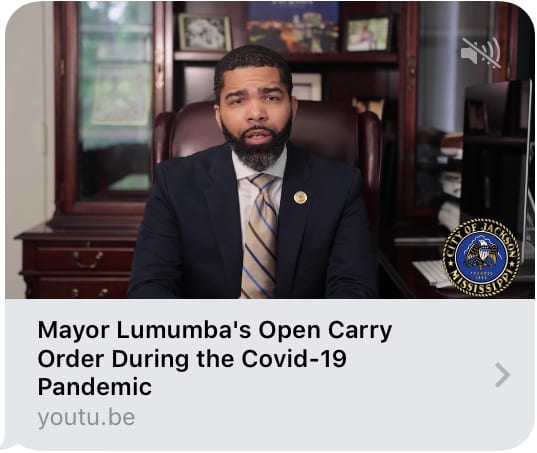 Join Jackson Mayor Chokwe Antar Lumumba in the fight to repeal the Open Carry Law in Mississippi!

"For too long, gun violence has plagued our city and disproportionately affected Black and Brown communities here in Jackson and nationwide.
In the space of just one week – two innocent children lost their lives due to senseless gun violence.
Many of these killings could have been avoided if we had state law that enabled us to better control the presence of firearms on our streets.
As a city, we have championed progressive programs toward lessening the occurrence of violent crime here in Jackson with our violence interruption and credible messenger programs- to find better solutions to interpersonal conflict before they turn deadly– but these measures alone will not stop the gun crime that we have become all too accustomed to experiencing.
The City of Jackson faces a significant challenge with illegal guns.
 
The Open Carry Law interferes with law enforcement's ability to take illegal guns off of the streets. Prior to Open Carry, when Jackson police officers saw a gun in plain view, it gave them probable cause to seize the weapon and determine whether or not it was an illegal gun.
The Open Carry law not only provides protection for individuals who are armed with illegal weapons; it also creates an atmosphere of fear and intimidation in the community. We cannot continue to turn a blind eye to the fact that the Open Carry Law has led to an increase in gun violence in our communities.
Since 2013, child deaths by firearms in the South have increased 72%, according to the National Center for Health Statistics.
Sending our thoughts and prayers to the families who have lost loved ones to senseless gun violence is not enough.
If we are sincere in our hope for better outcomes and a brighter future for our youth, we must be moved to action. It is this call to action that has led to my decision to issue an Executive Order suspending Open Carry law during the Covid-19 civil emergency. Under State Statutes 45-17-7(e), I am given the discretion in the interest of public safety and welfare to issue such orders that are necessary for the protection of life and property.
 
In this moment of great distress and economic tension it is important that we eliminate the ability for illegal weapons to inflict irreparable harm on our City. I want to make it clear that I have no principal disagreement with the Second Amendment right to bear arms, but all rights must be balanced by reasonable regulations.  A right that protects illegal guns and puts more people in fear, a right that escalates conflict beyond a point of resolution, and a right that interferes with another person's right to live is not a legitimate right to be maintained.
Your right to swing ends at my nose.
While this order will only be in effect for a short period of time, I am calling on all Jackson residents, and all state and local leaders to act in the interest of our innocent children. Repeal the Open Carry law which makes it impossible for law enforcement to root out illegal firearms on our streets.
 
How many babies do we have to bury to appease someone's desire to open carry?"
                               -Mayor Chokwe Antar Lumumba, Jackson, MS
Lumumba claimed that under a civil state of emergency he had the authority to restrict open carry laws. 
State law only allows "the discontinuance of selling, distributing, dispensing or giving away of any firearms or ammunition of any character whatsoever" under Mississippi Code 45-17-7.
The code section also allows municipal leaders to "issue such other orders as are necessary for the protection of life and property."  If that is what Lumumba is using as justification, the City of Jackson should prepare for legal action by the state and its citizens as such an assertion to restrict open carry during this pandemic would be far from relevant and difficult to defend.
State Senator Chris McDaniel had a swift reaction.
Each election cycle, Mississippi Democrats tell us they are somehow different from their national counterparts, but given the chance to govern, advancing liberalism is always their agenda.   The proof is in the policy.
Mayor Lumumba has no power to trample on the Second Amendment.  Despite his attempted power grab, he absolutely cannot block legal carry of lawfully owned firearms.  Instead of dictating unconstitutional actions, he would be better served to finally repair the city's potholes, help reduce violent crime against innocent victims, and perhaps balance a budget for a change.
Now, Jackson will incur more legal fees it cannot afford, just as the city continues to request additional favors and funding from the legislature. 
It is a terrible policy decision, and it cannot be allowed to stand. 
Cities can't usurp the authority of the State's elected Legislature and violate the Constitutional rights of the people. I support the 2nd Amendment and will enforce the laws of this State.

— Lynn Fitch (@LynnFitchAG) April 26, 2020
As it is the weekend, a call to City Hall seeking comment went unanswered.
Y'all Politics will continue to follow this story as it develops.
This story has been edited from its original version.
About the Author(s)
Frank Corder
Frank Corder is a native of Pascagoula. For nearly two decades, he has reported and offered analysis on government, public policy, business and matters of faith. Frank's interviews, articles, and columns have been shared throughout Mississippi as well as in national publications such as the Daily Caller. He is a frequent guest on radio and television, providing insight and commentary on the inner workings of the Magnolia State. Frank has served his community in both elected and appointed public office, hosted his own local radio and television programs, and managed private businesses all while being an engaged husband and father.
More From This Author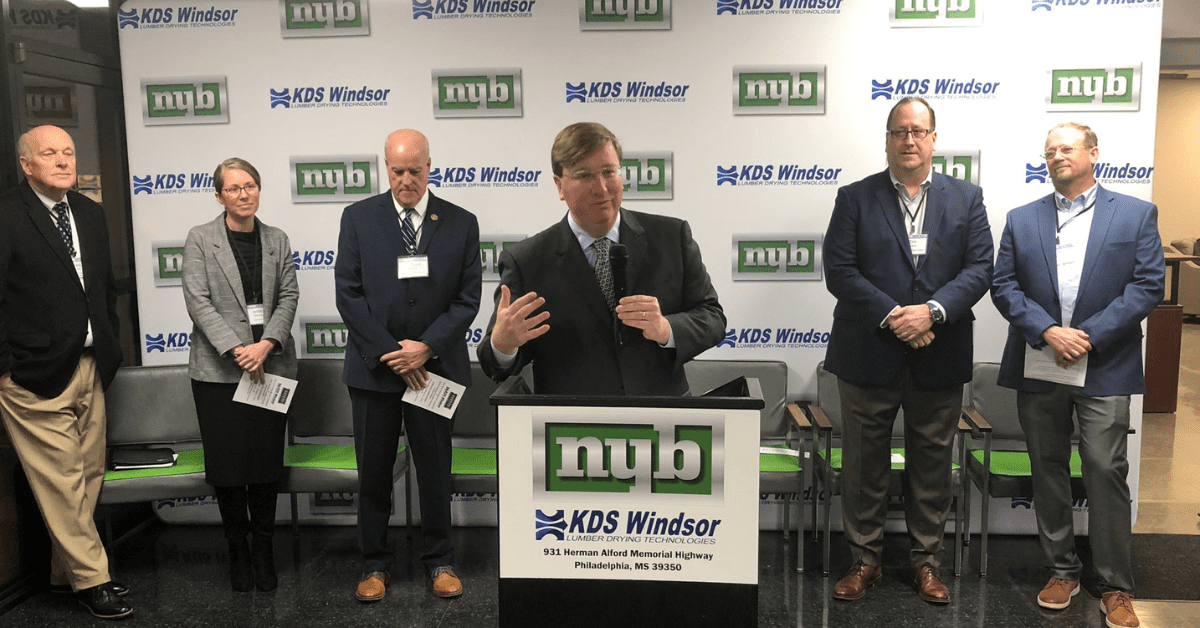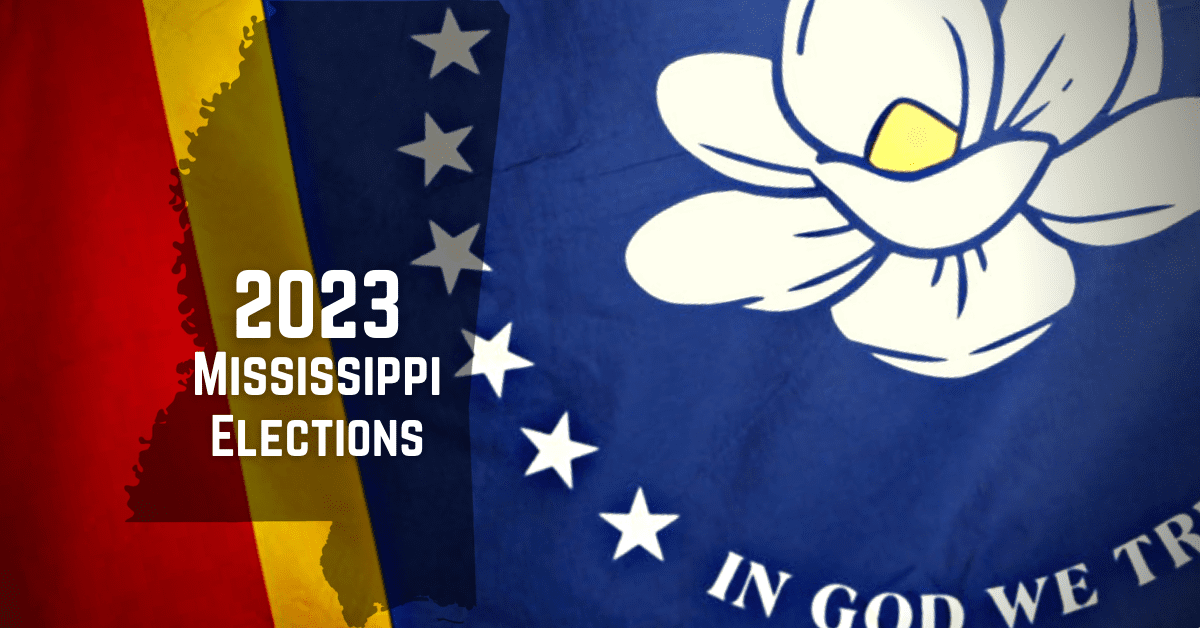 Next Story