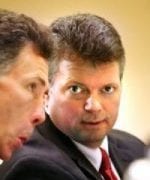 After 30 years on the public payroll, former Attorney General Jim Hood has entered the private sector.
The four-term Democrat AG and failed gubernatorial candidate has joined Weisbrod Matteis & Copley.  The firm has offices in Ridgeland, Mississippi as well as in Florida, Pennsylvania, Puerto Rico, and Washington D.C.
According to the firms release on the hire, Hood will lead the State Attorneys General practice by representing states in their efforts to hold companies liable for harm to consumers and economic damage to states.  He will also be representing public entities, businesses, homeowners and other policyholders in their efforts to maximize their insurance recoveries after hurricanes, tornadoes, earthquakes and other disasters.
Weisbrod Matteis & Copley has represented the State of Mississippi in a number of Hurricane Katrina-related lawsuits against insurance companies, the release says.
The firm in the 2019 cycle donated over $128,000 to Hood's campaign.
"During my time as attorney general, I hired a lot of excellent law firms, and Weisbrod Matteis & Copley is the equal of any of them," Hood said.  "I have the greatest respect for the work they have done across the country, and particularly in my state following Hurricane Katrina.  This move only underlines WMC's commitment to the Gulf South region."
In addition to representing Mississippi in Katrina-related litigation, Weisbrod represents two whistleblowers against State Farm in a matter that went to the U.S. Supreme Court where it prevailed over the insurer in a unanimous decision.
The firm says Hood will not be working on specific matters he oversaw as Attorney General.
About the Author(s)
Frank Corder
Frank Corder is a native of Pascagoula. For nearly two decades, he has reported and offered analysis on government, public policy, business and matters of faith. Frank's interviews, articles, and columns have been shared throughout Mississippi as well as in national publications such as the Daily Caller. He is a frequent guest on radio and television, providing insight and commentary on the inner workings of the Magnolia State. Frank has served his community in both elected and appointed public office, hosted his own local radio and television programs, and managed private businesses all while being an engaged husband and father.
More From This Author