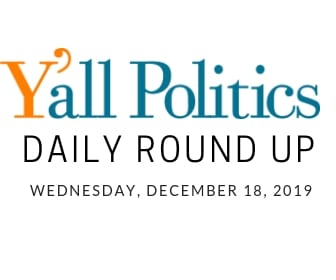 Mr. Reeves goes to Washington, meets with President, Senate Majority Leader
President Trump is working hard on behalf of all Americans. It was an honor to meet with him yesterday and advocate for the people of Mississippi. We are going to have a tremendous partnership—grateful for a President who knows and cares for our state. pic.twitter.com/EPFZ0fKkdX

— Tate Reeves (@tatereeves) December 17, 2019
It is my goal to bring Mississippi's strengths, Mississippi's needs, and Mississippi's story to our country's leaders. I am grateful that @senatemajldr took the time to meet with us today. He is doing a tremendous job advancing a conservative agenda and confirming strong judges. pic.twitter.com/eHLHMueBIO

— Tate Reeves (@tatereeves) December 17, 2019
The leaders elected to serve Mississippi in 2020 are preparing for the start of their terms, including Lt. Gov.-elect Delbert Hosemann.
Hosemann is putting in the work even before he takes the oath of office, meeting with all 52 senators and prepping for committee assignments.
"I've got an agenda for transportation. I've got an agenda for healthcare. I've got an agenda for education, public health, Medicaid," Hosemann said.
The current secretary of state has been meeting with various groups and state agencies related to those to form his agenda.
Among the issues he's ready to tackle is healthcare. Here's what Hosemann said regarding the controversial question of what will happen, if anything, with Medicaid expansion.
WJTV – Jim Hood: Trump's visit and impeachment swayed voters, no regrets as AG
Congressman Palazzo tweets ahead of Impeachment vote
Later today, Democrats will hold their vote to impeach President Trump following a completely partisan and unfair process.

Evidence ❌
Facts ❌

This was never a legitimate search for facts, it was just another check on their liberal agenda. pic.twitter.com/j7WmsBGdgl

— Cong. Steven Palazzo (@CongPalazzo) December 18, 2019
Congressman Thompson issues statement following President Trump's letter to Speaker Pelosi
My statement on President Trump's Letter to Speaker Pelosi. pic.twitter.com/qANkl80vxo

— Bennie G. Thompson (@BennieGThompson) December 17, 2019
Bryant issues Declaration of Emergency in wake of storms
I have issued a declaration of emergency following the weather events from yesterday. @MSEMA is working hard and assessing the damage state wide. If you need immediate assistance, please contact your local county emergency manager. https://t.co/2ygO4KOctg pic.twitter.com/8iCh1j2ycM

— Phil Bryant (@PhilBryantMS) December 17, 2019
Bryant presents Excellence in Government Award to Howell, Miller
It was my honor to present the Excellence in Government Awards to
Sam Howell, Director of the Mississippi Crime Lab and to Wayne Miller, Director of Public Works for the City of Gulfport. Thank you for nominating these hardworking individuals @MissDPS and @CityofGulfport pic.twitter.com/DfsNJayinI

— Phil Bryant (@PhilBryantMS) December 17, 2019
We are grateful to @SenHydeSmith for championing legislation to fight the reckless expansion of chemical abortion & urge Congress to pass the SAVE Moms and Babies Act swiftly – @marjoriesba https://t.co/QzZHJI5Yyw

— Susan B. Anthony List (@SBAList) December 17, 2019
Today Sen. Cindy Hyde-Smith (R-MS) introduced the Support and Value Expectant (SAVE) Moms & Babies Act to prevent approval of new abortion drugs by the U.S. Food and Drug Administration (FDA), prevent the loosening of FDA regulation of already-approved abortion drugs, and prevent abortion drugs from being dispensed remotely by mail or through telemedicine. The House version of this bill was introduced in September by Rep. Bob Latta (R-OH).
The national pro-life group Susan B. Anthony List (SBA List) praised Sen. Hyde-Smith's leadership in a statement:
"We are grateful to Senator Hyde-Smith for championing legislation to fight the reckless expansion of chemical abortion," said SBA List President Marjorie Dannenfelser. "The abortion lobby has attempted to interfere with protective FDA regulations and flood the U.S. market with dangerous abortion drugs from overseas, threatening the health and safety of vulnerable women. On the heels of an abandoned study designed to discredit pro-life abortion pill reversal, which only proved the serious and potentially deadly risks inherent to abortion pills, the need for this bill could not be more pressing. We strongly support the SAVE Moms & Babies Act and urge Congress to pass it swiftly."
More From This Author