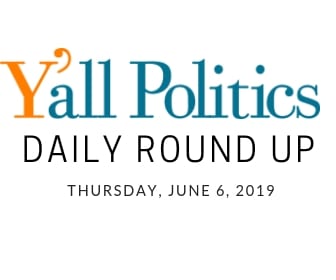 Today marks the 75th Anniversary of D-Day
Lt. Gov. Tate Reeves, on the campaign trail for governor, arrived at The Institute for Marine Mammal Studies Wednesday for a briefing from Coast officials and scientists.
"The fact of the matter is there are challenges to be creative. We have to be prepared to deal with it long term. It's not just to deal with it in this particular year. We have to work long term to find solutions that protect our gulf," Reeves said.
Waller launches first TV ad
At critical points in Mississippi's history, leadership matters—and that's exactly why I'm running for Governor. pic.twitter.com/EK0CYSP5nl

— Bill Waller (@BillWallerMS) June 5, 2019
State Auditor issues demand letters to former Pascagoula City Manager and Comptroller
In December 2014 and again in June 2017, the City of Pascagoula entered bond agreements totaling over $27 million. The bond proceeds should have been deposited into a bank account separate from the general fund account to ensure adherence to bond terms, which mandated the bond revenue be spent on infrastructure and other specific projects in the city.
After receiving a complaint, audit investigators determined Parker and Huffman knowingly and improperly transferred bond proceeds into the City's general fund account. This practice caused the city to forego over $31,500 in interest revenue which would have accrued in the appropriate account. It also created the illusion of a budget surplus. While payments for bond debt were made in a timely fashion, and no money was stolen from the City of Pascagoula, mixing bond money into the general fund account is improper.
"The taxpayers of Pascagoula should know that $14 million is not missing from their bank account, but millions in bond money was spent on general operations in 2014 and 2017," said White.
"These laws about bond money exist for an important reason. They exist to make sure policymakers don't tell the public they are taking on a bond debt for one purpose but then actually spend the money on something else. They exist to avoid confusion about how much a city or county actually has to spend on general expenditures, like salaries and administration. The law about spending bond money was not followed in this case, creating a lot of turmoil in Pascagoula."
District Attorney for the 19th District Angel Myers McIlrath said, "The State Auditor's Office conducted a thorough investigation into the City of Pascagoula's finances, as a result of concerns brought to them and my office by Mayor Maxwell.
US Senate passes resolution honoring Thad Cochran
Last night the Senate passed a resolution I introduced with @SenHydeSmith to honor the life and career of U.S. Senator Thad Cochran. https://t.co/vEHSCAw3HQ

— Senator Roger Wicker (@SenatorWicker) June 5, 2019
Reeves gives keynote at Sheriff's Association Conference
I was honored to deliver the keynote speech at the Mississippi Sheriffs' Association Conference tonight. Thank you for your service and for your sacrifice. Here in Mississippi, we back the blue—we've got your back. pic.twitter.com/Hco8yVRD9x

— Tate Reeves (@tatereeves) June 6, 2019
Hosemann campaign for Lt. Governor endorsed by MS Manufacturers Association
"Secretary Hosemann's views on growing a skilled, educated workforce and his support of business issues match those of the @MSManufacturers. We believe he will represent Mississippi well." – Jay Moon, President & CEO

Thank you, MMA! pic.twitter.com/Q9eDsm0zkO

— Delbert Hosemann (@DelbertHosemann) June 5, 2019
Taggart, Baker debate at AG forum; Fitch not in attendance
Robust Attorney General debate @wmcareyu tonight, and thanks to @FedSoc of Gulf Coast. Plenty of room on stage for the other @MSGOP candidate if she had come as previously scheduled. @RepublicanAGs #AndyForAG #CounselForMS #JoinTheATeam pic.twitter.com/p66GBCYsfO

— Andy_for_AG (@Andy_for_AG) June 6, 2019
Wicker speaks at hearing on television and video marketplace
ICYMI: Chairman @SenatorWicker's opening statement during the hearing on the television and video marketplace. Click to watch ? https://t.co/C4aKibUHUE pic.twitter.com/gTkVgHbpN3

— Senate Commerce (@SenateCommerce) June 5, 2019
Congressman Palazzo issues release on concerns of impacts on MS Sound
Congressman Steven Palazzo (MS-4) sent a letter to Major General Richard G. Kaiser, President of the Mississippi River Commission (MRC) and Commander of the Mississippi Valley Division for the U.S. Army Corps of Engineers (USACE), expressing his concerns about the devastating impacts on Mississippi's coastal ecosystems caused by the re-opening of the Bonnet Carré Spillway (BCS).
"My constituents in south Mississippi are facing the realities of the spillway's opening for a second time this year. The discharge of freshwater into the Mississippi Sound is proving to be fatal for our marine life, having already killed more dolphins than the BP oil spill," Palazzo said. 
"The livelihood of south Mississippi depends on our coastal ecosystems, which is why I am calling for the state of Mississippi to be granted a permanent position on the MRC to represent the interests of our fishery and tourism communities that support our local economy. I am also asking for an immediate study of the impact on Mississippi's marine ecosystems to be conducted, and request that the USACE clearly communicate their mitigation plan to protect our ecological systems," Palazzo continued.
"The damage caused by the spillway's openings could be irreversible and I am committed to mitigating as much of this catastrophe as possible. My office will continue working with the USACE, the Mississippi Department of Marine Resources, and the Institute for Marine Mammal Studies (IMMS) moving forward. We will not stand idly by as our way of life deteriorates in front of us," Palazzo concluded.
Congressman Thompson comments on border crisis
"These numbers are yet another sign that the Trump Administration's border security and immigration policies are abject failures."

Read Chairman @BennieGThompson's statement below on the news that the humanitarian crisis at the border is worsening: pic.twitter.com/Nxp77CAQWW

— House Homeland Security Committee (@HomelandDems) June 5, 2019
Northern PSC Presley elected as President of NARUC
I'm humbled, honored and grateful to have been elected to serve as the next President of @NARUC by my colleagues this morning at the @SEARUC conference in Gulf Shores, AL. I'm dedicated to representing my colleagues across America to ensure that the voice of @NARUC stays strong!

— Brandon Presley (@BrandonPresley) June 5, 2019
More From This Author