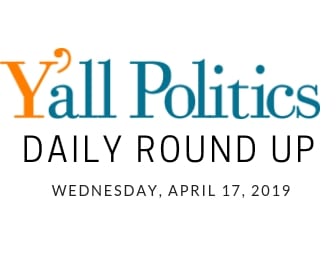 A $1,500 pay raise will cost the state budget more than $75 million according to figures previously provided. Lawmakers could increase spending of state revenue next year by $200 million this year's original budget.
Governor Bryant said in a Facebook post, "Good teachers can change the trajectory of a student's life forever."
Southern District Public Service Commissioner Sam Britton and State Senator Michael Watson spoke at a meeting of Forrest-Lamar Republican Women.
Britton touted his success in settling with Mississippi Power regarding the Kemper County Plant, while Watson said voters should consider him because of his conservative voting record.
"In one term, I went there and we resolved that issue," Britton said. "When I got there, it had been ten years going, billions of dollars over-budget and no end in sight. In my first (term), we brought Kemper to an end."
"The great thing is I have a 12-year voting record that people can take a look at and study and understand hey, he doesn't just say he's a conservative, he votes as a conservative and I think that's an important [distinguishing factor]," Watson said.
Bryant: Democrats did all they could to stop special needs children from getting help
Democrats did all they could to stop these special needs children from getting the help and education they need. Luckily, they failed again. https://t.co/BHv46WMPfh

— Phil Bryant (@PhilBryantMS) April 16, 2019
State Rep. Anderson says Bryant, legislative leaders had to "lie and manipulate" to pass special needs funding
Your party controls the House, Senate and the Governor's Mansion—yet you and leadership still had to lie and manipulate the Legislature to pass this bill. It's concerning to me that you know this and still try to blame @msdemocrats for the failed policy objectives of your party. https://t.co/RhIlKHGR9k

— Rep. Jeramey Anderson (@jerameyanderson) April 16, 2019
Gipson supports repeal, replacement of WOTUS
Supporting the repeal and replacement of the Obama-era "Waters of the United States" rule, I recently submitted these comments to the Trump administration EPA on behalf of Mississippi's farmers, ranchers and landowners. pic.twitter.com/Y6Bicu79y1

— Andy Gipson (@AndyGipsonForMS) April 17, 2019
AG candidate Baker says he will fight for the Heartbeat Bill all the way to SCOTUS
Life is precious. As Attorney General, I'll take the fight for the Heartbeat Bill all the way to the Supreme Court if necessary. Mississippians overwhelmingly support it, and most Americans support preserving and protecting life. Read more: https://t.co/KNkUJIyk9i

— Mark Baker (@MarkBakerForAG) April 16, 2019
The Telephone Robocall Abuse Criminal Enforcement and Deterrence (TRACED) Act would create new tools for regulators and law enforcement to prevent illegal robocalls while toughening penalties for robocall scammers.
The bill was approved by the Senate Commerce Committee, which is chaired by Senator Roger Wicker, and it is now available for consideration by the Senate.
Senator Cindy Hyde-Smith is one of 52 co-sponsors of the bill authored by Senator John Thune (R-S.D.), and she says that the bill would be a step in the right direction as lawmakers try to curb the rise of robocalls.
"There probably isn't one household in Mississippi that isn't fed up with robocalls, especially the spoof calls intended to trick people into giving up personal information or worse," Hyde-Smith said.  "I think this is a well-balanced bill to fight the scammers and give consumers opportunities to protect themselves."
More From This Author