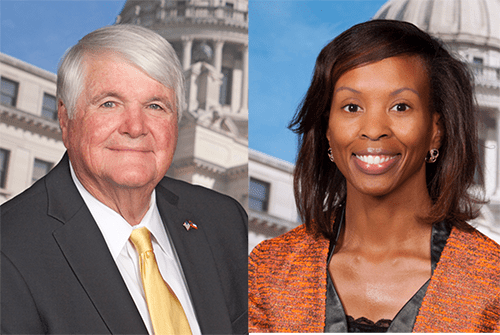 Speaker of the House Philip Gunn has appointed two new chairpersons for different committees.
Democrat Representative Angela Cockerham was appointed to Chair the Judiciary B Committee.
"Chairman Cockerham is an intelligent attorney and a hard worker," said Speaker Gunn. "She is an asset to Mississippi. She is a talented member who will excel in this role. Furthermore, I am honored to call Chairman Cockerham a close friend and colleague."
Chairman Cockerham has served in the Legislature since 2005. Previously, she chaired the House Energy Committee. She is the Vice-Chairman of the House Management Committee and serves on the House Apportionment and Elections; Appropriations; Compilation, Revision and Publication; Education, Energy, Ethics, Legislative Budget Committee and Performance Based Budgeting Committees.  Representative Cockerham is a member of Alpha Kappa Alpha and the Mississippi and Louisiana Bar Associations. She is Special Counsel at Wise Carter Child & Caraway, P.A.
"I would like to thank Speaker Gunn for his continuous confidence in my abilities as a legislator and more importantly for his friendship," said Chairman Cockerham. "I look forward to working with the members of the Judiciary B Committee and the members of the House in passing legislation that will address human trafficking and child exploitation, criminal justice reform and other issues for the betterment of our state and nation."
Chairman Cockerham replaces Andy Gipson as Chairman of Judiciary B. Gipson was appointed by Governor Bryant to serve as Commissioner of Agriculture.
Secondly, Representative Gary Staples (R) was appointed to Chair the Energy Committee.
"Gary is a seasoned veteran of the legislative process," said Speaker Gunn. "He has a vast understanding of the energy sector. He will be a great chairman of this committee."
Chairman Staples has a combined 19 years of experience in the Legislature. Previously, he served as the vice-chairman of the House Energy Committee. He serves on the House Agriculture; Appropriations; Banking and Financial Services; and Public Utilities Committees.
"Many thanks to the Speaker for the confidence shown in me to handle this important sector of the oil industry," said Chairman Staples. "I will do the best job I can do."
Representative Staples is affiliated with the Jones County Economic Development Authority, American Legion, Jones County Cattleman's Association, Northeast Jones FFA Alumni and Laurel Telephone Pioneers.
About the Author(s)
Sarah Ulmer
Sarah is a Mississippi native, born and raised in Madison. She is a graduate of Mississippi State University, where she studied Communications, with an emphasis in Broadcasting and Journalism. Sarah's experience spans multiple mediums, including extensive videography with both at home and overseas, broadcasting daily news, and hosting a live radio show. In 2017, Sarah became a member of the Capitol Press Corp in Mississippi and has faithfully covered the decisions being made by leaders on some of the most important issues facing our state. Email Sarah: sarah@magnoliatribune.com
More From This Author