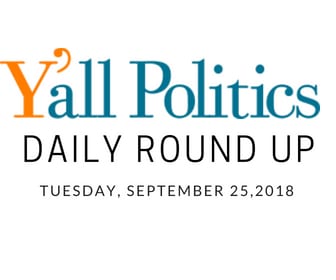 Absentee voting now available for November 6th election
Absentee ballots are available at your county Circuit Clerk offices across the state as we approach the November 6th election date.
A photo ID is required to vote absentee.
Mississippi's senators released statements Monday in support of Kavanaugh's nomination and opposing a delay in his confirmation vote.
"Senate Democrats have demonstrated that they are not interested in truth or justice. The clear lack of supporting evidence and witnesses and the withholding of information suggest a coordinated campaign designed to smear Judge Kavanaugh," said Sen. Roger Wicker. "Chairman (Chuck) Grassley (Senate Judiciary Committee) and his colleagues have taken the allegations against Judge Kavanaugh seriously. I support the work of the Judiciary Committee, which is investigating these claims through a fair process. This week both sides will be given an opportunity to share their stories under oath, and then we should move forward. These unsubstantiated, politically-motivated accusations should not further delay the consideration of this well-regarded, highly-qualified nominee."
"Sexual assault of any kind is unacceptable, but it is becoming very apparent that a major partisan effort is underway to undermine not just Judge Kavanaugh's nomination, but his character," said Sen. Cindy Hyde-Smith. "Judge Kavanaugh has repeatedly declared that none of these accusations are true, denied all the accusations, and I am glad he has pledged he will not buckle under this coordinated attack to torpedo his nomination. Judge Kavanaugh has an exemplary record of service to the judiciary and the rule of law. His confirmation process has been exhaustive, and he has been forthright in answering questions, all under the penalty of law. I've met him and continue to consider him imminently qualified to serve on the Supreme Court. The Senate Judiciary Committee has scheduled a hearing to examine these accusations. Let that process go forward and then bring Judge Kavanaugh's nomination up for a vote. I'm confident the Senate will do the right thing, not just by Judge Kavanaugh, but by the American people and our system of justice."
#MSSen: Baria supports Bernie Sanders' 'Stop Bezos Act'
When asked if he would support the "Stop Bezos Act" –

YES#mssen #mselex #BariaForMississippi pic.twitter.com/qTXFCml0gW

— David Baria (@dbaria) September 25, 2018
WTOK – U.S. Senate candidate David Baria holds town hall meeting in Meridian
#MSSen: Espy sees Ford accusations against Kavanaugh as 'credible'
Espy Says Ford Allegations 'Credible' as Gov. Patrick Endorses Him https://t.co/23sNoQ3WrI

— Mike Espy (@espyforsenate) September 24, 2018
GOP faithful gathered Friday in tribute to the "Gipper," the former Hollywood screen legend and 40th President of the United States, the late Ronald Wilson Reagan, during the Ronald Reagan Republican Roundup at the Gin at Nesbit.
Attendees posed with a large cardboard cut-out of Reagan during the night of festivities, which centered around a country western theme…
…Lucien Smith, Chairman of the Mississippi Republican Party, said the Nov. 6 general election is shaping up to be a pivotal contest in the course of the nation's history.
"Control of the U.S. Senate could be decided right here in Mississippi," Smith said. "What we have to be reminded about is that on Nov. 27, (the date of installation of Senate leaders on Capitol Hill) that if you don't vote Republican on Nov. 6, you are voting for Chuck Schumer to be Majority Leader of the U.S. Senate."
Democratic candidates Mike Espy and David Baria also appeared on Morning Joe. But Republican Senators Roger Wicker and Cindy Hyde-Smith did not. It appears both will also dodge appearances in statewide televised debates. Will this cagey behavior become a big thing or a little thing by November?
If prognosticators are right, former U.S. Secretary of Agriculture Espy and former Mississippi Commissioner of Agriculture and Commerce Hyde-Smith will face each other in a late November run-off in. In that scenario Mississippi agriculture may become a really big thing if farmers side with one ally over the other.
President Trump's growing trade war with China and resulting tariffs on Mississippi ag exports to China, particularly soybeans, have already become worrisome things to farmers. To ward off McDaniel and get Trump's endorsement, Hyde-Smith is 110% behind everything Trump, including his tariffs. The general GOP line is that Trump will cut a great deal and everything will work out. That may be less likely now that Trump has doubled down on tariffs to force China President Xi Jinping to accept a deal. However, Xi Jinping will not kowtow to Trump. Losing face like that would jeopardize his newly won "president for life" status. So, will Trump's trade war with China be a big thing or little thing in November? Espy's chances may hinge on the answer.
Helsinki Commission chair Sen. Wicker on Turkey court decision
Chair @SenatorWicker disappointed by court decision in #Turkey to reduce #SerkanGölge's prison sentence, but not release him: "The Turkish justice system has failed to produce any convincing evidence of the charges…this injustice must come to an end." https://t.co/6hEbIjuX1o

— Helsinki Commission (@HelsinkiComm) September 24, 2018
State Auditor Shad White says two former employees at Coahoma Community College embezzled nearly a million dollars from the school. He wants it paid back… with interest. And he's turned the case over to the Coahoma County District Attorney's office.
The demand letter lays out claims Gwendolyn Jefferson and Stacie Neal conspired to embezzle money from Coahoma Community College by creating false purchase documents and making personal purchases with credit cards and checks belonging to the community college. From 2013-2017, Jefferson and Neal made over $750,000 in purchases from local and online retailers for shoes, watches, a chandelier, and many other items.
With interest and investigative costs, that total comes to $981,600.
Gov. Bryant communications director Chandler heads to MDA to replace Weaver
He will replace Pamela Weaver, who has earned a wonderful opportunity in the private sector. I am so grateful for the fine work Pamela and her team did promoting our great state and wish her the best as she begins this new chapter. pic.twitter.com/Tvm27JljRw

— Phil Bryant (@PhilBryantMS) September 24, 2018
Councilmen last week questioned why the city should renew a contract for a lobbyist at $10,000 a month when the council has no report of progress or future plans.
The city has so far paid $70,000 to B. Keith Heard, who is former chief of staff for U.S. Sen. Thad Cochran, and his company, Key Impact Strategies…
…Heard worked with Biloxi to secure federal and state funding for the $35 million Keesler Air Force Base entry gate project and Leonard said the administration is looking for his help to secure $7.2 million still promised.
"We're very happy with the access he has and based on his past experience and reputation he has," Leonard said.
More From This Author