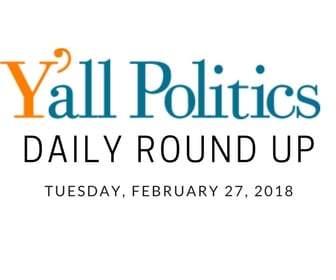 State Sen. McDaniel goes on FB live to announce an announcement on Wednesday
https://www.facebook.com/senatormcdaniel/videos/1755521847845029/
As Chris McDaniel, the state's anti-Republican establishment standard bearer, approaches a formal decision to challenge U.S. Sen. Roger Wicker in the June Republican primary, Democrat David Baria confirmed Monday that he is still strongly considering a run as well.
Baria, a state representative from Bay St. Louis, told Mississippi Today that he would give "serious thought" to running for the seat should McDaniel challenge Wicker in the Republican primary…
…"I think it takes a somewhat unique dynamic to see a path of victory for a Democrat in a U.S. Senate race in Mississippi," Baria said on Monday afternoon. "In a vacuum, Chris McDaniel getting in against Wicker creates the kind of dynamic that leads me to believe that might be achievable."
Baria said he has talked with Sen. Chris Van Hollen, chairman of the Democratic Senatorial Campaign Committee, about a potential Senate bid, as well as Democratic Sen. Doug Jones, who upset anti-establishment candidate Roy Moore in late 2017. Baria said he's also considering running for Sen. Thad Cochran's seat should it become vacant this year.
House members are slated to consider a controversial Senate bill put forth by Lt. Gov. Tate Reeves which would consolidate power and authority over transportation funds under the governor's control, rather than a three-person Mississippi Department of Transportation Commission.
What's controversial about Senate Bill 3046 is that it calls for more than $1 billion in infrastructure spending over five years by diverting funds from the state's rainy day or reserve fund.
Overall, the bill includes $150 million in earmarked bonds, $125 million diverted from MDOT, more than $600 million diverted from the general fund, and a new privilege tax on hybrid and electric vehicles, vehicles which are designed to conserve energy and cut down on emissions.
The Mississippi Department of Public Safety has launched an investigation into allegations of MHP cadets being mistreated.
Commissioner Marshall Fisher made the announcement Monday that he has ordered an aggressive internal investigation. The allegations involved cadets in MHP Class 62 being mistreated by MHP personnel.
"These are very serious allegations that will not be tolerated in any form and any personnel found to have committed any act of misconduct will be held accountable to the fullest extent of the law," Fisher said in a statement.
WJTV – Bryant retells story of Pearl High shooting to governors
Great meeting at the White House this morning with @realDonaldTrump regarding school safety. We have a solid system in Mississippi, but it can always be improved. We must do all we can to protect our children. pic.twitter.com/7FaPLOJ0nc

— Phil Bryant (@PhilBryantMS) February 26, 2018
Republican State Treasurer Lynn Fitch has long been a proponent of equal pay, throwing her support behind legislation for the last two sessions.
Fitch said Monday she supported the amendment, saying, "When the House voted overwhelmingly to support equal pay for women, it sent a strong signal of respect for the work Mississippi women do.
"I am hopeful that the Senate will not let this bill die and will give the governor an opportunity to put an equal pay law on Mississippi books, just like 48 other states have," she said.
Mayor Chokwe Antar Lumumba held a press conference Monday where he signed an executive order banning the release of mugshots of those involved in officer-involved shootings…
…He says this order is something he has considered since the start of his term. He says using a mugshot of a person involved in an officer-involved shooting doesn't paint the best picture of that person.
WTOK – Lawmakers discuss legislative session with community members
Senate Education Committee members will consider another version of the school funding bill today that changes the calculation of poverty.
Sen. Gray Tollison, a Republican from Oxford and the chairman of the committee, sent the strike-all amendment to committee members late Friday.
The new version of House Bill 957 would calculate each district's funding for low-income students based on a three-year average of the poverty rate. The current version of the bill funds low-income students based on each year's poverty rate as determined by the U.S. Census, a calculation opponents have said does not accurately represent the makeup of the district.
The pressure for a state tobacco tax increase has been building for months, with health advocacy groups urging lawmakers to make the cost of smoking higher as a way of pricing smokers out of the unhealthy habit.
Some legislators followed through, drafting bills to raise taxes from the current 68 cents per pack to at least $1.
None of these bills survived, but a bond bill that is still alive gives legislators one more shot. It could be amended later for a cigarette tax increase.
Sen. Wicker says paid leave can be changed for working families
Paid leave can be a game-changer for working families. Read how the #TaxCutsAndJobsAct promotes paid family leave nationwide here ➡ https://t.co/SMNd0l0ecr

— Senator Roger Wicker (@SenatorWicker) February 26, 2018
Two women are suing a Mississippi college town over its denial of a permit for a gay pride parade. Mississippi State University students Bailey McDaniel and Emily Turner filed the federal lawsuit Monday against the city of Starkville.
City aldermen voted 4-3 last week to deny the permit for Starkville Pride, which sought to hold the city's first-ever gay pride parade during a larger set of events.
More From This Author