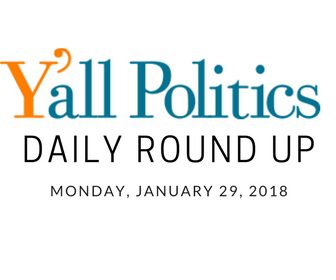 I am a person of faith. A pastor, in fact. And, I am staunchly pro-life. I am also a committed supporter of pay equity and author of legislation to enact an equal pay law here in Mississippi.  Too many people think that you can't be both.  But, to me, being both pro-life and pro-pay equity is the most natural thing ever…
…We ask women in difficult circumstances and under extreme financial hardship to make the right decision and choose life. It seems the least we can do is ensure a level playing field for them in the workplace so that they can not only choose life during pregnancy but support it after birth.
JACKSON, MS (AP) – Mississippians could soon be able to drive through dry counties with booze in the trunk without fear of arrest.
The House Ways and Means Committee on Thursday sent House Bill 192 to the full House for more debate.
The measure says people could carry alcohol, wine and beer through dry areas on a state or federal highway if the containers are unopened.
WJTV – House Bill 1100 would require 10 Commandments by displayed, read in schools
Senator Robert Jackson wants to see the speed limit raised by 5 mph on State Highways and interstates.
"I used to be a fast driver but now it seems I'm slower because everybody's passing me," said Jackson.
Jackson says he's just trying to get the constituents what they want.
"People are already driving higher speed than the posted speed limits," explains Jackson.
WTOK – Sen. Sally Doty makes campaign stops in Meridian for #MS03
STARKVILLE, Miss. (WCBI) – Madison businessman Whit Hughes, who's looking to fill Congressman Gregg Harper's seat, makes a stop in the Golden Triangle today, January 22.
Hughes is one of five running to fill the house seat to represent Mississippi's 3rd Congressional District.
Hughes, a former Mississippi State Basketball all star, you can see him here in WCBI Documentary.
Hughes says this is the first time he's run for office and he says jobs for Mississippians is one thing he wants to tackle.
A senior advisor on Hillary Clinton's 2008 presidential campaign was accused of sexual harassment and kept on staff at Clinton's request, four sources told The New York Times. Burns Strider was "repeatedly sexually harassing a young subordinate," and Clinton was recommended to fire Strider by her campaign manager. Instead, Strider received a pay cut and was told to undergo counseling while the woman was "moved to a new job." Strider was Clinton's "faith adviser" and also led Correct the Record, an independent group that supported Clinton's 2016 run. He was also fired from the group "for workplace issues, including allegations that he harassed a young female aide." A statement from the law firm involved in the 2008 sexual harassment issues claimed that "appropriate action was taken."
More From This Author