No public money is to be given to the Mississippi Association of School Superintendents, or MASS. That's the word from the Legislature.
Section 44 of the Education Appropriation Bill HB 1643 states, "None of the funds provided herein may be expended to make payments or transfers to the Mississippi Association of School Superintendents. Furthermore, none of the funds provided herein may be expended if any local school district expends any public funds to make payments or transfers to the Association."
Gov. Phil Bryant has signed the bill.
No one denies that the measure is a result of the nasty 2015 election fight over Initiative 42. The Superintendents' Association openly played politics by endorsing Initiative 42 and willfully mischaracterized legislators, going so far as to call them liars, while public local school superintendents openly campaigned for the measure, some even on public property and using publicly funded materials, evidenced by this Lauderdale County web link or a subsequent ad featuring a superintendent regarding Initiative 42.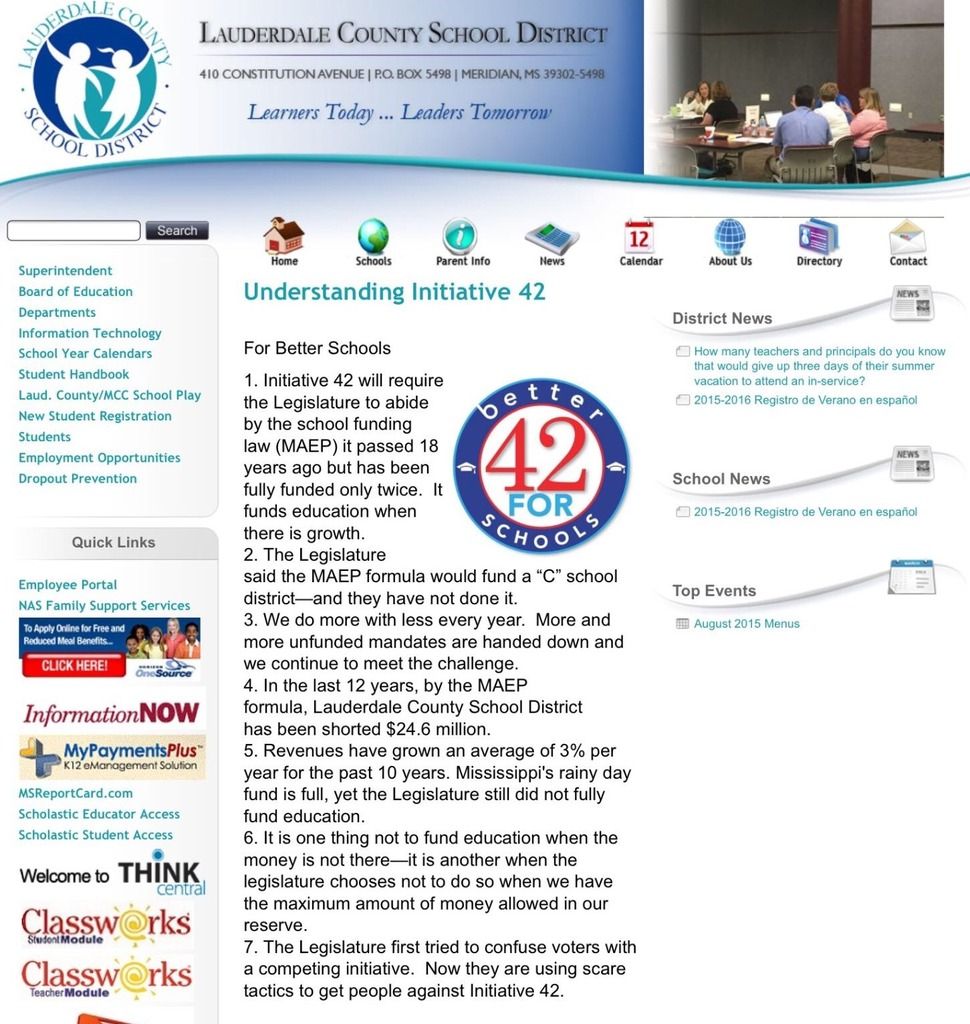 According to an AP article, the loss of these public funds may be detrimental to the Association's stability.
Jeff Amy notes, "…association leaders face the loss of a majority of its revenue. Of $1.1 million collected in 2014, an IRS filing shows $650,000 came from dues and conference fees. The association charges $1,250 a year dues per district and charges people to attend its conferences, including a $350-per-person registration for its July meeting at Biloxi's Beau RivageCasino and Resort."
In fact, the Association's upcoming conference registration form found online notes that, "The school district will be billed after the convention."
All of this raises the legitimate question as to whether public money – taxpayer dollars – should be used by elected officials or agency heads, from city halls to the Capitol, for membership in such associations and/or to support the lobbying of the process to, in essence, use government money to get… more government money.
Municipalities pay fees to be a member of the Mississippi Municipal League and the National League of Cities, among other groups such as mayors, city clerks, city attorneys and more.
Counties pay fees to the Mississippi Association of Supervisors and the National Association of Counties, along with organizations supporting Sheriffs, Circuit and Chancery Clerks, Surveyors, Judges and other specific titles.
School boards and superintendents have a variety of organizations from the Mississippi Association of School Superintendents to the Mississippi School Boards Association and others.
And on and on it goes.
Public funds go to these groups, whether as membership fees or conference charges, while they lobby and often advocate forcefully against the wishes of many taxpayers paying to keep the groups afloat.
And the hard truth is, if public funds were cut off to all of these groups, not just the Mississippi Association of School Superintendents, a loud sucking sound could be heard in Jackson as the well would be dry in short order and association lobbyists would be looking for work elsewhere.
There are no easy answers here.
But the question comes as to whether this ban on public funds going to the Superintendents' Association could or should lead to a larger reform on how public funds can be expended.
In this case, I think the old saying of "live by the sword, die by the sword" applies. Superintendents took a huge political risk and came up short. They may be, in this case, getting their just desserts.
Overall, it is a debate that is worth the time of both state leaders and voters who advocate for and claim to believe in fiscal responsibility and public transparency.
More From This Author