Like his colleagues, Mississippi Congressman Steven Palazzo is actively discussing options for Speaker of the House with fellow Republican members of Congress. Palazzo has now indicated that he is pushing for Rep. Marsha Blackburn (TN) as the next Speaker.
Blackburn is a Mississippi native, born in Jones County, and has represented Tennessee's 7th congressional district in the United States House of Representatives since 2003.
Palazzo, appearing on the PineBelt's WMXI 98.1FM radio this morning, noted that should the discussions prove fruitful on Blackburn he would be willing to nominate her for the post.
A call to Palazzo's staff by Y'all Politics confirmed the Congressman's intent.
Blackburn is an attractive candidate for Speaker in that she has broad appeal among Republicans and is well respected by her colleagues. Few can question her conservative bona fides, making Blackburn a potential consensus candidate for Speaker.
Many believe Wisconsin Rep. Paul Ryan to be the one Congressmen who could unify the party in the House but he has repeatedly declined to offer up his name for consideration. Texas Rep. Mike Conaway has also been mentioned by sources close to the discussions.
UPDATE:
Congressman Palazzo's official Twitter account retweeted this story and added this comment: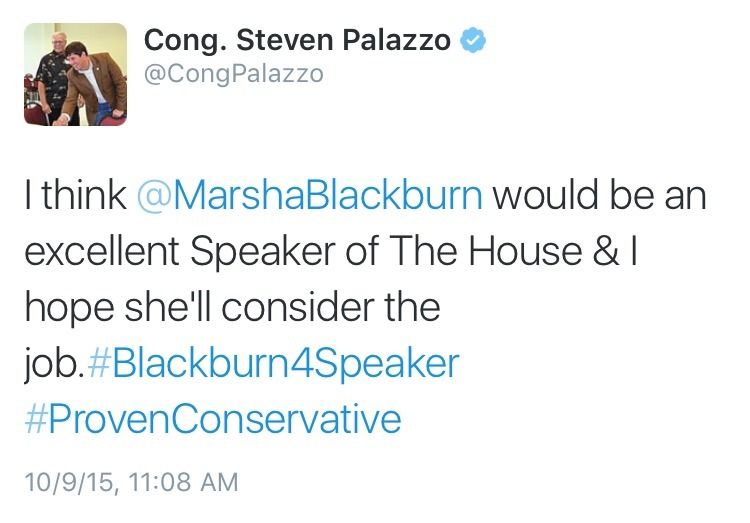 10/9/15
More From This Author