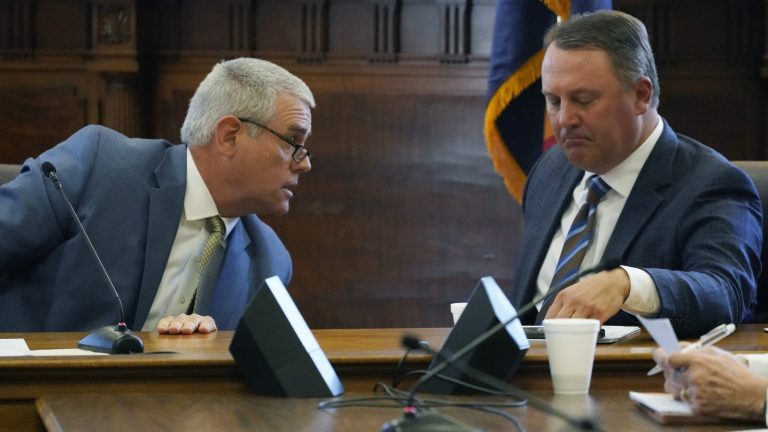 House Speaker Philip Gunn, R-Clinton, left, confers with Speaker Pro Tempore Jason White, R-West, during a meeting of the Joint Legislative Budget Committee, Friday, March 25, 2022, at the Mississippi Capitol in Jackson, Miss. (AP Photo/Rogelio V. Solis)
Mississippi Republicans will continue their supermajority in both legislative chambers when they return to the Capitol in January.
Mississippi Republicans held a supermajority in both chambers of the Legislature ahead of General Election. That did not change when the smoke cleared and ballots were counted on Tuesday.
Mississippi House Republicans grew their supermajority by picking up two seats, bringing their total to 79 out of the 122 members. Democrats will hold 41 seats in the chamber. Two Independents also won re-election.
In all, there were 30 contested House races in the General Election, with Republicans winning 20, Democrats taking 9, and an Independent incumbent claiming the other victory.
Speaker Philip Gunn did not seek re-election. He looks to hand the gavel to his Speaker Pro Tempore Jason White. The House Republican Caucus is set to meet later this month to make White's nomination as Speaker official ahead of lawmakers returning to Jackson, allowing him time to set committees and name prospective chairmen.
Mississippi Senate Republicans will continue to hold a 36 to 16 majority in the chamber over their Democrat counterparts. Of the 14 contested Senate races on Tuesday, 9 were won by Republicans and 5 went to Democrats.
Of note, one incumbent State Senator lost his re-election bid. With 95% of precincts reporting, former Democrat turned Independent Kelvin Butler has 39.4% of the vote while Democrat Gary Brumfield has 50%. The Senate District 38 race featured four candidates.
Lt. Governor Delbert Hosemann cruised to re-election after a rough and tumble primary. He will again be tasked with naming committees and chairmen for the next term.
Below is a recap of each contested Mississippi House and Senate race:
HOUSE
District 3
Incumbent Tracy Arnold (R): 80%
Jimmy Russell (D): 20%
District 4
Incumbent Joey Steverson (R): 88%
Donald Scott (L): 12%
District 6
Justin Keen (R): 59%
Michael Chandler (D): 39%
Amos Thompson (L): 2%
District 7
Kimberly Remak (R): 60%
Gail Lyons (D): 40%
District 9
Incumbent Cedric Burnett (D): 71%
Randy Denton (R): 29%
District 12
Incumbent Clay Deweese (R): 62.5%
Donna Niewiaroski (D): 37.5%
District 23
Andy Stepp (R): 72%
Danny Lampley (D): 16%
Andy Clark (I): 12%
District 24
Incumbent Jeffery Hale (R): 67%
David Olds (D): 33%
District 40
Incumbent Hester Jackson-McCray (D): 66%
Jacob Hisaw (R): 34%
District 41
Incumbent Kabir Karriem (D): 79%
Claude Simpson (L): 21%
District 42
Incumbent Carl Mickens (D): 88.5%
Shantell Stevens (L): 11.5%
District 44
Incumbent Scott Bounds (R): 90%
Phillip Pope (L): 10%
District 45
Keith Jackson (D): 55%
Michael Cassidy (R): 38%
Trent Rickles (I): 7%
District 49
Incumbent Willie Bailey (D): 83%
Stacy Smith (L): 17%
District 52
Incumbent Bill Kinkade (R): 61%
Dianne Black (D): 39%
District 56
Clay Mansell (R): 66%
Sharon Moman (D): 34%
District 64
Incumbent Shanda Yates (I): 62%
Amile Wilson (R): 38%
District 75
Celeste Hurst (R): 74%
Ryshonda Harper Beechem (I): 26%
District 76
Incumbent Gregory Holloway (D): 73%
Rickey Smylie (R): 27%
District 85
Incumbent Jeffery Harness (D): 79%
Michael Longenecker (L): 21%
District 86
Incumbent Shane Barnett (R): 65.5%
Annita Bonner (D): 34.5%
District 91
Incumbent Bob Evans (D): 69%
Steve Moreman (R): 31%
District 97
Incumbent Sam Mims (R): 70%
Ben Thompson (D): 30%
District 99
Incumbent Bill Pigott (R): 84%
Gregory Fortenberry (G): 16%
District 104
Incumbent Larry Byrd (R): 87%
Melissa Brady (L): 13%
District 105
Elliot Burch (R): 83%
Matthew Daves (D): 17%
District 114
Incumbent Jeffrey Guice (R): 82%
Casey Whitehead (L): 18%
District 120
Incumbent Richard Bennett (R): 81%
Cameron Roberson (L): 19%
District 121
Incumbent Carolyn Crawford (R): 64%
John DeDeaux (D): 36%
District 122
Incumbent Brent Anderson (R): 79%
Brice Phillips (L): 21%
SENATE
District 2
Incumbent David Parker (R): 57%
Pam Hamner (D): 43%
District 4
Incumbent Rita Parks (R): 77%
Jon Newcomb (I): 23%
District 7
Incumbent Hob Bryan (D): 54%
Robert Mitchell (R): 44%
Lesley Smith (L): 2%
District 10
Incumbent Neil Whaley (R): 61%
Andre DeBerry (D): 39%
District 19
Incumbent Kevin Blackwell (R): 66%
Sandy Kerr (D): 34%
District 22
Incumbent Joseph Thomas (D): 58%
Chastity Magyar (R): 42%
District 24
Incumbent David Jordan (D): 54%
Marty Evans (R): 35%
Curressia Brown (I): 11%
District 29
Incumbent David Blount (D): 77.5%
Michael Carson (R): 22.5%
District 38
Gary Brumfield (D): 50%
Incumbent Kelvin Butler (I): 39%
Willye Powell (I): 8%
Trischell Veal (L): 2.5%
District 40
Incumbent Angela Hill (R): 81%
Thomas Lehr (D): 19%
District 47
Incumbent Joseph Seymour (R): 86%
George Uram (I): 14%
District 48
Incumbent Mike Thompson (R): 72%
Matthew Adams (L): 28%
District 49
Incumbent Joel Carter (R): 70.5%
Glen Lewis (L): 29.5%
District 51
Incumbent Jeremy England (R): 76%
Lynn Bowker (L): 14%
Artis Burney (G): 10%
About the Author(s)
Frank Corder
Frank Corder is a native of Pascagoula. For nearly two decades, he has reported and offered analysis on government, public policy, business and matters of faith. Frank's interviews, articles, and columns have been shared throughout Mississippi as well as in national publications such as the Daily Caller. He is a frequent guest on radio and television, providing insight and commentary on the inner workings of the Magnolia State. Frank has served his community in both elected and appointed public office, hosted his own local radio and television programs, and managed private businesses all while being an engaged husband and father. Email Frank: frank@magnoliatribune.com
More From This Author