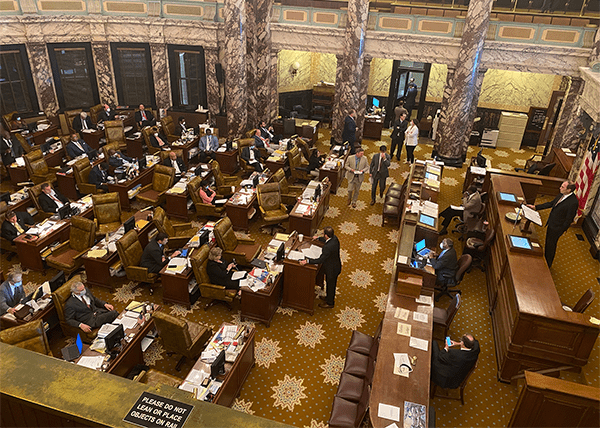 All senators understand the math. Picking the right horse helps their constituents, raises their prestige, and aids in getting their bills passed over the next four years. Pick the wrong one, and well, there's some fence mending that will need to be done.
In terms of legislating, the office of Lieutenant Governor is arguably the most powerful statewide elected position in Mississippi.
Not only does the Lt. Governor preside over the State Senate, the office appoints committees, including chairmen and vice chairmen. These appointments dictate what bills pass and which die.
While it's often the norm for sitting elected officials to "stay out of other people's races," especially in a primary, the 2023 Republican contest between incumbent first-term Lt. Governor Delbert Hosemann and sitting four-term State Senator Chris McDaniel has seen Senators picking sides, with most of those willing to be public lining up behind Hosemann.
All incumbent senators and candidates understand the math. They are conscious of the fact that being in Hosemann's good graces, assuming he retains the office, will help them both in terms of committee chairmanships and getting their bills passed over the next four years. They are also conscious that being against him would have the opposite effect.
However, should McDaniel pull off the upset, fences will need to be mended quickly. Senators who have been outspoken against McDaniel would need to genuflect and McDaniel himself would need to work to win over doubters.
The Hosemann-McDaniel race, particularly in recent weeks, has become heated. The two have traded jabs, called each other names and even dug up "gotchas" from the distant past in an attempt to discredit their opponent. It's all in an effort to connect with a Republican voter base that is as conservative as they come in America.
State Senator Jeremy England (R) supported McDaniel when he ran for the U.S. Senate in 2014. Since joining the Senate, he's changed his view and is now vocally supporting Hosemann, even going so far as to appear in campaign ads.
England's rhetoric against McDaniel was aggressive when questioned about his support for Hosemann.
"I previously supported McDaniel when he ran for U.S. Senate in 2014 but having joined the Mississippi Senate and seeing his lack of work-ethic, I will not support him again. The man is never there when work is being done on legislation or projects," England told Magnolia Tribune. "He presumably sits in his office writing his next speech to bash his fellow Republicans instead of actually trying to build consensus for good, conservative legislation. He cares most about himself, and he wants to be viewed by his supporters as the last great hope for a conservative Mississippi – and America."
Questions about McDaniel's attendance in the Mississippi Senate have been a frequent campaign message for Hosemann's camp, and has generated real debate over whether he was present for certain high profile votes.
State Senator Kathy Chism (R) is among the McDaniel supporters in the chamber. She, like McDaniel himself, is making the argument that Hosemann isn't conservative enough, and a change at Lt. Governor would be best for the state.
"Mississippians are very conservative and see Delbert's liberal policies and support for Democrats in the Senate as the real problem it is," Chism said, referring to Senate Committee chairmanships made by Hosemann. "I've no doubt voters in our state will not be swayed by the slanderous attacks on my colleague's proven and accomplished conservative record."
The last time Mississippi saw as heated of a Republican Primary race for Lt. Governor where state senators openly took sides and were as vocal about their personal choice of who should hold the gavel was in 2011. That year, then-Treasurer Tate Reeves was vying for the office against then-State Senator Billy Hewes.
The Senate was split in their support, with a majority backing their colleague and Senate President Pro Tem Hewes. However, Reeves, the two-term Treasurer with greater statewide name ID and the backing of outgoing Governor Haley Barbour, defeated the five-term Coast senator by 14 points. Hewes went on to endorse Reeves in the General Election.
The divide in the chamber does create tension, and all eyes have been on McDaniel since he announced he was challenging Hosemann.
"It has certainly been odd having a colleague from within the Senate chamber step up to challenge Lt. Governor Delbert Hosemann," Senator England said. "I will say that I expected more challenges from the floor and grand-standing out of McDaniel, but he was very silent this year when it came to floor debates."
Yet, Senator Chism said McDaniel's conservative stewardship is unwavering. She said this can be seen in his efforts to protect religious freedoms and the children in Mississippi schools as well as holding lawmakers accountable to Mississippi taxpayers.
"Senator McDaniel's momentum is strong and continuing to build," Chism said. "August 8th is going to send Lt. Governor Hosemann packing and bring real conservative change to our state."
If McDaniel does win the Republican Primary, Senator England said the assumption that all of the GOP senators would fall in line with the new leadership would be a "mistake."
England argued Hosemann has had to work to build consensus.
"McDaniel will have to do the same – but he has never shown the ability to be able to do that," England added.
Senator England's fellow first term Senator Daniel Sparks agrees. Sparks has been as outspoken of a critic of McDaniel as there is. Sparks has become a frequent proxy for Hosemann at events across the state. He told Magnolia Tribune that Hosemann is comfortable in his knowledge and experience, "but willingly entertains dissent and disagreement in policy discussions," adding that the incumbent Lt. Governor wants to get to the best possible outcome for Mississippi.
As for his colleague Senator McDaniel, Sparks said he is a very smart, calculated individual who is uninterested in cultivating relationships with his peers.
"I don't recall a specific occasion where he approached me on a bill important to him to inquire or debate," Senator Sparks said. "He passed some kind compliments my way on arguments I have presented on the floor, but outside of these words, little has been said. He now desires to lead this body of 52 individuals from across Mississippi and he has no idea who we are."
Sparks said he and McDaniel agree on many policy issues, but the Legislature is much more than policy.
"Our work is our people," Sparks said, adding, "The work is defined by much more than a floor speech or casting a vote."
With only days away from the August 8th Primary Election, voters will not have the chance to see Hosemann and McDaniel on a debate stage. McDaniel has regularly requested a debate from the incumbent, but Hosemann has declined to accept. It is not abnormal for an incumbent to decline a debate with a challenger.
In 2011, that heated Lt. Governor primary race between Reeves and Hewes saw a brief 10-minute debate at the Neshoba County Fair. Fairgoers this year, however, were not treated to a repeat of that mini-debate. Reeves and Hewes were amiable that day in late July. Hewes' decision to endorse Reeves after the primary laid the groundwork for him to be able to step into the role and effectively lead the chamber.
It will be interesting to see if that same respect is shown to whomever wins the Republican nomination on August 8, 2023.
About the Author(s)
Frank Corder
Frank Corder is a native of Pascagoula. For nearly two decades, he has reported and offered analysis on government, public policy, business and matters of faith. Frank's interviews, articles, and columns have been shared throughout Mississippi as well as in national publications such as the Daily Caller. He is a frequent guest on radio and television, providing insight and commentary on the inner workings of the Magnolia State. Frank has served his community in both elected and appointed public office, hosted his own local radio and television programs, and managed private businesses all while being an engaged husband and father. Email Frank: frank@magnoliatribune.com
More From This Author
Next Story