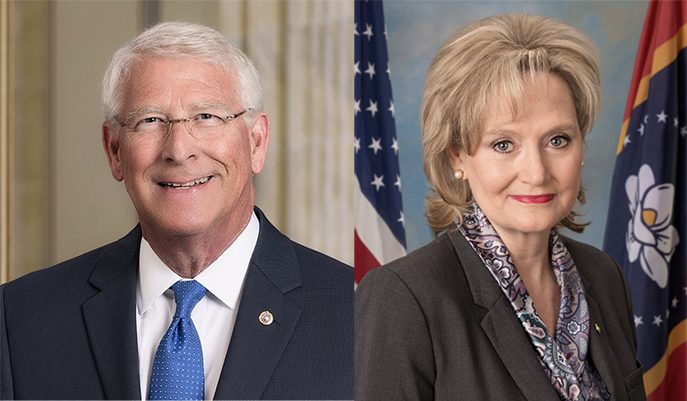 U.S. Senators Roger Wicker and Cindy Hyde-Smith of Mississippi
Both Mississippi U.S. Senators signed on to a letter from 43 Senate Republicans opposing an increase in the nation's debt ceiling without budget reforms.
Mississippi's U.S. Senators Roger Wicker and Cindy Hyde-Smith are among 43 Republican Senators who signed on to a letter opposing raising the debt ceiling without substantive spending and budget reforms.
The move comes as the Biden White House and the Republican Majority in the U.S. House of Representatives are in a standoff with the nation approaching the debt ceiling in June. The debt ceiling is the amount the nation can borrow.
President Joe Biden and his fellow Democrats believe a vote to increase the debt ceiling should be a separate, standalone issue from negotiations related to spending cuts. Republicans disagree, urging their colleagues across the aisle to consider pairing significant spending cuts with any discussion on a debt ceiling increase.
Two weeks ago, by a vote of 217-215, the House offered legislation that would raise the debt ceiling into next year but sought to trim $4.8 trillion from the nation's deficit. It would roll back federal spending, returning agency funding to 2022 levels. The measure would cap annual agency increases at roughly 1% annually, except for at the Pentagon related to national defense. The House proposal would also trim Biden's expansive health and climate programs while instating work requirements on social programs.
The Senate Republican letter, led by Utah Sen. Mike Lee, is meant to buoy the House Republican position as negotiations between President Biden and House Speaker Kevin McCarthy continue. The letter, sent to Senate Majority Leader Chuck Schumer, the Democratic leader in the Senate, states:
Dear Leader Schumer,

The Senate Republican conference is united behind the House Republican conference in support of spending cuts and structural budget reform as a starting point for negotiations on the debt ceiling.

Our economy is in free fall due to unsustainable fiscal policies. This trajectory must be addressed with fiscal reforms. Moreover, recent Treasury projections have reinforced the urgency of addressing the debt ceiling. The House has taken a responsible first step in coming to the table with their proposals. It is imperative that the president now do the same.

As such, we will not be voting for cloture on any bill that raises the debt ceiling without substantive spending and budget reforms.
The letter was signed by Senators Mike Lee, John Barrasso, Marsha Blackburn, John Boozman, Mike Braun, Ted Budd, Shelley Moore Capito, Bill Cassidy, Katie Britt, John Cornyn, Tom Cotton, Mike Crapo, Ted Cruz, Kevin Cramer, Steve Daines, Joni Ernst, Deb Fischer, Lindsey Graham, Chuck Grassley, Bill Hagerty, John Hoeven, Cindy Hyde-Smith, Ron Johnson, James Lankford, Cynthia Lummis, Roger Marshall, Mitch McConnell, Jerry Moran, Markwayne Mullin, Pete Ricketts, James Risch, Marco Rubio, Mike Rounds, Tim Scott, Rick Scott, Eric Schmitt, Dan Sullivan, John Thune, Thom Tillis, Tommy Tuberville, J.D. Vance, Roger Wicker, and Todd Young.
Appearing on Fox News' "Sunday Morning Futures With Maria Bartiromo," Senator Lee told the host that he believed the Senators who signed the letter would hold firm but even if they lost one or two here or there, "we'd still be fine, and I don't think we're going to the lose any of them."
About the Author(s)
Frank Corder
Frank Corder is a native of Pascagoula. For nearly two decades, he has reported and offered analysis on government, public policy, business and matters of faith. Frank's interviews, articles, and columns have been shared throughout Mississippi as well as in national publications such as the Daily Caller. He is a frequent guest on radio and television, providing insight and commentary on the inner workings of the Magnolia State. Frank has served his community in both elected and appointed public office, hosted his own local radio and television programs, and managed private businesses all while being an engaged husband and father. Email Frank: frank@magnoliatribune.com
More From This Author