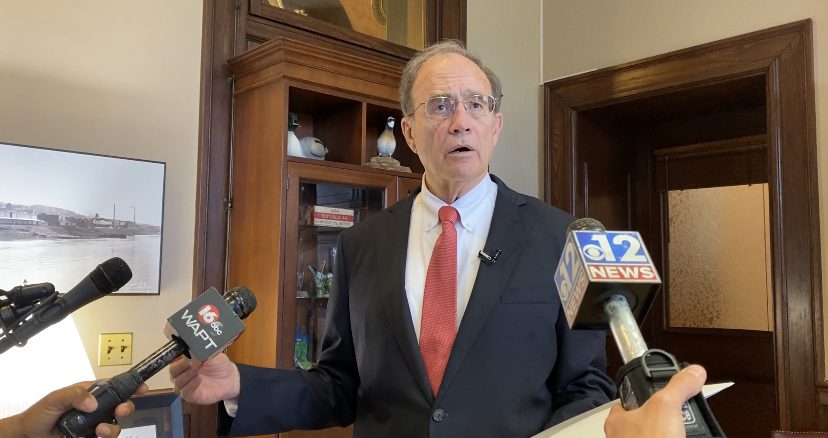 Lt. Governor Delbert Hosemann recaps the 2023 Legislative session - April 3, 2023
Funding for hospitals, education, infrastructure top Mississippi Lt. Governor's list of highlights in his final session of his first term.
Lt. Governor Delbert Hosemann met with reporters on Monday to talk about the recently ended 2023 Mississippi legislative session. He outlined what he considered successes from the Senate which includes major education and infrastructure funding as well as support for hospitals and disaster relief.
In the last days of the session, a state budget for Fiscal Year 2024 was set at $7.6 billion, with $6.7 billion of that number coming from general funds.
Last year, the state appropriated $230 million for infrastructure needs.
This year, there was $620 million in new funding toward roads, bridges and other infrastructure projects. This included money for the Emergency Road and Bridge Fund, large-scale MDOT highway projects and $40 million in matching funds related to federal government funding.
"Almost a billion dollars in water and infrastructure in Mississippi," said Hosemann. "Very, very pleased we were able to use our American Rescue Plan money that we got for long term results."
This legislative session, they were successful in passing that bill to extend services for those women up to 12 months. This was a roughly $7 million cost to the state on top of the Medicaid baseline.
The Senate was particularly interested in fully funding the Mississippi Adequate Education Program, proposing a $181 million difference in current funding. While the proposal did not move forward, an additional $100 million was sent to the Mississippi Department of Education to be distributed based on Average Daily Enrollment for each school district. These funds are intended only to supplement teachers, classroom supplies and other expenses that have increased.
Along with the additional education funding, Early Learning Collaboratives also saw a funding increase in the half day and full day programs.
Lt. Governor Hosemann began the 2023 session pushing for incentives for schools to participate in modified school calendars. While those incentives did not pass, Hosemann maintains that the calendar change allows schools to hold intersessions for students, helping address any remedial or additional learning needed. Hosemann said in communities like Gulfport with a student population of 5,000, some 1,500 students returned for intersessions over the summer.
Another area the Senate focused on was hospitals.
Hosemann noted that financially struggling hospitals will receive additional funding through a special grant program passed this session based on the number of licensed beds and type of care they provide. Hosemann said during his visits to Amory and Rolling Fork in the wake of the tornadoes, he was made particularly aware of the necessity for rural hospitals.
As for disaster relief from the state, that budget item came to over $18.5 million. It will go to MEMA and individual communities to begin to rebuild the loss they experienced in late March. Lawmakers do expect federal matching funds to go along with that state support.
While Hosemann said there was success on many issues, he said it was difficult to watch the debates occur regarding the perception of HB 1020, the Capitol Complex Improvement District bill that established an additional court system and expanded the jurisdiction for the Capitol Police.
"The political part of it was hard to watch. We had made a lot of progress here," said Hosemann. "But I think as we work through these issues, I think you'll find the municipal court system will be helpful to the city. I think the initial police officers will be helpful to the city."
Hosemann said the original version of the bill was not acceptable to the Senate. While Senators agreed to continue with three temporary judges that were already being provided by the state, they would only agree to a municipal court within the CCID. He said there is a time limit on all of this and if it is not successful within the two years, they will reconsider in another legislative session.  
"Those systems are here to help the city of Jackson," said Hosemann. "We hope, and we deserve to have a capital city that is safe. We deserve to have a judicial system that works and have the enforcement of the laws."
Hosemann said he hopes that these measures will allow the city to begin to manage things on their own in the future without state intervention.
This is Hosemann's final year in his first term as Lt. Governor. He is currently running for re-election and will face three primary opponents in the August Republican Primary: Senator Chris McDaniel, Shane Quick and Tiffany Longino. The primary winner will face Democratic candidate D. Ryan Grover in the November General Election.
About the Author(s)
Sarah Ulmer
Sarah is a Mississippi native, born and raised in Madison. She is a graduate of Mississippi State University, where she studied Communications, with an emphasis in Broadcasting and Journalism. Sarah's experience spans multiple mediums, including extensive videography with both at home and overseas, broadcasting daily news, and hosting a live radio show. In 2017, Sarah became a member of the Capitol Press Corp in Mississippi and has faithfully covered the decisions being made by leaders on some of the most important issues facing our state. Email Sarah: sarah@magnoliatribune.com
More From This Author