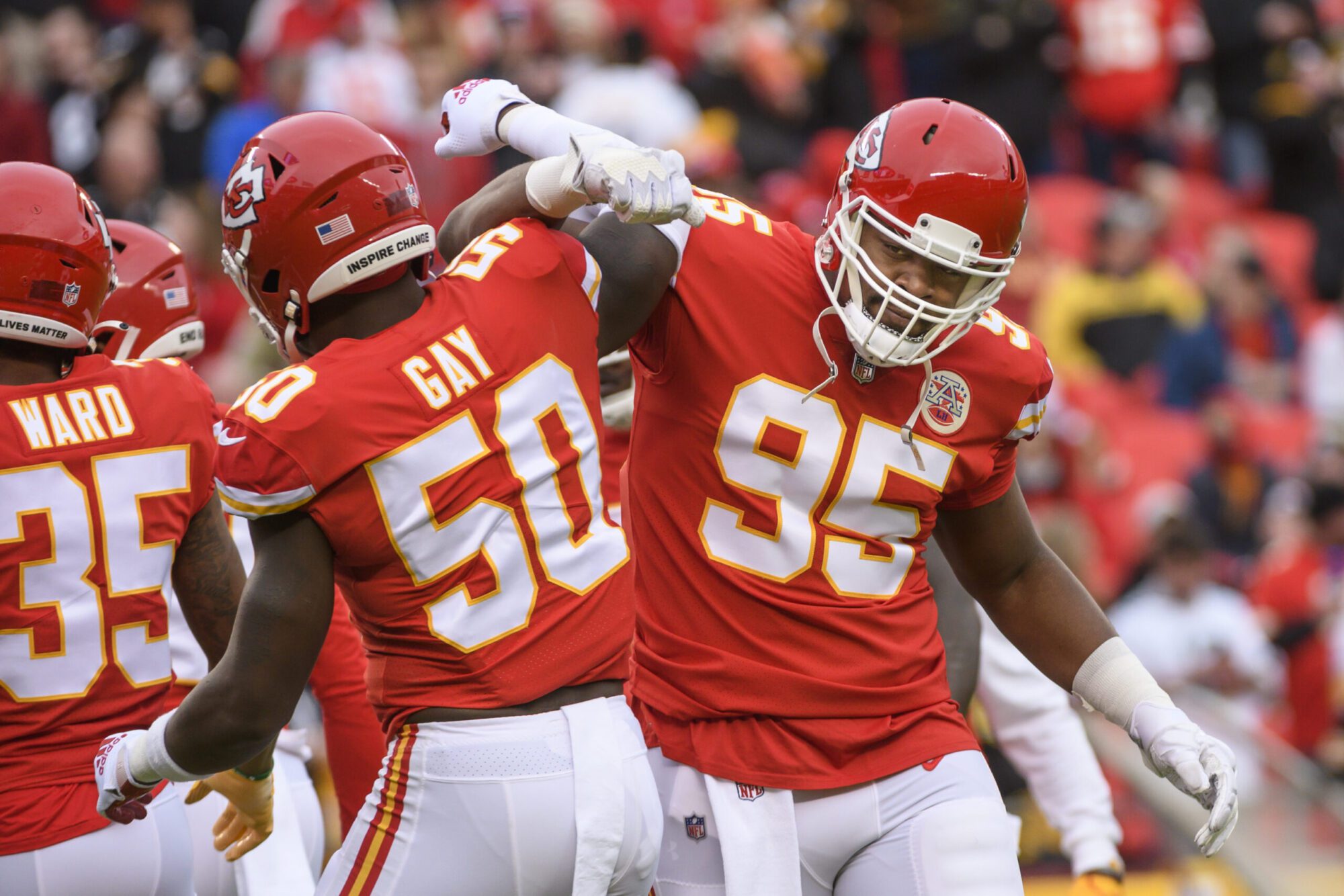 Kansas City Chiefs defensive end Chris Jones (95) and Kansas City Chiefs middle linebacker Willie Gay Jr. (50) during pre-game warmups before an NFL football game against the Pittsburgh Steelers, Sunday, Dec. 26, 2021 in Kansas City, Mo. (AP Photo/Reed Hoffmann - Copyright 2021 The Associated Press. All rights reserved.)
The former Mississippi State Bulldogs leaving their mark on the way to the Super Bowl.
With the Kansas City Chiefs earning their third Super Bowl appearance in four years by beating the Cincinnati Bengals 23-20 on Sunday, a new dynasty could be on the horizon.
Although most would attribute this success to MVP candidate Quarterback Patrick Mahomes for his outstanding offensive performance, two Mississippi natives have certainly done their part on defense in all three Super Bowl appearances.
Even though Chris Jones and Willie Gay, Jr. have both dealt with injuries over the last few years, all of the Chiefs' coaches and players look to these two Northeast Mississippi players to lead the team to victory in Super Bowl LVII on February 12th.
"He finished the game," Kansas City Chiefs Defensive End Frank Clark said to the NFL Network after Sunday's performance against Bengals about the play of his defensive lineman teammate Chris Jones.  "Christopher Jones:  The Most Unstoppable Man in Football."
Certainly, there is a reason to make this statement about a four-time AFC Pro-Bowl named All-Pro First team of 2022 who finished the game with two sacks and three tackles for loss. Jones finished the regular season with 15.5 sacks, 2 forced fumbles and 44 tackles.
"My whole offseason was dedicated to this game," said Jones in a release to the NFL Network. "I dedicated my whole offseason to making sure that when the moment calls, that I'll answer the call."
As a big guy – 6'6″, 318 pounds – from the little town of Houston, Mississippi, Jones knew from an early age that hard work and determination would help him accomplish his dream of playing football. A loud-spoken vocal leader on the field that perpetually put things on his shoulders, from his defensive prowess for the Houston High School Hilltoppers to posting opposing coaches' quotes on pizza boxes, he always played to the underdog mentality.
Jones earned a scholarship to Mississippi State as a highly touted five-star recruit and played in 39 games from being a true freshman to leaving after his junior year.
"He should have been a top-five pick in the draft," former Mississippi State Head Football Coach Dan Mullen told fellow coach Urban Meyer in a conversation before the NFL Draft of 2016. "That's the ceiling this guy has."
Jones' first NFL start was a 27-21 victory over the Saints on October 23, 2016, and his first sack was the next game against Andrew Luck of the Indianapolis Colts. The rest is history. Jones' first AFC Defensive Player of the Week was on September 17, 2017, against the Philadelphia Eagles after recording 3 sacks, two forced fumbles and an interception. The team then extended his contract in 2020 after Kansas City placed him with a franchise tag and signed him to a four-year, $80 million contract with $60 million guaranteed.
The Houston, Mississippi native has earned four consecutive Pro-Bowl appearances from 2019-2022, First Team All Pro in 2022, and is a Super Bowl Champion LIV from 2019.
Willie Gay, Jr. may be one of the best defensive players in the league as a 6'1″, 240 pound starting linebacker from Starkville, but he has become known for his "drama" as much as his play.
Gay played at Starkville High School, helping the Yellow Jackets win a 6A MHSAA State Championship in 2015 and was later named to the U.S. Army All-American Bowl where he committed to the Mississippi State Bulldogs.
Like his teammate Jones, Gay only played for three years with the Bulldogs. Just as Jones, Gay was drafted in the second round by Kansas City. Shortly later, Gay was served an additional four game suspension for violation of NFL's personal conduct policy, damaging property of his child's mother.
"I dealt with the consequences," said Gay, Jr. to a Kansas City news station. "It made me a better man and a better person. It helped me appreciate the game of football."
With all of the struggles, Gay has a undeniable talent and is appreciated for his aggressiveness and willingness to learn.
"It's a rare talent here," expressed Chiefs General Manager Brett Veach. "The guy has a tremendous upside."
Gay, Jr. has compiled 175 tackles, 4 sacks, 1 forced fumble and 3 interceptions. The middle linebacker did suffer a potential shoulder injury in the Cincinnati game and his previous knee injury has kept him from play.
Both players have given back to the state, either financially or by volunteerism. In the last week of October 2022, Jones donated $200,000 to the Houston athletic department while Gay called for other athletes in Mississippi to support a new state flag two years ago.
Differences in position and way of life can be seen, but both will be trying to help the Kansas City Chiefs win Super Bowl LVII on Sunday, February 12th.
About the Author(s)
Hunter Dawkins
Hunter Dawkins has been the Publisher/Owner of The Gazebo Gazette since 2017. Prior to operating the Gazebo Gazette, Dawkins was a teacher and coach in Mississippi and Louisiana. He also previously worked for the Mississippi Attorney General's Office as a Public Relations Assistant and was a staffer on Capitol Hill. Learn more about the Gazebo Gazette by visiting ww.thegazebogazette.com.
More From This Author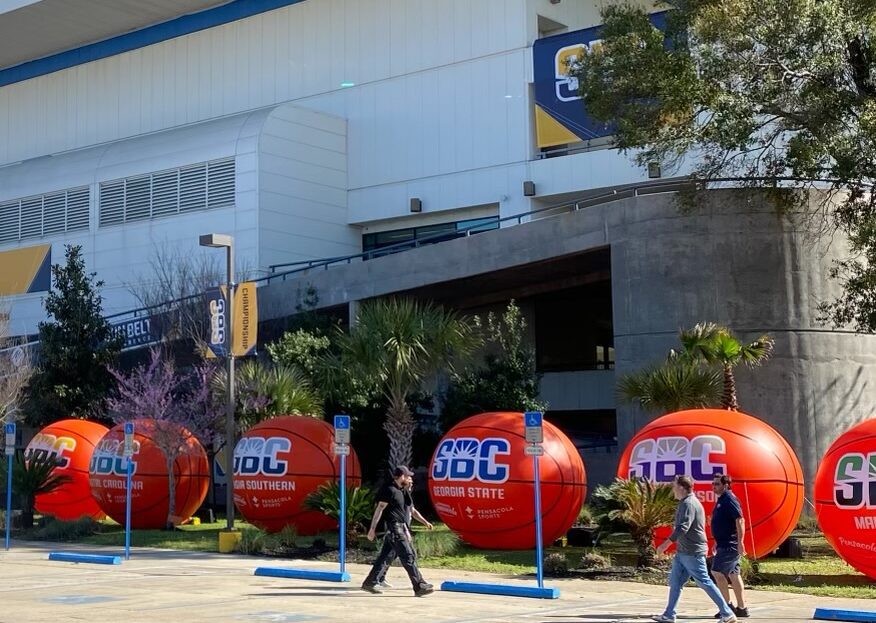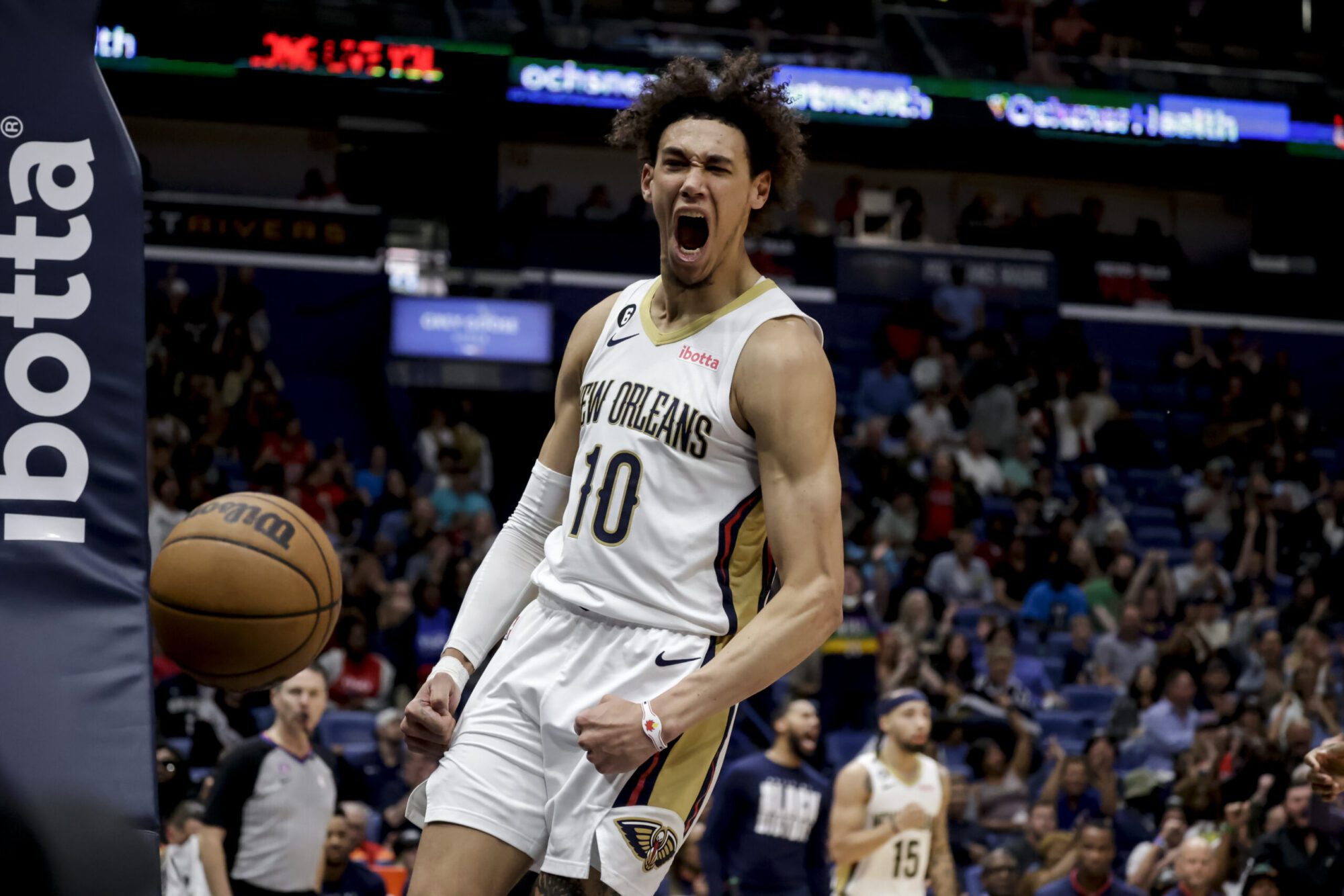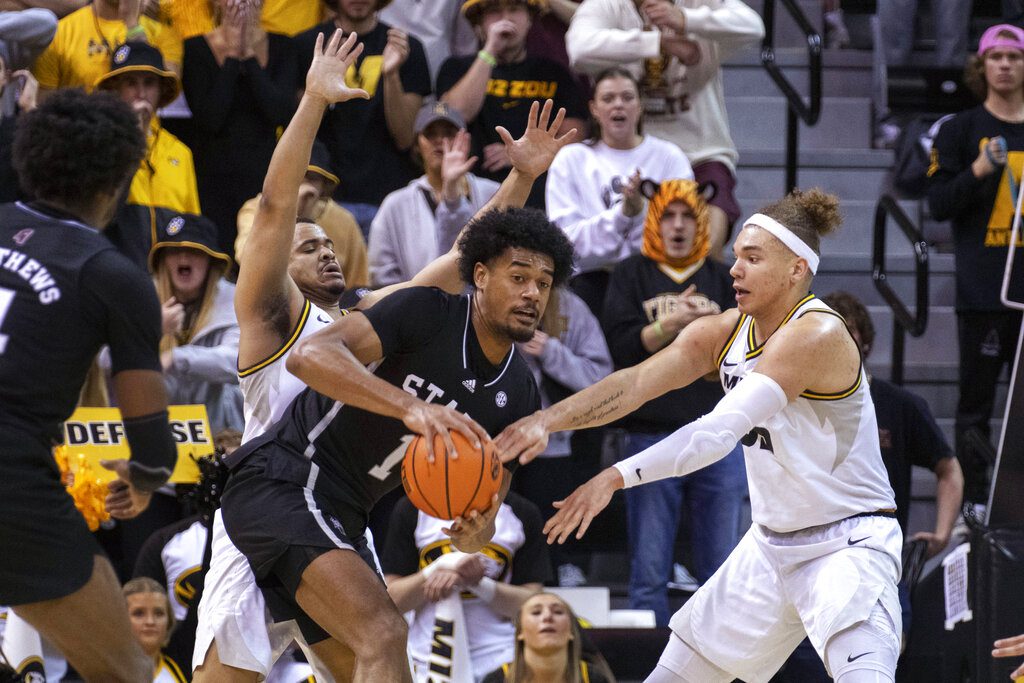 Previous Story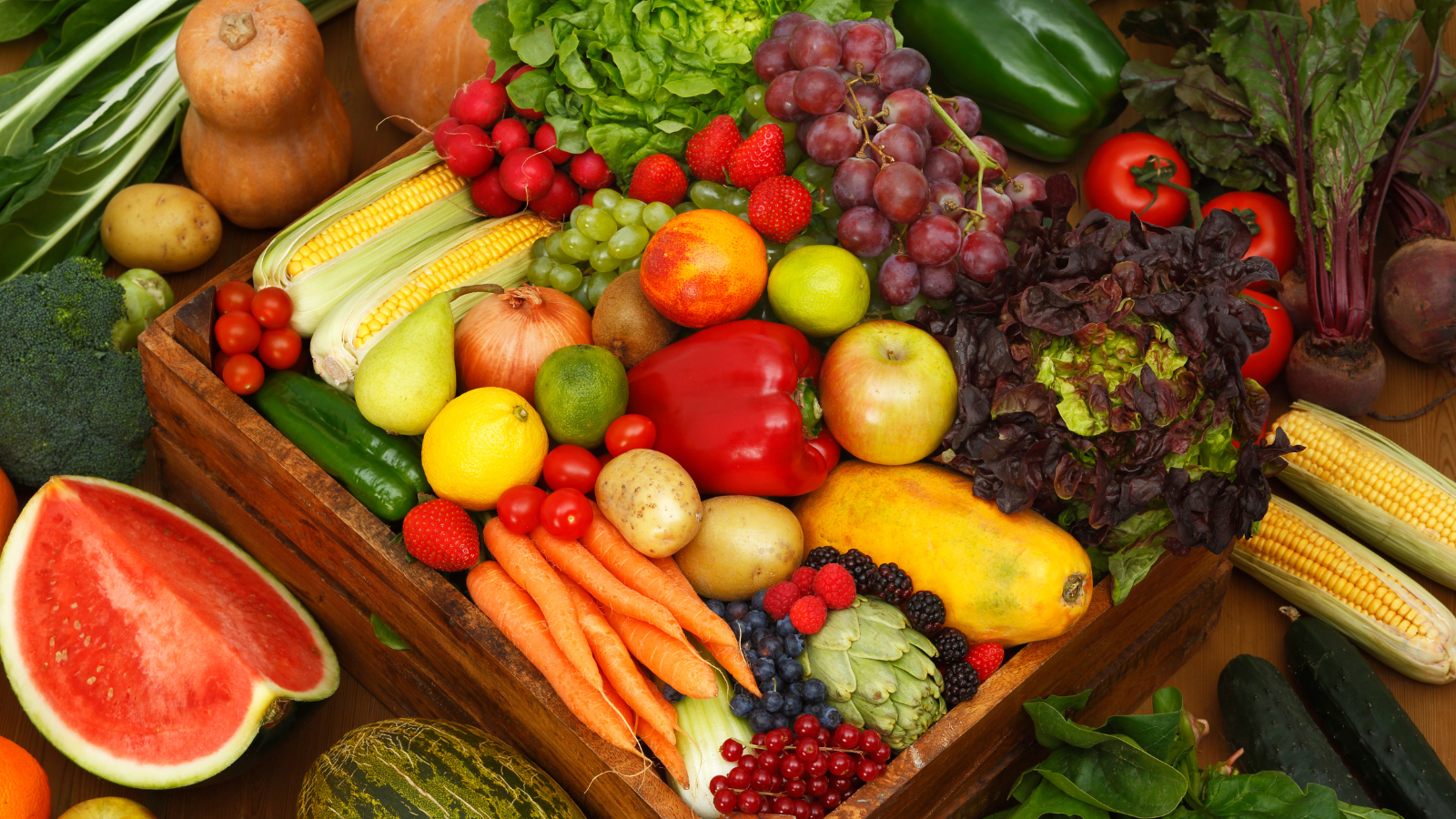 Next Story