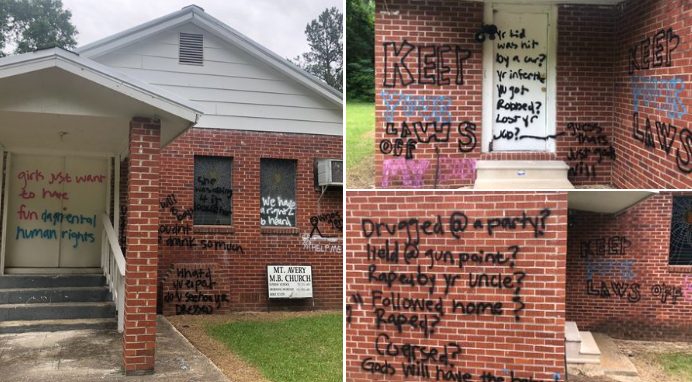 Photos from Stephen Pimpo (@spimpojr) on Twitter.
WCBI reported on a rural church in Lowndes County graffitied with pro-abortion messages earlier this week.
A small Mississippi church in rural Lowndes County was sprayed painted with pro-abortion graffiti messages earlier this week. Why the vandals chose that location is anyone's guess, as it is far off the well-beaten path and members say its congregation of just a handful are not political.
WCBI reported that the Lowndes County Sheriff's Department is investigating the vandalism at Mt. Avery Missionary Baptist Church in Columbus.
Stephen Pimpo of WCBI reported that the graffiti messages included statements such as "Girls just want to have fundamental human rights," "Keep your laws off my body," and multiple comments about rape and incest.
In the wake of the leaked draft opinion from the U.S. Supreme Court in the Mississippi 15-week abortion ban case known as Dobbs, leftist extremists across the country have threatened to protest and disrupt churches and other public activities in support of their pro-abortion stances.
The New York Post reported earlier this month on the calls by leftist pro-abortion extremist groups to protest and disrupt churches and public spaces, even on Mother's Day.
The NY Post noted that pro-abortion group Ruth Sent Us, named after former Supreme Court Justice Ruth Bader Ginsburg, encouraged supporters to go to Catholic churches and protest. The group shared a video of them chanting, "Abortion on demand and without apology! Without this basic right, women can't be free!"
The vandalism in Columbus this week could be the first instance of such extremism coming here to the Magnolia State.
Earlier this year, prior to the leaked draft abortion opinion, another Mississippi church was vandalized but little remains known about the motivations that lead to the criminal act.
The Taxpayers Channel out of Leflore County reported on Tuesday that Deona McGee has been arrested for the vandalism that took place on January 26, 2022, at the Immaculate Heart of Mary Catholic sanctuary.
"As first reported by The Taxpayers Channel, McGee has a history of multiple arrests by the Greenwood police department, and several misdemeanor convictions," the local outlet reported.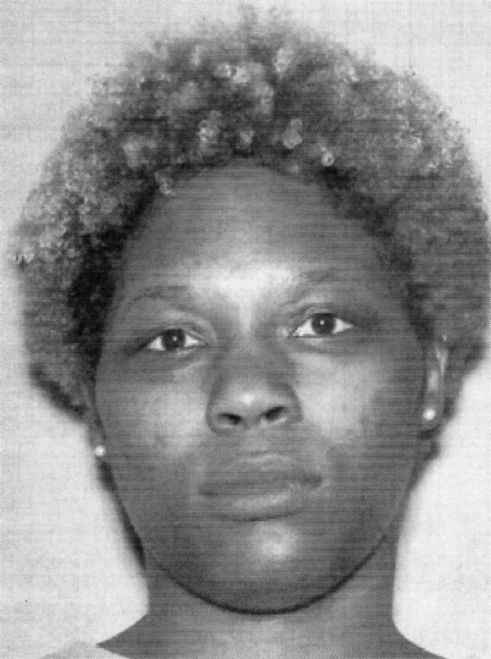 According to The Taxpayers Channel, they filed a public records request for more documents regarding the vandalism and McGee's arrest.
"In response [to the public records request], Police Chief Terrence Craft provided a photograph of Ms. McGee, as well as redacted copies of police reports, and the crucial arrest affidavit and warrant.
The affidavit the outlet obtained noted that the damage done was valued at $11,550, and included destruction of "a chair, table, baptismal font, Virgin Mary statue, hymnal book, candlesticks, crucifix, and [a] Guadalupe painting."
About the Author(s)
Frank Corder
Frank Corder is a native of Pascagoula. For nearly two decades, he has reported and offered analysis on government, public policy, business and matters of faith. Frank's interviews, articles, and columns have been shared throughout Mississippi as well as in national publications such as the Daily Caller. He is a frequent guest on radio and television, providing insight and commentary on the inner workings of the Magnolia State. Frank has served his community in both elected and appointed public office, hosted his own local radio and television programs, and managed private businesses all while being an engaged husband and father. Email Frank: frank@magnoliatribune.com
More From This Author