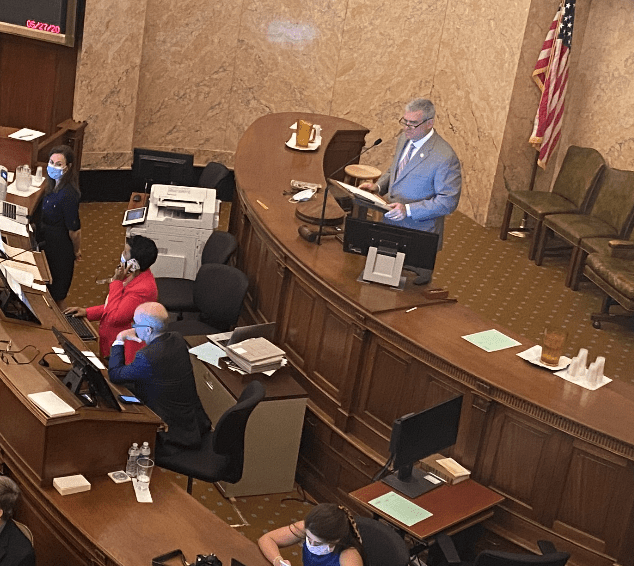 An amendment was passed to include medical marijuana dispensaries.
On Thursday, the Mississippi House passed legislation that would require sellers of alternative nicotine products and package retailers to have a third-party age verification service.
HB 976, authored by State Rep. Nick Bain (R), revises the provisions of law that regulate alternative nicotine products such as an electronic cigarette, any other product that consists of or contains nicotine that can be ingested into the body by chewing, smoking, absorbing, dissolving, inhaling or by any other means.
The bill also amends Section 67-1-81 of Mississippi Code to, "require holders of a package retailer permit to have an independent, third-party age verification service available on the property of the location in which alcoholic beverages are sold; and for other related purposes."
The legislation says that before selling alternative nicotine products, the person or business must verify that the individual is at least 21 years of age by performing an age verification through a third-party verification service that obtains the purchasers full name, date of birth, and residential address and compares the information available from public records to the personal information entered.
In accordance with national standards, the third-party verification system used must have at least a 95% accuracy rating in order to be in compliance with the identification requirements listed in the bill.
An amendment was added that would require medical marijuana dispensaries to be included in this bill.
You can view the text of HB 976 here and the amendment here.
About the Author(s)
Anne Summerhays
Anne Summerhays is a recent graduate of Millsaps College where she majored in Political Science, with minors in Sociology and American Studies. In 2021, she joined Y'all Politics as a Capitol Correspondent. Prior to making that move, she interned for a congressional office in Washington, D.C. and a multi-state government relations and public affairs firm in Jackson, Mississippi. While at Millsaps, Summerhays received a Legislative Fellowship with the Women's Foundation of Mississippi where she worked with an active member of the Mississippi Legislature for the length of session. She has quickly established trust in the Capitol as a fair, honest, and hardworking young reporter. Her background in political science helps her cut through the noise to find and explain the truth.
More From This Author