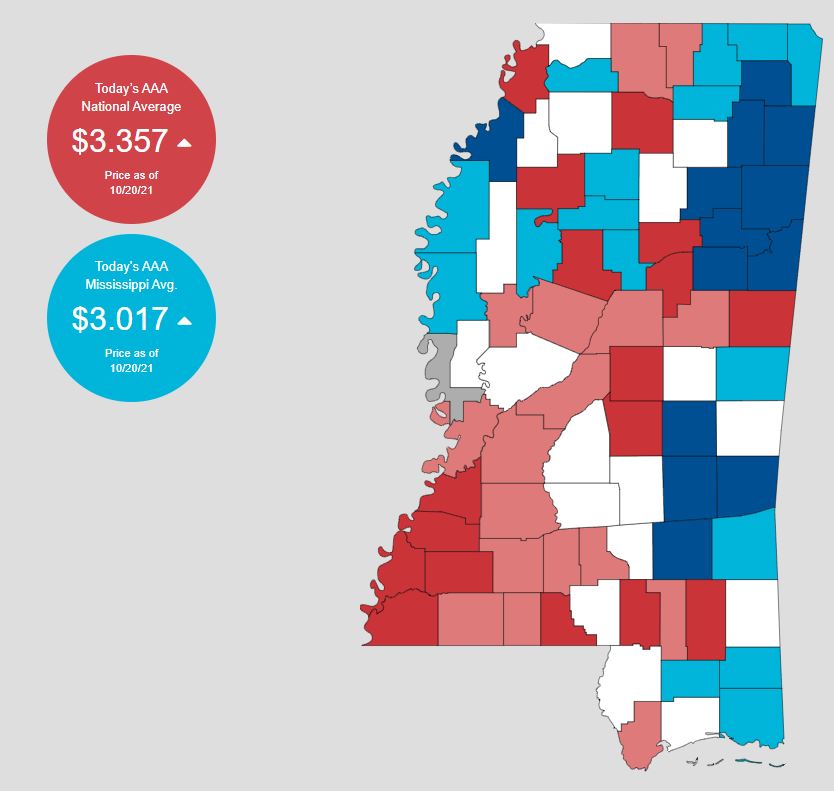 As of today, the national average price for a gallon of gas stands at $3.357, per AAA.
Mississippi gas prices have been steadily increasing since the 2020 Presidential Election. On May 10, 2021, the average gas price per gallon in Mississippi was $2.59 compared to $1.48 on the same day one year ago.
Now, the average gas price per gallon in Mississippi has officially hit $3.00, an increase of 40 cents from May and well over a $1 since this time last year, according to Gas Buddy. In some places, Americans are paying over $5 per gallon for gasoline.
As of today, the national average price for a gallon of gas stood at $3.357, according to AAA.
"Compared to the price of gas a year ago, it now costs consumers about $17 more to fill up their vehicles," said Andrew Gross, AAA spokesperson. "That's the cost of a large pizza with toppings. And unfortunately, it doesn't look like drivers will be finding relief at the pump any time soon."
The White House is under fire for the rise in energy prices, especially at the pump given that one of the first executive orders signed by President Joe Biden was to stop the Keystone XL pipeline and given the Administration's continued efforts to stall exploration and drilling operations across the country as it suspended new oil and gas leasing and drilling permits for federal waters and lands. Press Secretary Jen Psaki addressed this in a July press briefing.
"I think there sometimes is a misunderstanding of what causes gas prices to increase and so, to convey to the American people that we're working on it and certainly the supply availability of oil has a huge impact," Psaki said at the time.
Meanwhile, the mainstream media has been twisting itself into knots to make it seem like the rising cost of gas is not correlated with Biden energy policies. The USA Today's piece this summer titled "Fact check: Rising gas prices due to high demand and low supply, not Biden's policies" is a prime example. The piece largely blames the pandemic for the uptick in pricing, saying the price of gasoline is determined by the simple balance of supply and demand and that since the demand was low during COVID and now has increased, so too has the price.
Yet, Mississippi U.S. Senator Roger Wicker said in August that rising gas prices are a direct result of President Biden's energy agenda.
"Since taking office, Mr. Biden has systematically dismantled President Trump's policies that helped the U.S. become energy independent. In his first week, President Biden killed the Keystone XL Pipeline project, which would have brought oil to American refineries and supported up to 11,000 jobs. Later, he cut off expansion of a tremendous source of American oil and natural gas by suspending new drilling leases on federal lands and waters. He also rejoined the Paris Climate Agreement, which will kill energy jobs while doing little to protect the environment," Wicker said.
About the Author(s)
Anne Summerhays
Anne Summerhays is a recent graduate of Millsaps College where she majored in Political Science, with minors in Sociology and American Studies. In 2021, she joined Y'all Politics as a Capitol Correspondent. Prior to making that move, she interned for a congressional office in Washington, D.C. and a multi-state government relations and public affairs firm in Jackson, Mississippi. While at Millsaps, Summerhays received a Legislative Fellowship with the Women's Foundation of Mississippi where she worked with an active member of the Mississippi Legislature for the length of session. She has quickly established trust in the Capitol as a fair, honest, and hardworking young reporter. Her background in political science helps her cut through the noise to find and explain the truth. Email Anne: anne@magnoliatribune.com
More From This Author