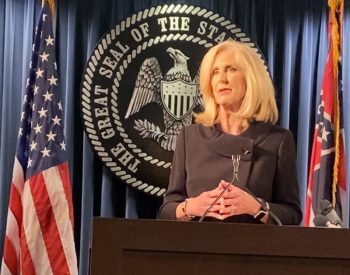 Mississippi has asked for nearly $600 million in damages, saying that Tennessee violated the State's sovereignty.
Earlier today, the U.S. Supreme Court heard oral arguments in the case, Mississippi v. Tennessee, a dispute over Memphis Light, Gas & Water's syphoning more than 400 billion gallons of water from Mississippi groundwater for their own use and sale.
You can listen to the Mississippi v. Tennessee Oral Argument below.
Mississippi v. Tennessee involves groundwater from the Memphis Sand Aquifer, which borders Tennessee and Mississippi. Mississippi first brought suit in 2005 and argued that the state of Tennessee should not have pumped groundwater from Memphis Light, Gas & Water to be used in Memphis.
Mississippi has asked for around $600 million in damages as well as stating that Tennessee violated Mississippi's sovereignty.
"At its core, this case is about state sovereignty," said Attorney General Lynn Fitch. "Our Tennessee neighbors have pumped billions of gallons of groundwater out of Mississippi and across the border for their own profit. Just as fences make good neighbors, a strong decision by the Court that this violates basic principles of state sovereignty will serve Mississippi and all other states well."
Dating back to 1985, about a fifth of the water Memphis Light, Gas & Water has sold came from Mississippi's groundwater. Due to the substantial volume of water, a cone of depression exists in DeSoto County and has put all of Mississippi's water at risk of being polluted or degraded.
Due to both Tennessee and Mississippi being involved, the U.S. Supreme Court has original jurisdiction over this case.
"Mississippi believes the City of Memphis is stealing its groundwater. So it sued Tennessee, the City of Memphis, and Memphis Light, Gas & Water Division ("MLGW") for injunctive relief and money damages…." Special Master Eugene Siler summarized in a report he filed with the court in 2020. "Mississippi's claims are simple: Tennessee has, by pumping in Shelby County, Tennessee, taken ground- water that would have remained in Mississippi for centuries. Over more than a decade of litigation, at every level in the federal court system, the core of Mississippi's claims has not wavered. Mississippi thinks Tennessee has stolen and continues to steal its water."
Siler also cites that Mississippi claims that subsurface differences require distinguishing its water from the water that sits below other states.
Eight states, led by Colorado, have filed an amicus brief in support of Tennessee. They write that they share water with their neighbors and the ways they share this water differs:
Mississippi asks the Court to turn this system on its head by awarding damages and enjoining uses in Tennessee without first establishing duties and obliga- tions for how the states should collectively manage the resource. If allowed to proceed, this new mechanism would inject dangerous uncertainty into established systems of natural resource management on which communities and economies depend.
Today was the opening day for the U.S. Supreme Court's 2021-22 term and were back in the court room to hear oral arguments for the first time since the beginning of COVID-19.
About the Author(s)
Anne Summerhays
Anne Summerhays is a recent graduate of Millsaps College where she majored in Political Science, with minors in Sociology and American Studies. In 2021, she joined Y'all Politics as a Capitol Correspondent. Prior to making that move, she interned for a congressional office in Washington, D.C. and a multi-state government relations and public affairs firm in Jackson, Mississippi. While at Millsaps, Summerhays received a Legislative Fellowship with the Women's Foundation of Mississippi where she worked with an active member of the Mississippi Legislature for the length of session. She has quickly established trust in the Capitol as a fair, honest, and hardworking young reporter. Her background in political science helps her cut through the noise to find and explain the truth. Email Anne: anne@magnoliatribune.com
More From This Author