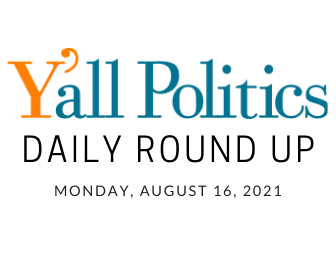 Stay up-to-date on what's in the news with the Y'all Politics Daily Roundup.
Gov. Reeves gave an endorsement of the vaccine and says that they are safe and effective. He encourages people to get vaccinated and talk to doctors about vaccine and to make best decision for themselves and family.
"I want to be clear. I have been vaccinated. My mom's been vaccinated. My dad's been vaccinated. My grandma has been vaccinated. I believe the vaccines are safe, effective and the best tool to beat the virus," stated Governor Reeves.
Though we have seen a rather significant increase in total number of vaccinations over the last several weeks, Governor Tate Reeves announced that Mississippi will not have a statewide mask mandate at this time. Reeves does encourage the public to wear masks and continue to become vaccinated.
MSDH COVID-19 Reporting
Today MSDH is reporting 5,023 more cases of COVID-19 in Mississippi, 31 deaths, and 166 ongoing outbreaks in long-term care facilities. State #covid19 totals: 381,147 cases, 7,761 deaths, and 1,065,743 persons fully vaccinated. Full information: https://t.co/YCv9xPyJDk pic.twitter.com/Ho7c8JEiq7

— MS Dept of Health (@msdh) August 13, 2021
Mississippi Veterans Affairs Executive Director Stacey Pickering joined Y'all Politics on Friday to provide an update on the state Veterans Homes as COVID-19 cases rise. Pickering shared some positive news that should encourage Mississippians to get vaccinated if they are not already.
He said that Mississippi veterans homes have had nearly 100% vaccination among residents and close to 75% among staff.
Mississippi Coast attorney Tristan R. Armer with Heidelberg Steinberger, P.A. joins Y'all Politics for a discussion on whether private employers can require employees to wear a mask and take the COVID-19 vaccine.
The Assistance to Firefighters Grants (AFG) program will be awarded by the Department of Homeland Security's Federal Emergency Management Agency (FEMA) in collaboration with the U.S. Fire Administration.
The AFG program is a fire safety grants fund that provides critically needed resources to equip and train emergency personnel, enhance efficiencies and support community resilience. This program provides hundreds of millions in funding to first responders & organizations that keep our communities safe.
Senator Wicker praised local Mississippi firefighters for remaining on the front lines when it comes to keeping Mississippians safe.
The team from Atmos Energy in Mississippi joined Y'all Politics this week to highlight the need for property owners, government contractors and anyone about to dig to always call 811.
It could not only save your pocketbook, but it could save a life.
The Biden administration has approved a significant and permanent increase in the levels of food stamp assistance available to needy families—the largest single increase in the program's history.
Starting in October, average benefits for food stamps (officially known as the SNAP program) will rise more than 25 percent above pre-pandemic levels. The increased assistance will be available indefinitely to all 42 million SNAP beneficiaries.
The aid boost was first reported by The New York Times and the details were confirmed by a spokeswoman for the Department of Agriculture. They will be formally announced Monday by Agriculture Secretary Tom Vilsack.
More From This Author