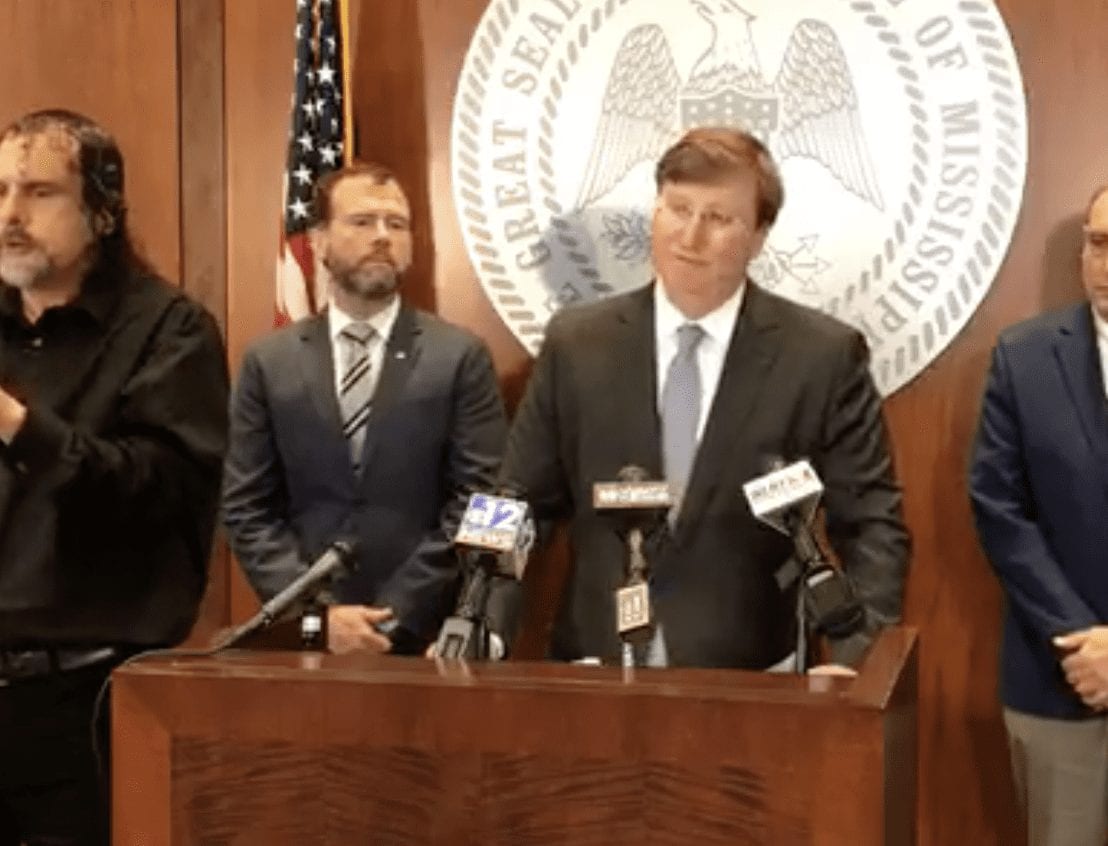 Watch live Governor Reeves providing updates on the Coronavirus situation on the state of Mississippi as of March 31, 2020.
Beginning his press conference, Reeves issues a "shelter in place" for 14 days for Lauderdale County. It will begin at 10:00 p.m. tonight.
RELATED: Governor Tate Reeves Issues Shelter-In-Place Order for Lauderdale County
"We aren't simply issuing a shelter in place for Lauderdale county and saying that is enough," said Reeves. "But tomorrow we will have a team in Lauderdale county that will do a significant amount of testing and implement our strategy of identify and isolate."
The order will require for all non-essential business operations to close. While essential businesses are permitted to stay open, they are asked to continue to adhere to prior orders and recommendations for operation.
In Reeves' previous Executive Order 1463, it did classify restaurants and bars as as essential business but they are still limited to drive through, delivery or curbside service.
Authority has been given to city, county and state law enforcement to enforce this particular order as well as the Department of Health who will be able to order those who have the virus or have come in direct contact with the virus to stay at home and quarantine.
"Everyone is stretched thin, I know that, we all know that," said Reeves. "But if local or state law enforcement see a gathering of more than ten we would tell them they need to break that up."
Reeves said one of the factors that has made Lauderdale a hot spot for the virus is the lack of early and quick testing that was lacking in this county in particular. There was also an outbreak of the virus in a local nursing home that they say has contributed to the order.
With a large amount of individuals out of work during the pandemic, Reeves said the Mississippi Department of Employment Security have increased their hours of operation from 7:00 a.m. to 7:00 p.m., seven days a week and are considering expanding that further.
Reeves said the department is working hard to answer all calls and requests for unemployment and encourages those who are calling in seeking to file to be patient.
"Everyone is going to get paid what they are entitled to under the act," said Reeves.
The state is working closely with MEMA and also working through the process with FEMA during this emergency. He says it is likely that every state in the nation will meet the thresholds required to qualify for more assistance.
In recent days the University of Mississippi Medical Center has been able to begin their own testing. They are now looking at other avenues to further testing capabilities. Reeves said these capabilities are critically important to the state because they need to be able to test in order to identify and isolate those who carry the virus.
Reeves said it seems that the spread of this virus is not over. He said that is indicative of President Trumps move to extend recommendations of social distancing until April 30.
Dr. Byers with the Department of Health said the shelter-in-place is not done alone. It will be coupled with increased testing, case investigating, isolation and quarantine of those who have been in contact with the person who has tested positive.
"We want to try and expand the distance between people. it's how we can interrupt transmission and reduce the number of cases," said Byers. "If we can interrupt the transmission we can utilize this in other areas."
Both Reeves and Byers indicated that Lauderdale was just the beginning of shelter-in-place orders across the state.
Byers reminded people, if you're sick stay at home and contact your doctor for testing. He added that if you believe you are sick enough to be tested for COVID-19 now is the time to isolate and self quarantine, not later.
"Lets all work together to be careful and protect ourselves," said Reeves.
The bill passed by Congress on Friday will require private labs to report their numbers to the state in which they are testing. Reeves said they are currently working with those labs to retrieve data of not only positive cases, but also how many people they are testing for COVID-19.
About the Author(s)
Sarah Ulmer
Sarah is a Mississippi native, born and raised in Madison. She is a graduate of Mississippi State University, where she studied Communications, with an emphasis in Broadcasting and Journalism. Sarah's experience spans multiple mediums, including extensive videography with both at home and overseas, broadcasting daily news, and hosting a live radio show. In 2017, Sarah became a member of the Capitol Press Corp in Mississippi and has faithfully covered the decisions being made by leaders on some of the most important issues facing our state. Email Sarah: sarah@magnoliatribune.com
More From This Author