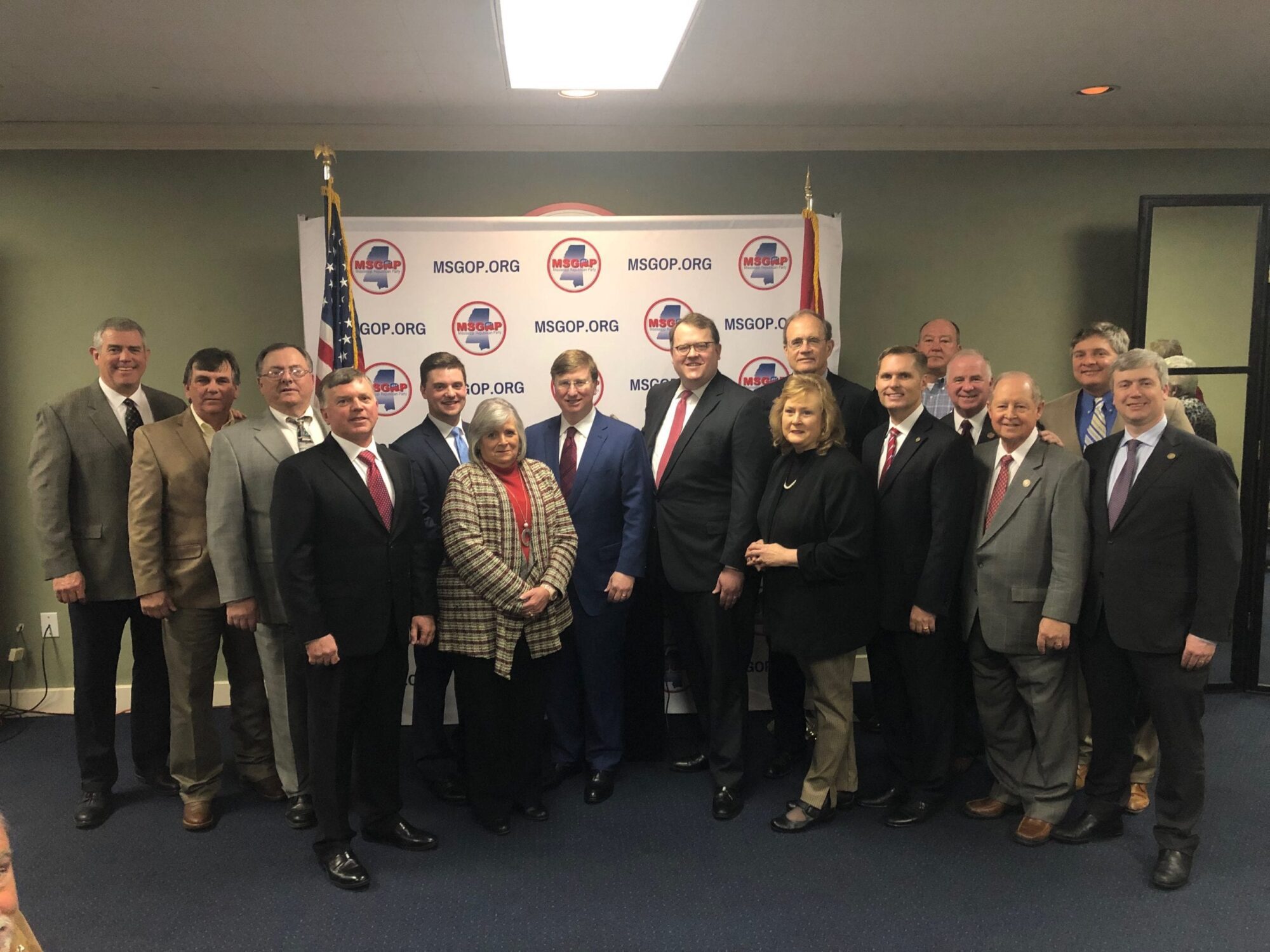 Chairman of the Mississippi Republican Lucian Smith was joined by Governor Tate Reeves, Congressman Michael Guest, Treasurer David McRae, Speaker Philip Gunn, Lt. Governor Delbert Hosemann and many others to welcome eight individuals to the Republican party.
"Over the last two and a half years we have had a relentless focus on switching conservative Democrats over to the Republican party," said Lucian Smith. "They recognize increasingly that there is only one party that represents the conservative values of our state and that is the Republican party."
"The Mississippi Republican Party is the Party that is building success for Mississippi by grounding government in the principles of liberty," Governor Tate Reeves said. "These men and women on the frontlines of local government understand that and know a brighter future cannot be achieved by less freedom and more government.  I'm pleased to welcome them to the MSGOP and look forward to their continued service to their fellow Mississippians."
Governor Reeves said he is honored to have these individuals join the Republican party. He said there were many individuals including former Governor Phil Bryant and Haley Barbour that have worked to make these kinds of changes possible. He commented on how currently all statewide offices are held by Republicans and there is also a majority in the House and the Senate.
"When you look at the progress we have made from a financial standpoint, when you look at the fact that we are in the best fiscal shape we have ever been in in our state it is because of conservative principals that have been enacted in our statehouse," said Reeves. "But we also know that the government that governs closest to the people governs best."
"Every year, the Democratic Party moves further to the left and away from the values of Mississippians," Congressman Michael Guest said. "The Republican Party is the home for conservatives who believe in the principles of limited government and individual freedom. Today, I am excited to welcome more elected officials to our growing Party."
The announcement took place at the MS GOP Headquarters in downtown Jackson on Monday. Those joining the party were announced by Congressman Michael Guest:
Matt Sullivan, District Attorney for the Thirteenth Circuit Court District (Covington, Jasper, Simpson and Smith Counties)
2. Guy Easterling, Chancery Clerk for Covington County
3. Bobby Wayne Mooney, Justice Court Judge for the Northern District of Covington County (unable to attend news conference)
4. Cindy Austin, Chancery Clerk for Smith County
5. Anthony Grayson, Circuit Clerk for Smith County
6. Mary Lou Powell, Tax Assessor-Collector for Smith County
7. Danny Arender, Beat 4 Supervisor for Smith County
8. Hulon West, Justice Court Judge for the Southern District of Smith County (unable to attend news conference)
About the Author(s)
Sarah Ulmer
Sarah is a Mississippi native, born and raised in Madison. She is a graduate of Mississippi State University, where she studied Communications, with an emphasis in Broadcasting and Journalism. Sarah's experience spans multiple mediums, including extensive videography with both at home and overseas, broadcasting daily news, and hosting a live radio show. In 2017, Sarah became a member of the Capitol Press Corp in Mississippi and has faithfully covered the decisions being made by leaders on some of the most important issues facing our state. Email Sarah: sarah@magnoliatribune.com
More From This Author