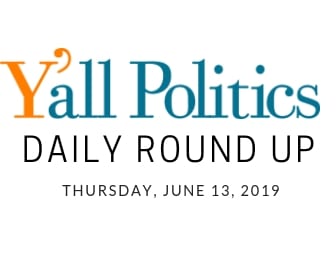 Republican Lt. Gov. Tate Reeves continues to lead all candidates in fundraising, spending and cash to spend as he runs for Mississippi governor.
Reports filed Monday show Reeves has $6.3 million to spend, after raising $566,000 in May and spending nearly $1 million.
One of Reeves' Republican primary opponents, former state Supreme Court Chief Justice Bill Waller Jr., raised about $176,000 in May and has $541,000 to spend. The other Republican, state Rep. Robert Foster, raised about $35,000 and has about $17,000 to spend.
Click the link to see the listing.
Baker separates himself from Taggart in AG race over state flag
A federal appeals court has heard arguments on whether boundaries for a state Senate district in Mississippi were set in a way that illegally diluted black voting strength.
A federal judge ruled in February that boundaries for Senate District 22 should be redrawn. The state has appealed. However, the legislature also has redrawn the district lines while the appeal plays out.
It's unclear how soon the 5th Circuit Court of Appeals in New Orleans will rule following Tuesday's arguments. Mississippi's governor and secretary of state asked in a May letter that the court immediately reverse the district judge and reinstate the old district, so qualifying could be reopened ahead of the Aug. 6 election.
WJTV – AG Hood files suit to block T-Mobile, Sprint merger
"To see how that translates to services for our people around the state. That was very important to me."…
…One issue is that lawmakers are being told Medicaid recipients are having trouble getting non-emergency transport to appointments.
"They don't have a right to choose when people's appointments are," said Rep. Omeria Scott. "Their job is to provide a service."
WJTV – 5 potential charter schools move forward in application process
The report said the state mishandled some abuse and neglect investigations.
The court order contains 113 obligations with which the state had agreed to comply, including critical measures ranging from investigating reports of children being maltreated in foster care to timely provision of medical treatment. The monitoring report by a court-appointed monitoring group, found Mississippi met only 37 of those 113 court-ordered requirements in 2018, the first year the state was being measured under a revised settlement agreement.
Failure to meet court-ordered reforms now puts the state at risk of a court-appointed receiver taking over Mississippi's child welfare system.
President Donald Trump has nominated Mississippi's Judge Sul Ozerden to the U.S. Court of Appeals for the Fifth Circuit.
Ozerden has served as the U.S. District Judge for the Southern District of Mississippi since 2007 and earned his law degree from Stanford Law School and an undergraduate degree from Georgetown University.
He is also a retired commissioned officer and pilot with the U.S. Navy who flew missions in Iraq and Somalia.
Bryant announces Relativity Space $59 million investment
Proud to announce while at @SelectUSA that @relativityspace will build new autonomous rocket factory @NASAStennis. $59 million corporate investment and will create 190 jobs! MS will continue to be leader in aerospace. Great work @mdaworks @HancockCountyMS https://t.co/pRuiaPLhxJ pic.twitter.com/wZ7fcAa4WK

— Phil Bryant (@PhilBryantMS) June 11, 2019
The Mississippi Department of Education (MDE) is about to award their Education Scholarship Accounts (ESA) for the 2019-20 school year. But there's still time to apply.
The ESA program provides scholarships to parents of students with disabilities who want to remove their child from a public school to seek educational services elsewhere. ESA recipients are eligible to be reimbursed up to $6,765 in 2019-20 for the cost of private educational services.
The legislative appropriation for 2019-20 provides for approximately 695 ESA accounts for the 2019-20 school year. The MDE anticipates that 415 ESAs will be used by students returning from the 2018-19 school year. Applicants who would like to be considered for the remaining 280 ESAs must apply by June 20, 2019.
Hyde-Smith invites USFWS nominee to visit Mississippi flooding
#ICYMI: @USFWS nominee Robert Wallace accepted my invitation to tour the catastrophic flooding in the South Mississippi Delta. Over 100,000 acres of wildlife habitat are under water, displacing and/or destroying wildlife. pic.twitter.com/UUuUV3hFXd

— U.S. Senator Cindy Hyde-Smith (@SenHydeSmith) June 11, 2019
In December, Alderman Ennit Morris notified Mayor Mario King and the city through a tort of claim that if conditions did not change, he would pursue legal action against King in his official capacity and city.
On Friday, Morris notified The Mississippi Press he will proceed with his lawsuit.
"Nothing has changed," Morris said. "It's no better still. I'm locked out."
WJTV – 100 years of the 19th Amendment celebrated in Hattiesburg
Wicker helps celebrate growing US-Japan ties
Celebrating growing Japan-US business ties, while building the bonds that will create future business opportunities, tonight's @SelectUSA reception features remarks by Ambassador Sugiyama, @CommerceGov's @SecretaryRoss, Kentucky @GovMattBevin, & @SenatorWicker! #SelectUSASummit pic.twitter.com/nQeJ4EnhW4

— Japan Embassy DC (@JapanEmbDC) June 11, 2019
Mississippi Sen. Cindy Hyde-Smith announced Tuesday that Taylor Defense Products LLC of Louisville won a Navy contract worth up to $84 million. Hyde-Smith is a member of the Senate Appropriations Committee.
Taylor will repair and maintain all-terrain cranes for the U.S. Marine Corps. It's part of the Navy's Service Life Extension Program.
More From This Author