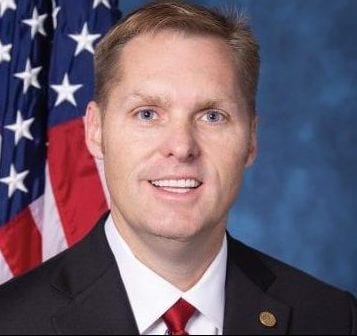 Yesterday, Congressman Michael Guest (MS-03) introduced H.R. 1590, the Terrorist and Foreign Fighter Travel Exercise Act of 2019, which is a bill that would promote the identification and determent of terrorist travel. H.R. 1590 enhances the United States government's ability to respond to terrorism by instructing the Secretary of Homeland Security to develop and conduct a preparedness exercise related to the detection and prevention of terrorist and foreign fighter travel.
"In order to protect our nation from terrorism, our law enforcement agencies must be able to conduct swift and precise counteraction to these activities," Congressman Guest said in a statement. "On average, the Department of Homeland Security stops 10 known or suspected terrorists per day who are attempting to enter the United States. Our nation is kept safe from these threats due to the advanced training of our federal, state, local, and tribal law enforcement officers. The Terrorist and Foreign Fighter Travel Exercise Act will add to the training and coordination received by these law enforcement agencies in preparation of terrorist activity response."
H.R. 1590 aligns with Goal 1 of the National Strategy to Combat Terrorist Travel from the White House.
"President Trump and other White House officials have developed effective guiding principles to combat terrorist travel and keep Americans safe. This bill will put these principles into practice by preparing our men and women in uniform to respond to domestic and foreign threats to our nation," Guest said. "Our hope is that the exercise called for in this bill will reveal any potential gaps in our security. We will then be able to improve our national security strategies to combat terrorism and build a stronger defense system for the American people."
Click here for the full text of H.R. 1590.
Congressman Michael Guest Press Release
3/8/2019
About the Author(s)
Sarah Ulmer
Sarah is a Mississippi native, born and raised in Madison. She is a graduate of Mississippi State University, where she studied Communications, with an emphasis in Broadcasting and Journalism. Sarah's experience spans multiple mediums, including extensive videography with both at home and overseas, broadcasting daily news, and hosting a live radio show. In 2017, Sarah became a member of the Capitol Press Corp in Mississippi and has faithfully covered the decisions being made by leaders on some of the most important issues facing our state. Email Sarah: sarah@magnoliatribune.com
More From This Author
Previous Story
Next Story