On Thursday, Lt. Gov. Tate Reeves was named the first "Education Reformer of the Year" by EmpowerMS.
The education reform group honored Reeves for his role in championing strong education reforms this session, including appointed superintendents, charter school and Education Scholarship Account program expansions, and the Dyslexia Therapy Scholarship program renewal, this according to their press release.
"We are taking the steps to transform education in Mississippi with every dollar invested in the classroom and every initiative expanding educational opportunities for students," Lt. Gov. Reeves said in a statement. "I appreciate Empower Mississippi for its hard work to support more educational options throughout our state."
Making strides in improving our education system hasn't been something Mississippi could celebrate in years past, but the reforms championed by legislative Republicans has not only garnered attention at home but nationally, as well.
The Education Commission of the States announced in May that the state of Mississippi was the 2016 recipient of the Frank Newman Award for State Innovation for a transformational education reform package that prioritized early learning reading skills, expanded charter schools opportunities and created a clear A through F rating system for schools, among other accomplishments.
Apparently, state Sen. Bill Stone (D – SD10) isn't all that impressed.
In fact, Stone took to Facebook to criticize Reeves' honor by using a KKK reference.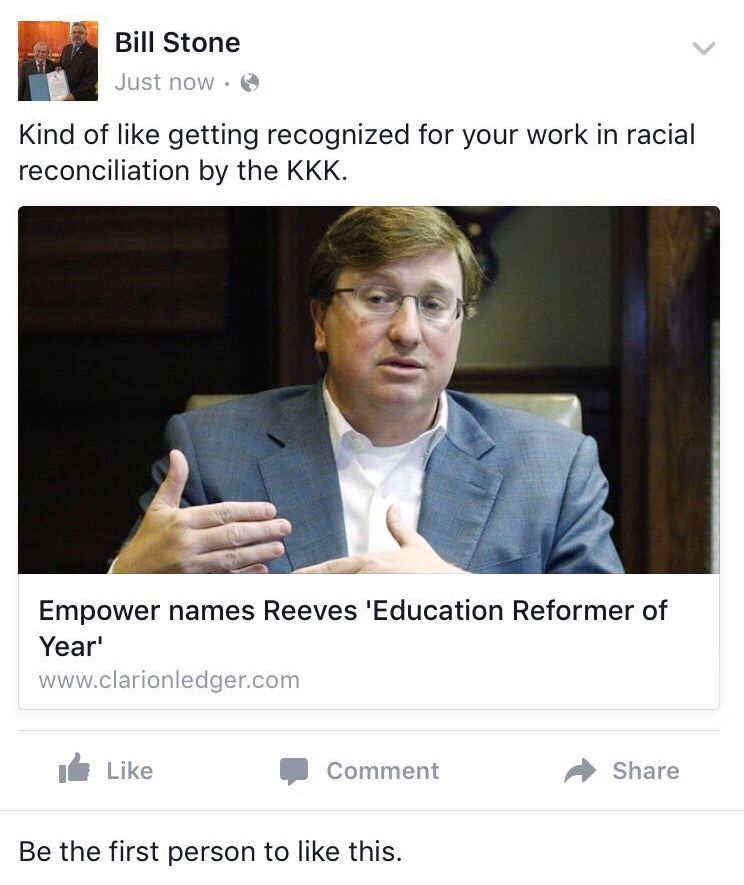 Funny thing… The post is no longer on Sen. Stone's page as of Friday morning. But thanks to our ever vigilant readers we have it preserved for your edification.
Perhaps ole Bill was having a tad too much fun down in Biloxi at the Mississippi Association of Supervisors Convention and got carried away.
Whatever his motivation, it would probably be best for Sen. Stone not to ask much of his chamber's leadership or Lt. Gov. Reeves anytime soon after he let his liberal fingers do his talking on social media.
More From This Author