A day after filing for a temporary restraining order against Speaker Philip Gunn (R) over the speed at which bills are read from the House's automated reader, Democrat Rep. Jay Hughes (D) didn't seem all that attentive to bills being read on the floor on Thursday.
Rep. Dana Criswell (R) posted this comment with the photo below on his Facebook:
"If you think Jay Hughes' lawsuit is about anything but self promotion take a look at what he does while a bill is being read."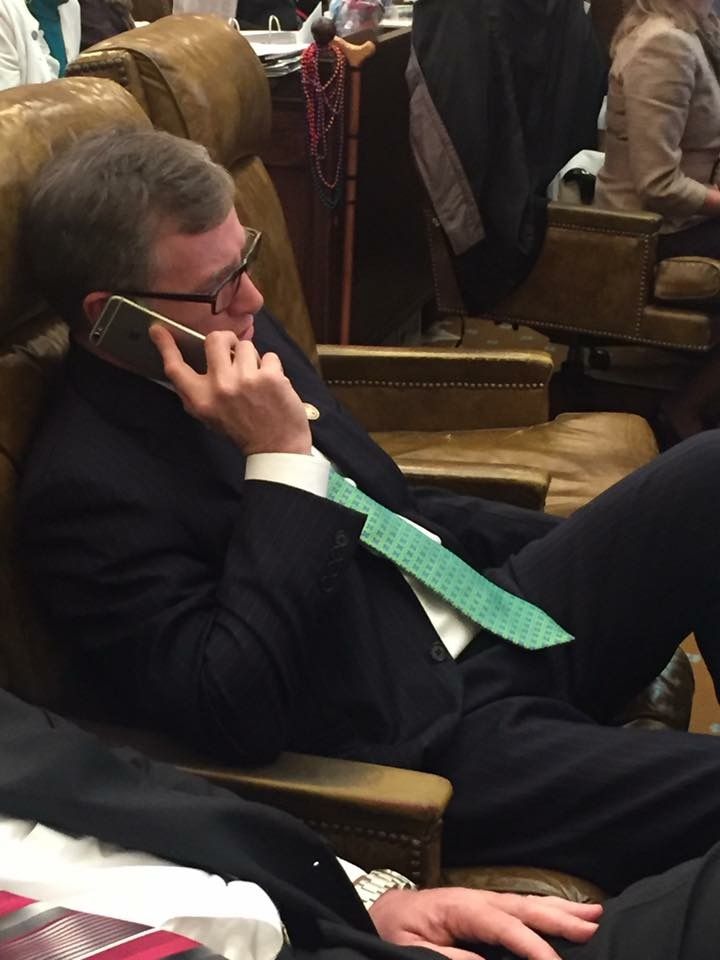 Democrats in both the House and Senate have been stalling legislation for two days, supposedly over the Jackson airport bill and the Speaker's religious objection bill aimed at opposing gay marriage.
The House has hired attorney Mike Wallace to represent the Speaker in Hughes' lawsuit. House Democrats are sure to try and spin this as frivolous spending yet the need for legal representation wouldn't exist if not for Hughes' frivolous lawsuit.
It is obvious that Hughes is aiming high and trying to make a name for himself, from offering his own response to the State of the State address to running for a leadership position in the House Democrat caucus as a freshman to this grandstanding legal action against Gunn which can only be seen as for no other reason than to take a political swipe at the Speaker and the House Republican leadership while gaining media attention for himself.
Oxford and House District 12 may soon be wishing they had Brad Mayo back representing them in the Legislature. They are likely to realize that they did themselves no favors by electing someone such as Hughes who is at odds with the House and state leadership at every turn.
3/24/16
More From This Author