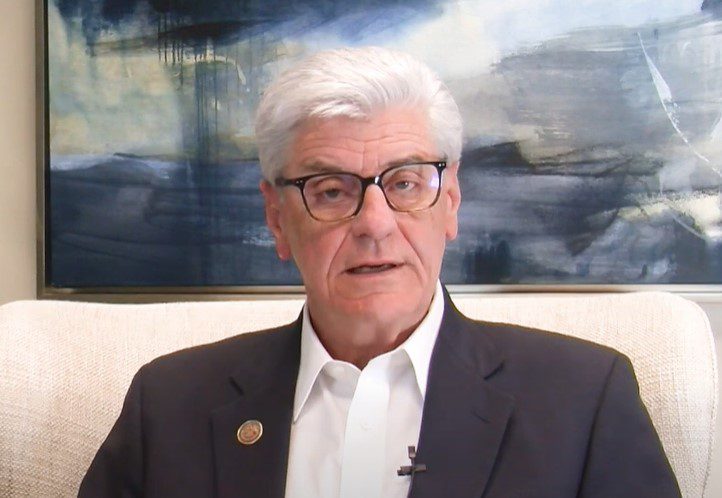 Phil Bryant
Former Gov. Phil Bryant released a nearly 5-minute long video pushing back on media characterizations of his involvement in TANF welfare scandal. Bryant has announced he will release all of his related communications at 5 p.m. today.
Former Governor Phil Bryant released a video Thursday morning in which he defended his conduct related to the TANF scandal. In the video, Bryant refers to himself as a whistleblower, contending that he notified State Auditor Shad White's office at the first indication of impropriety at the Department of Human Services.
To date, Bryant has not been charged with any wrongdoing, nor has he been named as a party in any of the related-civil litigation that is pending.
"The fact is, I did nothing wrong. I wasn't aware of the wrongdoings of others," Bryant said in a video message. "When I received evidence that suggested people appeared to be misappropriating funds, I immediately reported that to the agency whose job it is to investigate these matters."
Bryant said he has been "as open and honest as I can be."
Move Comes Amid Legal Dispute Over Confidentiality of Communications
The former governor's latest announcement comes after three news outlets – Daily Journal, Mississippi Free Press and Mississippi Today – sought to intervene in ongoing civil litigation seeking to have Bryant's communications publicly released instead of being protected by executive privilege. Their action was filed by the Mississippi Center for Justice and the Center for Constitutional Rights.
Bryant's legal counsel had, until now, asked that the court allow him to maintain his executive privilege and not make the texts and e-mails public. While Bryant maintains that he has a right to claim executive privilege and to object to the disclosure of the communications, he decided to waive those arguments and disclose the documents responsive to both subpoenas which are currently in his possession.
"After much thought and discussion with counsel, I've made the decision to forego any arguments about executive privilege of my text messages in this matter and simply release them all," Bryant said in the video. "Frankly, I'm tired of paying legal fees to respond to lawsuits that I'm not a party to in order to protect my privacy and an executive privilege that should exist for future governors."
Substance of Communications
It is anticipated that included in this afternoon's production will be communications between Gov. Bryant and Brett Favre on a volleyball facility built on the campus of the University of Southern Mississippi, and on Prevacus, an experimental concussion treatment. Regarding the communications themselves, Bryant said what is found in the text messages is "a busy man, a governor of a state communicating in a kind and consistent matter to everywhere with whom I dealt."
"I communicated with hundreds of people every week to accomplish good and to help run state government the best way I knew how. As you would expect from someone with extensive communications, in large part my text messages consist of salutations – thumbs up emojis, and 'will dos,' and 'I'll check on it,' and 'sounds good,' etc.," Bryant said. "Anyone who takes the time to find these messages will similar consistencies in my communications. Most of the messages if not all, that the media wants you to see have already been reported and twisted, and reported again."
Bryant Pushes Back on Media, Suggests Political Agenda
Bryant pushed back on the media, primarily Mississippi Today, referring to an interview he granted to Anna Wolfe where he sat for hours and answered questions. He says, not surprisingly, the media has weaponized it against him.
"They disclosed my communications and mischaracterized my interactions with various individuals to fit their story and generate click bait headlines," Bryant went on to say, adding later in the message, "Now my text messages will be manipulated through a coordinated effort from a billionaire driven media outlet and Democratic political consultants. These messages will be again mischaracterized into endless fodder for those who want to try to denigrate the success of my terms as governor and castigate republic candidates in an election year."
Bryant suggested the media is engaged in a targeted attack meant to cast a cloud over conservative candidates running for office this year.
"I am simply a means to their end," he added.
This is a developing story. Magnolia Tribune will provide additional coverage once the Bryant communications have been made public.
About the Author(s)
Anne Summerhays
Anne Summerhays is a recent graduate of Millsaps College where she majored in Political Science, with minors in Sociology and American Studies. In 2021, she joined Y'all Politics as a Capitol Correspondent. Prior to making that move, she interned for a congressional office in Washington, D.C. and a multi-state government relations and public affairs firm in Jackson, Mississippi. While at Millsaps, Summerhays received a Legislative Fellowship with the Women's Foundation of Mississippi where she worked with an active member of the Mississippi Legislature for the length of session. She has quickly established trust in the Capitol as a fair, honest, and hardworking young reporter. Her background in political science helps her cut through the noise to find and explain the truth. Email Anne: anne@magnoliatribune.com
More From This Author