Governor Tate Reeves speaks with Secretary Alejandro Mayorkas and Administrator Criswell in Rolling Fork, MS (Photo from Governor Reeves Facebook Page - March 26, 2023)
Homeland Security Secretary Mayorkas and FEMA Administrator Criswell toured Rolling Fork on Sunday after being briefed by Governor Reeves and MEMA.
Heartbreak and inspiration. Those words have defined both the tragedy and response Mississippi has seen over the last three days in the wake of Friday's EF-4 tornado.
"What we've seen over the last 36 hours in Mississippi on the one hand has been heartbreaking. We've seen the loss and devastation of these communities," Governor Tate Reeves said on Sunday. "And on the other hand, it has been inspiring and gives me great reason for optimism, and quite frankly, makes me damn proud to be a Mississippian because Mississippians have done what Mississippians do. In times of tragedy, in times of crisis, they stand up and they show up."
U.S. Homeland Security Secretary Alejandro Mayorkas echoed the Governor's words.
"We've come to see it in person to communicate to the people Mississippi that we are here, not just today, but for the long haul," said Mayorkas while on the ground in the state. "It is heartbreaking to hear of the loss of life, to see the devastation firsthand. It is also, as the Governor expressed, inspiring to see the people of Mississippi come together, and not just the people of Mississippi but the people of this country who've come to assist those in such dire need."
Secretary Mayorkas was part of the federal government's delegation along with FEMA Administrator Deanne Criswell who met with Governor Reeves and other state officials on Sunday. Governor Reeves, Secretary Mayorkas, Administrator Criswell, U.S. Senators Roger Wicker and Cindy Hyde-Smith, and Congressman Bennie Thompson surveyed the damage in Rolling Fork. The site visit was led by Mayor Eldridge Walker and other local officials.
The State of Mississippi's response through MEMA, the National Guard and other resources has been led by Governor Tate Reeves. His declaration of a state of emergency and request for federal public and individual assistance was swiftly approved by President Joe Biden.
The expedited major disaster declaration, which was supported by both Mississippi Senators and all four Congressmen, makes federal disaster assistance available to supplement recovery efforts. The declaration authorizes federal assistance to disaster survivors in Carroll, Humphreys, Monroe, and Sharkey counties. This assistance may include grants for temporary housing and home repairs, crisis counseling, low-interest loans and other programs to help recovery efforts.
Within 36 hours, the Biden Administration had sent U.S. Homeland Security Secretary Mayorkas and FEMA Administrator Criswell to Mississippi to meet with Governor Reeves and the state team to help coordinate the operational response and plan for recovery.
"I want you to know that this delegation is shoulder to shoulder for Mississippi in this regard," Senator Wicker said. "I want to thank the President for calling each of us individually. I want to thank him for sending a member of his cabinet here."
Senator Wicker said he, too, was impressed with the spirit, saying there was "no victimhood in this community today." He implored Secretary Mayorkas and Administrator Criswell for their cooperation in handling reimbursements and a smooth transition of those funds to the state and those in need.
FEMA deployed Disaster Survivor Assistance teams, an Incident Management Assistance Team and several other staff to the state emergency operations center and affected areas. Disaster Survivor Assistance Teams will help gather detailed information on immediate disaster survivor needs. These teams will provide disaster survivors with on-site registration, applicant status checks, on-the-spot needs assessments, requests for disability-related accommodations and access to partners offering survivor services. The American Red Cross has already set up shelters to assist those with immediate needs and to help get people to a safe place now. FEMA will work with the state, as needed, to secure interim sheltering options for longer term needs.
"FEMA is here. We remain committed to the people of Mississippi," Administrator Criswell said during the Sunday press conference in Rolling Fork. "We will be here for you now, we will be with you next week, we will be here long after these cameras are gone to make sure we are assisting you with all your recovery needs."
Congressman Thompson, the former chairman of the House Homeland Security Committee, represents much of the area impacted by the Friday tornadic activity. He thanked Governor Reeves for the quick submission of the request for the federal assistance and President Biden for the swift action to approve the request.
"Our goal is to have this community as close to what it was before Friday night occurred, but it will require cooperation on the part of everyone," Thompson said. "Everyone has a story, but all the stories so far are possible because everyone's that shown up is here to help."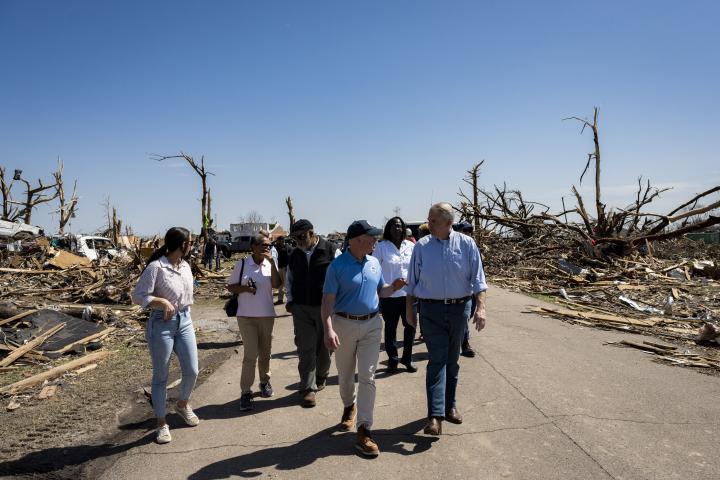 In addition to the state and federal officials mentioned above, Northern District Public Service Commissioner Brandon Presley in Rolling Fork over the weekend with his campaign staff in tow. The visit drew criticism in some circles, who questioned whether the tragedy was being exploited for politics. Commissioner Presley's current district does not include Rolling Fork or Silver City, but does include Carroll and Monroe counties, both of which were impacted by the storm.
About the Author(s)
Frank Corder
Frank Corder is a native of Pascagoula. For nearly two decades, he has reported and offered analysis on government, public policy, business and matters of faith. Frank's interviews, articles, and columns have been shared throughout Mississippi as well as in national publications such as the Daily Caller. He is a frequent guest on radio and television, providing insight and commentary on the inner workings of the Magnolia State. Frank has served his community in both elected and appointed public office, hosted his own local radio and television programs, and managed private businesses all while being an engaged husband and father. Email Frank: frank@magnoliatribune.com
More From This Author