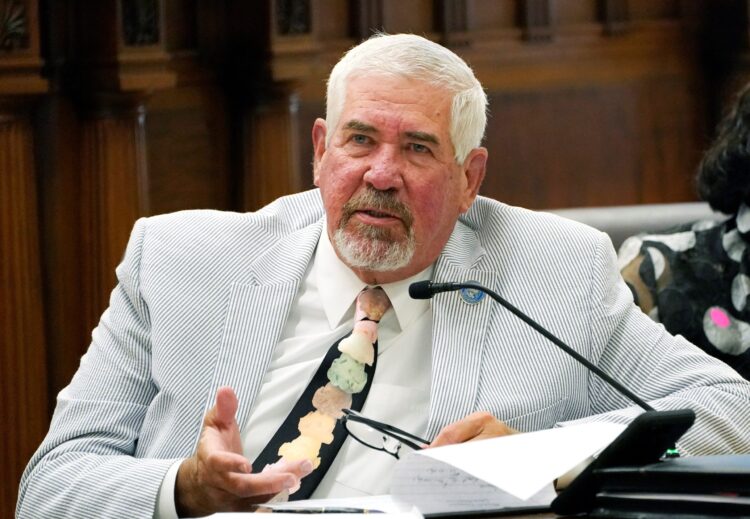 Sen. Kevin Blackwell (AP Photo/Rogelio V. Solis - Copyright 2021. The Associated Press. All rights reserved)
Changes offered by the Senate would allow physicians to assist an individual in registering for an identification card.
Mississippi's medical marijuana program has just begun to take off since its passage in 2022. The first sales of medical marijuana took place in January.
Along the way, lawmakers have found places where the program can be augmented in order to function more efficiently, as more growers and distributors are added to the list. These changes are coming in the form of HB 1158, which has passed in the Senate and awaits concurrence from the House, after the Senate offered a strike-all amendment.  
Senator Kevin Blackwell (R), who authored the original program that passed in 2022, said there were roughly 30 minor changes made to the bill in committee to tweak the program.
As it stands now, the bill would do several things, including authorizing a practitioner to assist in helping someone register for an identification card after they have issued a written certification for a patient. Identification cards are required for someone to purchase medical marijuana at a licensed dispensary.
The bill would also not require a physician to have additional certification to prescribe medical cannabis to a qualified patient and no patient would be required to submit to a drug test to be issued an identification card.
Other major take aways noted in the bill are a change to the timeline that was given to the Mississippi State Department of Health to deny an identification card from 30 days to 10 days. Square footage and canopy regulations were changed for cultivation locations. Another change would also allow testing facilities to be transporters to distributers.
Some concerns within the new language did arise when the Senate took the bill up last Wednesday. Those concerns centered around the confidentiality of cannabis establishments. The bill states that they would not be required to disclose their locations and be exempt from the Mississippi Public Records Act.
"The addresses of prospective and licensed medical cannabis establishments, except for medical cannabis dispensaries, shall be considered confidential and exempt from disclosure under the Mississippi Public Records Act of 1983, Sections 25-61-1 through 25-61-17," the bill states.
An additional exemption was provided for any investigations, fines, suspensions or revocation of a license.
Senator Dennis DeBar (R) asked why these particular things were being exempt from the Public Records Act. Blackwell offered justification.
"This allows for the disclosure of that information once all the fines and appeals have been exhausted," said Blackwell. "There are some civil fines that are held confidential."
Senator David Blount (D) was also critical of this aspect and offered an amendment to only allow confidentiality for investigations. The amendment was taken up after the vote on the bill was reconsidered.
"Any ongoing investigation by a licensing agency under this Section shall be considered confidential and exempt from disclosure under the Mississippi Public Records Act of 1983," read the new language.
About the Author(s)
Sarah Ulmer
Sarah is a Mississippi native, born and raised in Madison. She is a graduate of Mississippi State University, where she studied Communications, with an emphasis in Broadcasting and Journalism. Sarah's experience spans multiple mediums, including extensive videography with both at home and overseas, broadcasting daily news, and hosting a live radio show. In 2017, Sarah became a member of the Capitol Press Corp in Mississippi and has faithfully covered the decisions being made by leaders on some of the most important issues facing our state. Email Sarah: sarah@magnoliatribune.com
More From This Author
Previous Story