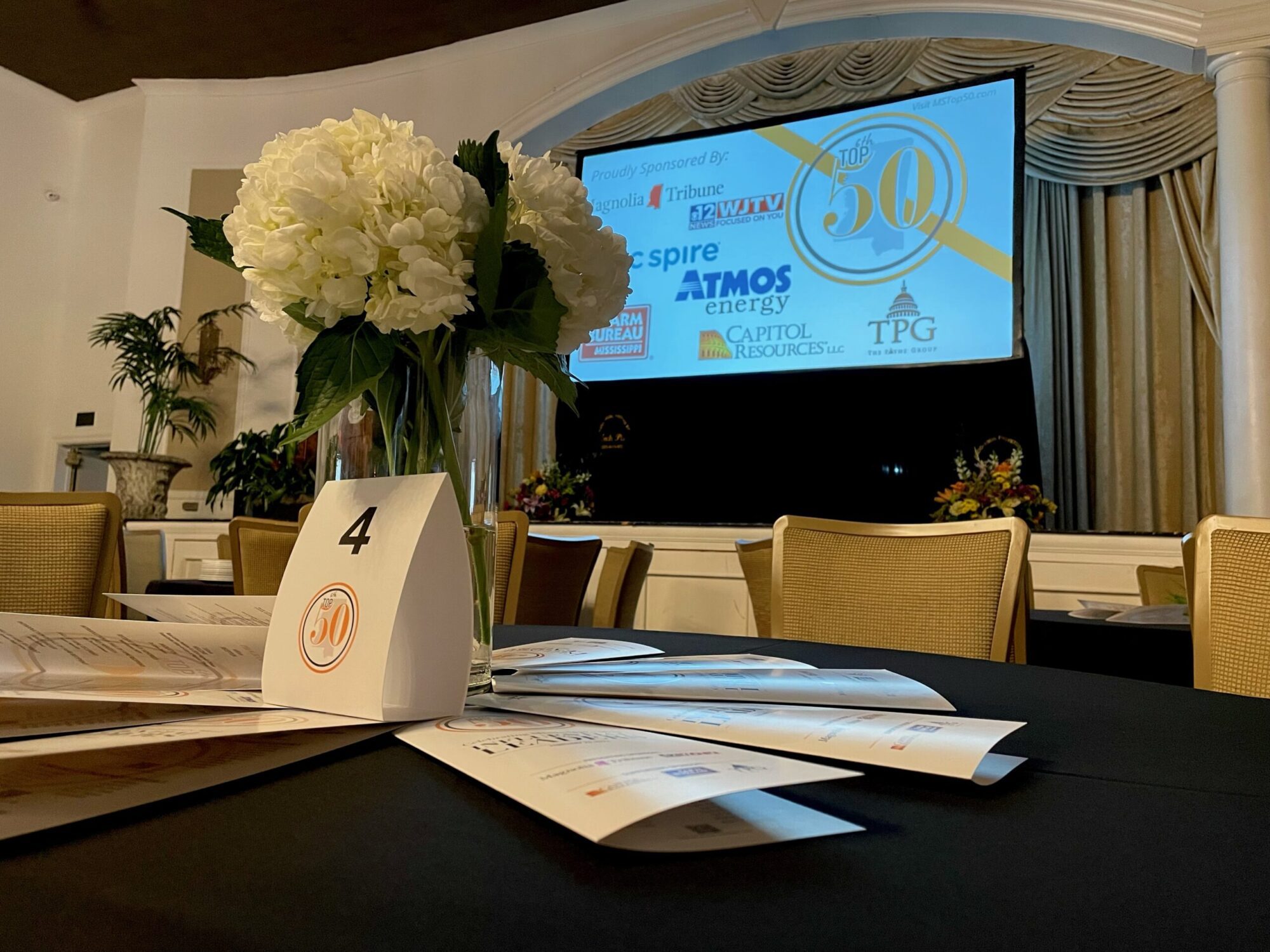 James Meredith and U.S. Senator Roger Wicker named to the MS Top 50 Hall of Fame.
The 6th Mississippi Top 50 Awards were held Thursday night at the Old Capitol Inn in Jackson. The awards were sponsored by Magnolia Tribune, WJTV, C Spire, Atmos Energy, Capitol Resources, Farm Bureau Federation and The Payne Group.
MS Top 50 is the annual list of the 50 Mississippians who are judged to be the most influential leaders in the state over the last year.
This annual bipartisan selection of leaders comes from the ranks of elected and appointed officials, economic development professionals, business, media, culture, sports, faith, government affairs and more.
This year's honorees are (by category):
Elected/Appointed Officials
Ryan Annison
Anne Hall Brashier
Mike Chaney
Mike Ezell
Lynn Fitch
Andy Gipson
Philip Gunn
Josh Harkins
Briggs Hopson
Delbert Hosemann
Robert Johnson
Trey Lamar
David McRae
Tate Reeves
Derrick Simmons
Scott Stewart
Michael Watson
Liz Welch
Brad White
Jason White
Shad White
Government Relations
Sidney Allen
Henry Barbour
Frank Bordeaux
Derek Easley
Josh Gregory
Clare Hester
Ron Matis
Aaron Rice
Lucien Smith
Jameson Taylor
Forest Thigpen
Scott Waller
Business/Media/Culture
Mike Bianco
George Bryan
Chapel Hart
John Currence
Tommy Duff
Ligon Duncan
Dave Elliott
Paul Gallo
Gerard Gibert
Chip Henderson
Courtney Ann Jackson
Lane Kiffin
Joe Paul
Emily Pettus
Sid Salter
Marty Stuart
Alan Sudduth
In addition, MS Top 50 annually names two Mississippians to their Hall of Fame. These honorees have left a significant impact on the state and its people and have used their lives to make Mississippi a better place to live, work, worship and play. Past honorees include former Governors William Winter, Haley Barbour and Phil Bryant, along with former U.S. Senators Thad Cochran and Trent Lott, former Judge Reuben Anderson, State Rep. Alyce Clarke, former State Representatives Robert Clark and Steve Holland, and businessmen Joe Sanderson and Wirt Yerger, Jr.
This year's Hall of Fame honorees were civil rights leader James Meredith and Mississippi's senior U.S. Senator Roger Wicker. Both honorees offered remarks before the sold out crowd gathered to recognize the Top 50.
In his remarks, Meredith said being named to the MS Top 50 Hall of Fame was perhaps the most important honor he's received during this lifetime. He spoke about being the first black student at Ole Miss and shared his thoughts on the state of race relations in America today.
Senator Wicker expressed his gratitude for the honor, as well, recapping the many successes his office has been able to accomplish during his time serving the state. Although he was named to the Hall of Fame, Wicker said that doesn't mean he's retiring anytime soon. He said plans to keep working to move Mississippi forward every single day.
You can see all of this year's honorees in the video below. To learn more about them and to read their bios, visit mstop50.com.
About the Author(s)
Frank Corder
Frank Corder is a native of Pascagoula. For nearly two decades, he has reported and offered analysis on government, public policy, business and matters of faith. Frank's interviews, articles, and columns have been shared throughout Mississippi as well as in national publications such as the Daily Caller. He is a frequent guest on radio and television, providing insight and commentary on the inner workings of the Magnolia State. Frank has served his community in both elected and appointed public office, hosted his own local radio and television programs, and managed private businesses all while being an engaged husband and father. Email Frank: frank@magnoliatribune.com
More From This Author