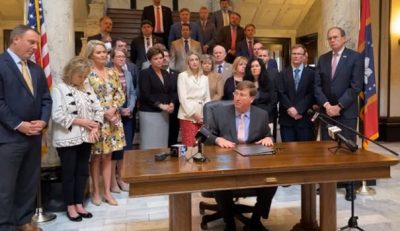 (Governor Tate Reeves signs the Mississippi Fairness Act - March 2021)
Surrounded by Republican lawmakers, Mississippi Governor Tate Reeves signed the Fairness Act into law Thursday morning at a signing event held at the state Capitol.
The Mississippi Fairness Act, SB 2536, bars biological men from competing in women and girls' sports public schools and universities in the state.  It was authored by State Senator Angela Hill and moved through the House with the aid of State Representative Becky Currie, among others.
Governor Reeves called the signing of the Fairness Act an important day for women and girls in Mississippi.
"This important piece of legislation will ensure that young girls in Mississippi have a fair, level playing field in public school sports," Reeves said, noting that as the father of daughters who are active in athletics it meant a lot to his own family.
The Governor said he never envisioned having to sign such a piece of legislation but due to recent actions in D.C. it was necessary.
"But for the fact that President Biden as one of his first initiatives sat down and signed an Executive Order, which in my view encourages transgenderism amongst our young people, but for that fact we wouldn't be here today," Reeves said.
The Governor thanked Sen. Hill, Rep. Currie, Rep. Jill Ford, Rep. Stacey Wilkes, Lt. Governor Delbert Hosemann, Speaker Pro Tem Jason White and all those who worked to pass the Fairness Act this session, saying he was proud to sign it.
"I am proud of the stand Mississippi is taking on this issue with the passage and ultimately the signing of the Mississippi Fairness Act," Reeves said. "It sends a clear message to my daughters and all of Mississippi's daughters that their rights are worth fighting for."
The Governor was asked about the potential for the new law to be challenged in court. He said it would not surprise him if the state is sued over the Fairness Act but added that the state will vigorously defend it if that happens.
The Fairness Act will officially become law July 1, 2021, as per the legislation.
About the Author(s)
Frank Corder
Frank Corder is a native of Pascagoula. For nearly two decades, he has reported and offered analysis on government, public policy, business and matters of faith. Frank's interviews, articles, and columns have been shared throughout Mississippi as well as in national publications such as the Daily Caller. He is a frequent guest on radio and television, providing insight and commentary on the inner workings of the Magnolia State. Frank has served his community in both elected and appointed public office, hosted his own local radio and television programs, and managed private businesses all while being an engaged husband and father. Email Frank: frank@magnoliatribune.com
More From This Author