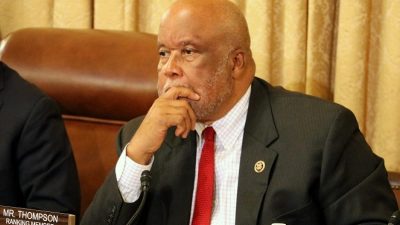 Rep. Thompson voted to pass the Commission on the Social Status of Black Men and Boys Act, to establish a 19-member commission that will examine the social disparities that disproportionately affect black males in America. Commission members will review homicide rates, arrest and incarceration rates, poverty, violence, fatherhood, mentorship, drug abuse, death rates, disparate income and wealth levels, school performance in various grade levels and health issues. The commission also will investigate potential civil rights violations affecting black men and boys.
This strong, bipartisan legislation, which the Senate unanimously passed in June, rises to meet the moment of national reckoning over racial injustice and will help policymakers better understand, and hopefully eventually eliminate, the educational and social chasms that have made it extraordinarily difficult for black males to become upwardly mobile.
The Commission on the Social Status of Black Men and Boys Act will now go to the president's desk for signature, moving our nation one step closer to dismantling the barriers that that result in significant societal disparities for black males in such areas as education, criminal justice, health, and employment.
"Across the country Americans have taken to streets to protest the murder of George Floyd and countless other black men and boys like him. The Commission on the Social Status of Black Men and Boys Act will help lawmakers and future administrations address the root issues of police violence and tackle systemic racism," said Rep. Thompson. "I am proud to join my colleagues to pass this long-overdue legislation that will provide our country with a guidebook for closing barriers that inhibit equitable outcomes."
The bi-partisan commission will be housed within the United States Commission on Civil Rights' office and will include Members of Congress, federal agency experts, and appointed subject issue area experts. It will be tasked with producing an annual report addressing the current conditions affecting black men and boys and make recommendations that will be submitted to the president, Congress, members of the president's Cabinet, and the chairs of the appropriate committees of jurisdiction.
S. 2163/H.R. 1636 has been endorsed by the Congressional Black Caucus, Congressional Progressive Caucus, New Democrat Coalition, Alpha Kappa Alpha Sorority, Inc., Alpha Phi Alpha Fraternity, Inc., California Association for Micro Enterprise Opportunity, Catholic Charities USA, Indiana Commission on the Social Status of Black Males, My Brother's Keeper Alliance, NAACP, National Action Network, National Football League, Rainbow PUSH Coalition, Reform Alliance, The Leadership Conference on Civil & Human Rights, The Council of the Great City Schools, Teach For America, actor Omari Hardick, and Reverend Jesse Jackson.
###
Release from Congressman Bennie Thompson.
More From This Author