Governor Tate Reeves hosted a press conference with Director of the Mississippi State Department of Health Dr. Thomas Dobbs to discuss the new offensive ways to implement a dramatic increase in testing and localized, targeted action based on the data they are tracking and compiling statewide on a daily basis.
Gov. Reeves said the MSDH plan includes a shift from playing defense to playing offense with the disease. He added that social distancing has made an impact in slowing the spread of the virus, but the new plan moves to a more aggressive attempt at isolation and limiting contact. This will include an investigation into areas experiencing outbreak with increased testing to follow in those locales.
Gov. Reeves went over the guidelines of the executive order he signed on Tuesday. That EO says gatherings of more than 10 should not be allowed, restricts dine-in services unless those facilities can comply with group guidelines of less than 10, and ensures essential business operations for essential services as defined by the U.S. Department of Homeland Security are maintained.
He said that order is a floor statewide, but that if any municipality would like to utilize their emergency powers to go beyond with what that order does without overriding it, they are within their right to do so.
The second part of the order defined what essential services are in state. This would prohibit cities from restricting workers from going to their jobs that are classified as essential. Reeves gave the example of a grocery store. If a city placed a curfew, workers could not be restricted from going to their job. It would be a violation of the order since those businesses are protected under the definition of essential business.
"What is necessary for states like New York and California may not be necessary in a state like Mississippi," said Reeves.
Reeves said health professionals have not indicated a need for a statewide shelter at home order and have not advised that businesses like restaurants too close.  Reeves said if and when public health experts give the opinion to implement a shelter in place order, he will be willing to act but at this time, he has not been advised to do that in Mississippi.
"We are not going to change the ability of those small businesses to operate," said Reeves.
He does recommend businesses continue to allow employees to remain at home, if possible, and work from there. He said they will not be calling state employees back for the foreseeable future.
At this point he also indicated there is not a need for deficit appropriations from the Legislature, but that it could happen in the coming weeks. This could indicate that the 2020 Session will be postponed longer than the intended April 1 date. In Reeves' order he limited groups of more 10 gathering until April 17, but he said Thursday that the decision to reconvene the Legislature is not a decision left up to him.
"We are not at, nor likely to be near the end of this crisis. My advice to all Mississippians is to stay home, be smart, exercise routine hygiene efforts," said Reeves. "If you have sent people home and allowed them to work from home you have shown an ability to do so and those people need to be allowed to remain home."
Dobbs said the new plan could require for some communities to implement a shelter in place order as they investigate the areas with the highest outbreaks. While social distancing has helped slow the spread, Dobbs said, "We don't need to kid ourselves, we have to do more."
"We expect to see more and more cases over the next weeks as this evolves," said Dobbs. "It's still going to be a rough road but now is the time to act."
Dobbs said they aim to increase community awareness. He said that communities who are practicing safe social distancing the data shows that there is a decrease in confirmed cases.  It is likely their normal lives will not be disrupted significantly at this time. However, for areas that are at a higher risk, they could be subject to stricter regulations.
"This is not going away; it is just now starting to ramp up," said Dobbs. "We do issue legal orders for people to stay at home and there are legal consequences for people who don't do that."
In the event the Department of Health did want to issue a shelter at home order, the process for that community would be:
The location would be identified after meeting a particular threshold (past the normal response effort and beyond capacity to handle the care).
A testing unit would be mobilized to the area.
MSDH would begin work with local leaders, physicians and clinics.
MSDH would go in and do a massive testing effort.
The implementation of a shelter at home or required isolated quarantine would be authorized.
Law enforcement would be utilized to uphold those orders.
Dobbs said right now the Coronavirus is pretty well distributed around the state. He added that the MSDH has done a lot of tests and were actually a little ahead of the game.
Dobbs said there have been over 4,000 tests done by the department and the numbers from the private sector could push that number closer to 8,000. The number listed on the website of people tested only applies to tests that have been confirmed positive or negative.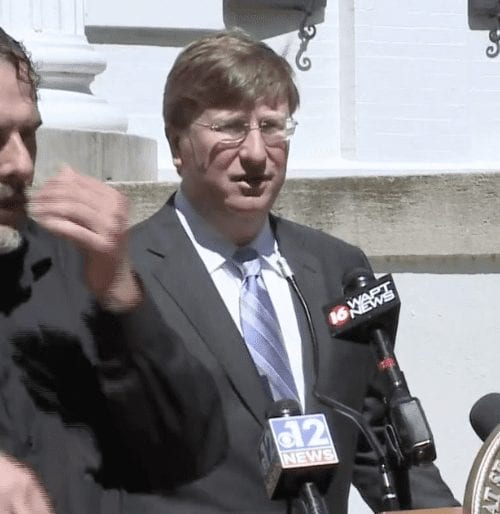 "It's the right strategy for Mississippi at this time," said Gov. Reeves.
Gov. Reeves said he is committed to use his power to ensure that the State Department of Health can implement this strategy.
When it comes to financial resources for the state, Gov. Reeves said if the U.S. House moves forward to pass the aid package in Congress $2 trillion would be allocated all throughout the nation to keep the economy moving.
MEMA is leading the charge in terms of the allocation on where resources are needed for use by emergency management professionals and hospitals.
"There is no doubt that there is a short supply of these resources at a national level," said MEMA Director Greg Michel. "So, Mississippians are doing what they do, and some people have come forward and offered their own products to use."
He added that he believes they are within days to get the supply chains to where they want them, largely using Mississippi companies.
While many in the state are attempting to apply for unemployment, some are having issues contacting the office of employment security to file for those benefits. Gov. Reeves said they are working with the director there to make this process more streamlined and increase capacity for calls and applications.
National Guard General Boyles said they are looking at potential locations for the Guard to set up and assist in the overflow from hospitals if that is needed in the future. While nothing has been ordered, they are considering locations like Camp Shelby to take in individuals that need healthcare.
"We are limiting to only locations that have a room and a bathroom," said Gen. Boyles.
Gov. Reeves said he has not had the chance to visit the locations under consideration, but to stay tuned.
Dr. Dobbs encouraged individuals to take advantage of telemedicine opportunities if they believe they might be sick before putting themselves and others at risk by heading straight to the hospital.
About the Author(s)
Sarah Ulmer
Sarah is a Mississippi native, born and raised in Madison. She is a graduate of Mississippi State University, where she studied Communications, with an emphasis in Broadcasting and Journalism. Sarah's experience spans multiple mediums, including extensive videography with both at home and overseas, broadcasting daily news, and hosting a live radio show. In 2017, Sarah became a member of the Capitol Press Corp in Mississippi and has faithfully covered the decisions being made by leaders on some of the most important issues facing our state. Email Sarah: sarah@magnoliatribune.com
More From This Author