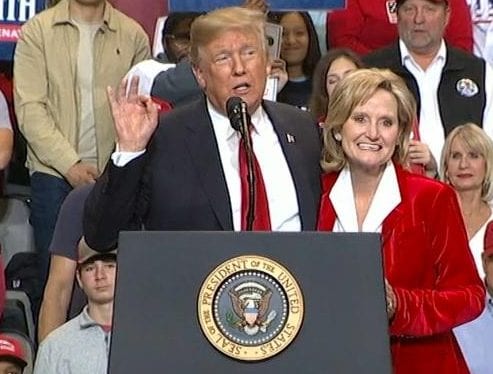 A new Mason-Dixon poll indicates that Mississippians highly approve of President Donald Trump and will support his reelection this November.
In a poll conducted from February 26 through February 28, 2020, President Trump enjoyed a 57% approval rating in the Magnolia State.
The President's lowest rating was in the Delta, which remains a Democratic stronghold.  If you take out the Delta's 26% rating, Trump would enjoy a 62% average among voters in the other five regions of the state – Northern, Eastern, Jackson Metro, Southern, and the Gulf Coast.
Eighty-one percent of white voters approve of Trump as do 94% of Republicans.  Eighty-five percent of blacks disapprove of Trump in the state along with 89% of Democrats.
Trump draws over 50% approval from men and women under and over 50 years old.
Trump would easily defeat either of the two top Democratic Presidential Candidates.  According to the poll, the President would defeat former Vice President Joe Biden 56% to 41% while his numbers improve versus Bernie Sanders, besting the Vermont Senator 59% to 36%.
Biden performs best in the Delta, polling at 68% compared to Sanders at 55%.  The Delta is the only area of the state where either receives a majority.  Eighty-nine percent of Democrats polled would support Biden over Trump while just 79% would support Sanders in a run against the President.
Trump defeated Hillary Clinton in 2016 in Mississippi by a margin of 57.9% to 40.1%.
Mason-Dixon also polled the U.S. Senate race between incumbent Republican Senator Cindy Hyde-Smith and likely Democratic nominee Mike Espy.  The junior senator from Mississippi enjoys a 53% to 43% margin versus Espy.
Espy does not poll a majority of respondents in any area except the Delta.
These numbers are a slight improvement for Hyde-Smith versus the outcome of her 2018 matchup between Espy.  Hyde-Smith defeated Espy 54% to 46%.
Mason-Dixon polled respondents on their approval of Mississippi's new Governor Tate Reeves.  Reeves enjoys a 50% approval rating overall, with the highest rating coming from South Mississippi.
A total of 625 registered Mississippi voters were interviewed live by telephone statewide for the poll.  Those interviewed were randomly selected from a phone-matched Mississippi voter registration list that included both land line and cell phone numbers.  Quotas were assigned to reflect voter registration by county. The margin for error, according to standards customarily used by statisticians, is no more than ± 4 percentage points.
Mason-Dixon was founded in 1983.  During 35 years in business, the company has conducted work into all 50 states, the District of Columbia and Puerto Rico.
About the Author(s)
Frank Corder
Frank Corder is a native of Pascagoula. For nearly two decades, he has reported and offered analysis on government, public policy, business and matters of faith. Frank's interviews, articles, and columns have been shared throughout Mississippi as well as in national publications such as the Daily Caller. He is a frequent guest on radio and television, providing insight and commentary on the inner workings of the Magnolia State. Frank has served his community in both elected and appointed public office, hosted his own local radio and television programs, and managed private businesses all while being an engaged husband and father. Email Frank: frank@magnoliatribune.com
More From This Author