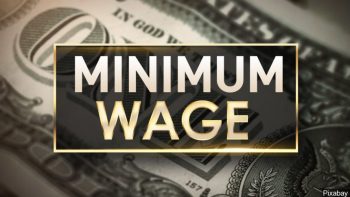 Nestled in President-elect Joe Biden's COVID-19 stimulus plan he released Thursday evening was a provision to raise the federal minimum wage to $15 per hour, a Democratic cause célèbre over the last few years that until now would not have been a possibility with Republicans in the majority of at least one chamber.
A newly released study from the Employment Policies Institute projected that such a move could result in the loss of 36,161 jobs in Mississippi and over 2 million jobs nationally by 2027.
The federal minimum wage was last increased in 2009.  Since then, workers on that minimum wage have declined, either due to states raising the wage on their own or through increased economic opportunities in the private sector that have allowed business growth and educational attainment to buoy workforce development.
The Bureau of Labor Statistics reports that in 2019, 82.3 million workers age 16 and older in the United States were paid at hourly rates, representing 58.1 percent of all wage and salary workers.  Among those paid by the hour, 392,000 workers earned exactly the prevailing federal minimum wage of $7.25 per hour.  About 1.2 million had wages below the federal minimum.
Together, these 1.6 million workers with wages at or below the federal minimum made up 1.9 percent of all hourly paid workers.
The percentage of hourly paid workers earning the prevailing federal minimum wage or less edged down from 2.1 percent in 2018 to 1.9 percent in 2019. This remains well below the percentage of 13.4 recorded in 1979, when data were first collected on a regular basis.
In Mississippi, no state state increase has occurred, yet the Bureau of Labor Statistics shows that the national trend downward is similar, with 4 percent of the workforce at or below the federal minimum wage.  That is a decline from 9.5 percent just a decade ago.  This equates to roughly 29,000 workers in the Magnolia State.
The majority of these minimum wage workers are in the very small businesses that have been the most negatively impacted by the government's response to the pandemic.  The predictable result is that while a few people on the lower end of the wage scale will do better, businesses will react by either replacing workers with automation or reducing flexible part time hour arrangements for the people that can afford to lose it the least – single working mothers, students and unskilled workers.
Restaurants and small business retail have been the hardest hit.  It is inarguable that local, state and federal health directives have negatively impacted these businesses that were already struggling to stay afloat, operating month-to-month at best but still providing both a service to their communities and an opportunity for employment for local workers.
While the federal government has attempted to dole out trillions of dollars in stimulus funding to citizens along with business stabilization funding through measures such as the Paycheck Protection Program (PPP) loans, these small businesses are either reluctant to get in bed with big brother or simply do not have the resources to jump through the hoops to qualify for the aid.
Thus, this uncertainty is causing an increase in locked doors and boarded windows from these business owners reluctantly closing, facing the reality of the times as optimism in the private sector continues to decline.
Just this week, the NFIB released its Small Business Optimism Index showing a decline of 5.5 points since December 2020.  Outlooks among business owners for the next six months declined 24 points to a net negative 16 percent. Sales expectations over the next three months declined 14 points to a net negative 4 percent. Earnings trends over the past three months declined 7 points to a net negative 14 percent reporting higher earnings.
The Heritage Foundation reported that the Congressional Budget Office concluded that a $15 minimum wage would reduce total family income, increase inflation (a 2017 Heritage Foundation study found that fast-food prices would rise between 24% and 38% under a $15 minimum wage), and expedite automation.  It would also result in higher interest rates, more debt, and a smaller economy.
"Instead of aiding the recovery, higher minimum wages would impose significant short- and long-term consequences," Rachael Greszler wrote.
To sum it up, the economy is perilously hanging on the edge which is why now is an especially bad time to raise the minimum wage.  It tickles the ears to some but the market demand is simply not there despite the government's wishful thinking.  A few workers would see a benefit while the majority would not only lose their current job, but likely remain unemployed for an extended period of time creating a larger problem within state and federal government coffers during a time of great economic uncertainty.
About the Author(s)
Frank Corder
Frank Corder is a native of Pascagoula. For nearly two decades, he has reported and offered analysis on government, public policy, business and matters of faith. Frank's interviews, articles, and columns have been shared throughout Mississippi as well as in national publications such as the Daily Caller. He is a frequent guest on radio and television, providing insight and commentary on the inner workings of the Magnolia State. Frank has served his community in both elected and appointed public office, hosted his own local radio and television programs, and managed private businesses all while being an engaged husband and father.
More From This Author